Friday, July 5, 2013
Message from the Blessed Virgin Mary
To Her Beloved Daughter Luz De María.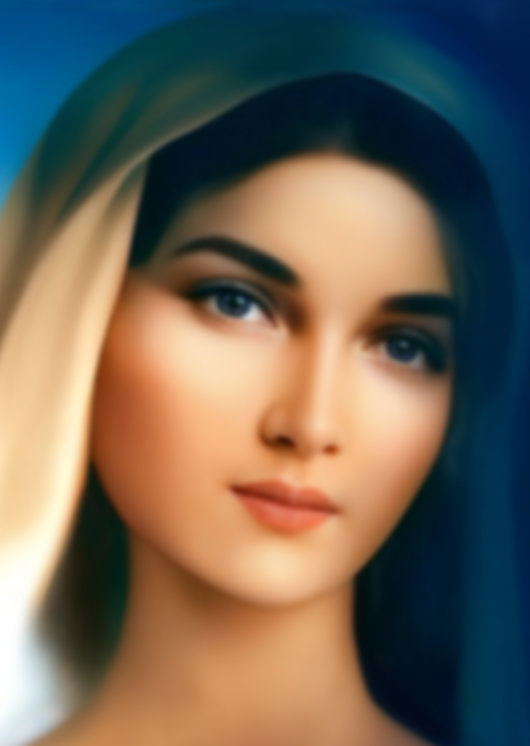 Beloved children of My Immaculate Heart:
I INVITE YOU TO REMAIN ATTENTIVE, TO CAREFULLY LOOK AT THIS INSTANT…
IT IS NOT LIKE OTHERS THROUGH WHICH HUMANITY HAS PASSED,
THIS IS THE INSTANT OF INSTANTS…
THE ONE BEFORE MY SON'S SECOND COMING.
I, as Mother of all of Humanity, extend My Hand so that all those who desire to, may take My Hand and allow Me to guide them to My Son. I intercede before My Son, do not forget it.
I WANT YOU TO BE AWARE, ACUTELY AWARE OF THIS INSTANT IN WHICH YOU LIVE, OF THE WORKS AND ACTIONS OF EACH ONE OF YOU.
MY CHILDREN, BE CONSCIOUS OF THE SERIOUSNESS OF MY CALL.
Each and every one of your acts has a repercussion over all of creation, do not believe that you act and that your actions are isolated, but that these expand through all of Creation.
My beloved children:
The signs of this instant are evident, before what will happen in the final instant. Do not believe that because you do not experience the events firsthand, they will not touch you. Every creature and every Nation will suffer, will be purified and from the purification will come the Faithful in which My Heart ardently wishes to see all, the greatest possible number of souls. I do not tire of calling you, My Calls will be constant, unceasing, because just like My Son, I have a great thirst for souls to give them to Him.
My beloved, the path is not always that of roses, you find thorns on it but must offer them as an Act of Reparation for those who refuse to turn to My Son.
I love you all, My Son gave himself for all of humanity, not only for some but for all, and…
All those who confess He is their Lord and God…,
All those who return to the true path that My Son has shown you and to which I call you…,
All those who seriously live a life in likeness of My Son…,
All those who keep with My Son's Call, with the Sacraments, with the Commandments…, All those who receive Him in spirit and truth in His Body and His Blood, will be saved.
ALL THOSE WHO CARRY HIM WITHIN THEM AND LOVE HIM PROFOUNDLY, WITHOUT COMMITTING ACTS CONTRARY TO MY SON'S WILL, WILL BE SAVED.
My Heart constantly burns as a Flame of Love. I see you so close to reaching spiritual victory and at the same time, you take missteps that push you back towards where the enemy of the soul is found.
Beloved children, in this instant a spiritual battle that you cannot perceive is taking place. The enemy wants to steal the fragile souls and the souls that are lukewarm, that is why I invite you to take My Hand, for as the Interceding Mother of all of humanity, I want to take you to My Son.
So many events are quickly approaching and humanity continues incoherent, sunken in a false reality that the enemy has sought to send you so that you confidently give yourselves over to banalities and worldly pleasures.
I, ONCE AGAIN, URGE IN MY MOTHERLY AND LOVING CALL BECAUSE IN THIS VERY SERIOUS AND VERY SEVERE INSTANT IN WHICH YOU FIND YOURSELVES, every act is multiplied and these acts must be realized in the Love of My Son and not in human pride that banished him from man's heart.
BEHAVING NEGATIVELY, ACTING NEGATIVELY GIVES EVIL STRENGTH TO SPREAD AND, LIKE A PLAGUE, TOUCH, ONE BY ONE,
THE HEARTS OF MEN SO THAT THEY DO NOT ATTAIN SALVATION.
The Earth is a land of blessing, it flows with milk and honey for those who are on the right path, for those who constantly battle to remain by My Son's side, for those who in this instant dedicate themselves to leaving behind what is worldly and give themselves to reencounter My Divine Son.
Beloved, the Earth is thirsting for love and has been constantly massacred by man, without a conscience and She reclaims her place, She claims and complains having cradled man with love and the scorn she undergoes today because of humanity.
THE EARTH SHAKES AND WILL CONTINUE TO SHAKE UNTIL ALL HUMAN BEINGS, IN A CONSTANT SHAKING OF THE EARTH, RAISE THEIR EYES TO HEAVEN AND CRY OUT FOR MERCY.
My beloved:
Humanity has not only scorned My Son, but has banished and has posed a challenge, and My Son with His great Love and His great Mercy returns Love and Blessing to you but man has forgotten that at the same time, Divine Justice is also Mercy. That is why the Warning is before man who is not duly prepared, before man who scorns My Calls and scorns those I send. That is how it has always happened, and this instant is not the exception.
Remain attentive, I love you. I receive you in My Motherly Womb as an Ark of the New Covenant so that you join with My Son and thus, in Faith and strengthened by Divine Love, you can face what is coming with courage and be immovable in the face of the tribulation that is approaching humanity.
I LOVE YOU, HEED MY CALL. I BLESS YOU, HEED MY CALL.
Mother Mary.
HAIL MARY MOST PURE, CONCEIVED WITHOUT SIN.
HAIL MARY MOST PURE, CONCEIVED WITHOUT SIN.
HAIL MARY MOST PURE, CONCEIVED WITHOUT SIN.