Wednesday, July 17, 2013
Message from the Blessed Virgin Mary
To Her Beloved Daughter Luz De María.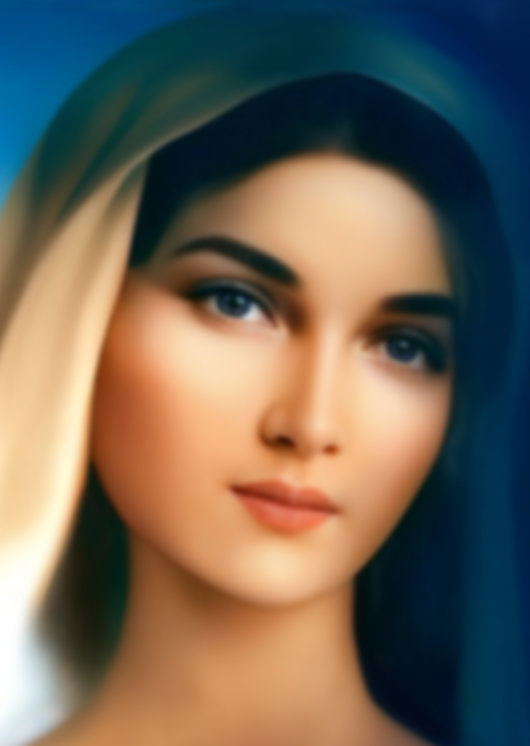 Beloved children of My Immaculate Heart:
MY IMMACULATE HEART WILL TRIUMPH FOR THE GOOD OF ALL CHILDREN.
HUMANITY UNDERSTANDS THE INSTANT IN WHICH IT LIVES,
EVEN SO IT DOES NOT LISTEN TO MY URGENT CALLS…
Before the triumph of My Immaculate Heart, man will be purified. The human conscience lies far from My Son's Will, it has gone astray, giving itself over to vices, it has given itself over to the enemy of souls and into its clutches and does not fight to overcome temptations.
The attacks are constant without man being humble enough to recognize it, it is before a man who has lost humility, for the enemy has used what dwells in every human being: "pride"… and makes him give in with ease, making humanity ignore and deny the purification, and give a natural interpretation at all times to what takes place, this has caused man to not recognize that God is God and man is a being created by God, a God before whom man must recognize God's Divine supremacy. Not by indifference towards the Paternal House will you be able to become aware of what leads you to fall in evil.
THE UNITY OF MY CHILDREN IS URGENT, AND THROUGH THIS UNITY,
SOLIDARITY AND WILLINGNESS TO COMPLY WITH THE UNCEASING CALLS OF MY MOTHERLY LOVE.
I am not a Mother of few men, I received all at the foot of My Son's Cross, and My Heart remains open for all as an Ark of Salvation. I intercede for all of humanity hungering for My Son's Love, a humanity that rejects Him by not nourishing themselves from Him.
You, My children:
BE THE DIFFERENCE LIVING FUSED TO MY SON'S WILL, WHICH HE MANIFESTS TO YOU CONSTANTLY AND WHICH HE EXPRESSES AND EXPLAINS IN THESE CALLS.
Before the tribulation reaches you, be knowledgeable of what I call you to do, all of it in obedience to My Son's Will and for the good of your souls.
Be copies of My Son's Will for this generation, fearlessly manifest Faith in My Son, fearlessly manifest that "yes" you have pronounced to live in His Holy Will, being one in the acts of Divine Love and living each instant complying with what My Son marks for each one of you on your path.
Beloved children of My Immaculate Heart, in this instant in which evil has penetrated and has established itself strongly within every society, still clinging to man's heart and leading him astray from what calls him to good, in this instant, My children, be those who do not fear professing their faith and confessing with your actions, not only with words, that My Son is God and that in Him and for Him you live.
You, My beloved children, minister to one another, share My Calls, for My Love, without holding back, from My Universal Motherhood, bequeaths so that you reconsider and are not lost.
AWARENESS OF BEING IN EVERY ACT A COPY AND REPEATER OF THE LOVE AND WILL OF MY SON,
MUST BE, FOR EACH ONE OF YOU, THE HIGHEST ACT TO WHICH YOU DESIRE TO ASPIRE…
MAINTAINING MY SON CONSCIOUSLY BEFORE YOU IN YOUR LIVES IS THE CULMINATION OF THOSE WHO ARE MY GREAT MARIAN ARMY.
All the Church is unity, and only thus will you overcome and be able to lead to safe harbor the Boat when it enters stormy waters. The Church will be hurt anew, its enemies do not rest; so you, beloved children, must not rest, but remain alert.
MY CALLS ARE URGENT, DO NOT UNDERVALUE THEM; they are not for a distant future but are for this generation, they are for each one of you.
Science does not halt its progress harmful for the human being. Before that progress, illness increases without being controlled before a great quantity of My children perish.
Beloved, pray in the everyday praxis of your actions, in your personal conscience and alerting the collective conscience.
The Church walks in the midst of so much distraction without it being stopped due to ill-used free will and the decline of the human being reaches what is unimaginable.
RETURN TO MY SON BEFORE NIGHT DARKENS YOUR SENSES AND DOES NOT ALLOW YOU TO SEE UNTIL YOU FIND YOURSELVES PREY OF THE ANTICHRIST.
Beloved, My Son's Second Coming is near and human conscience must be touched in depth before My Son returns.
I INVITE YOU TO BE THOSE MIRRORS IN WHICH MY SON IS SEEN ACTING IN HIS DIVINE WILL: triumph of man before evil.
Pray, children, for the Boat of Peter.
My Immaculate Heart will triumph, and all My Children will be those who crown Me anew and will be guided by My Hand to My Divine Son.
I bless you constantly, unite your strength so as not to decline, unite it to My Heart, fountain of Motherly Love and Spring of Holiness.
DO NOT FEAR, THIS MOTHER DOES NOT CEASE TO WATCH YOU. DO NOT FEAR, IN MY HEART YOU WILL NOT BE DEFEATED OR YOUR SOULS LOST.
MY LOVE IS THE STRENGTH OF THOSE WHO ARE MINE.
I bless each one of you. I love you with Motherly Love and defend you.
Mother Mary.
HAIL MARY MOST PURE, CONCEIVED WITHOUT SIN.
HAIL MARY MOST PURE, CONCEIVED WITHOUT SIN.
HAIL MARY MOST PURE, CONCEIVED WITHOUT SIN.