Monday, July 22, 2013
Message from the Blessed Virgin Mary
To Her Beloved Daughter Luz De María.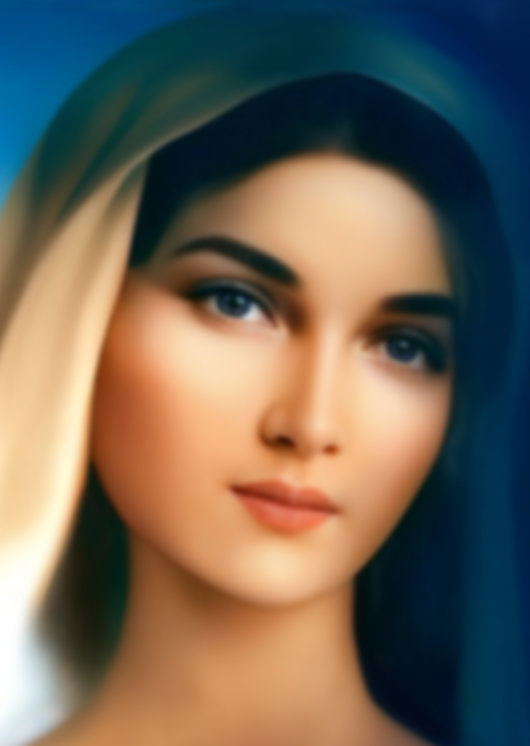 Beloved children of My Immaculate Heart:
RECEIVE MY BLESSING, MY HEART IS FILLED WITH JOY WHEN YOU, CONSCIOUS OF MY SON'S MERCIFUL DEDICATION AND SACRIFICE, ARE WILLING TO RETURN TO THE TRUE PATH.
My People will never walk in the solitude through which those who do not know My Son walk and who walk without a Mother to guide them.
In every instant, I am an Ark of Salvation, I intercede for you with the joy of giving to My Son the souls He so craves and so loves.
This generation is mired in so much vice, in sin, in the degradation of the human being and in the science that will be the cause of the greatest disasters for the human race. Even so, I see within all of humanity, souls that, like lit candles, give light in the midst of the darkness of sin. This leads My Heart to burn with joy, but so too I call you to maintain the Faith in the instants of tribulation, I invite you to continue walking in Faith in the coming anguish and pain.
Great is the weight that will fall upon man: the weight of his own sin, of his own free will; but great is the blessing man brings upon himself when he is conscious that My Son calls so that man obeys and returns again to the path towards His Fold.
THE SHEPHERD OF SOULS DOES NOT ABANDON YOU, HE MAINTAINS HIS FOLD EXTREMELY GUARDED BY HIS ANGELS and you who walk must in turn hear the voice of your Companions of Journey: your Guardians.
Beloved children:
IN THIS INSTANT IN WHICH TIME IS NOT TIME…,
THE URGENCY OF A DEFINITIVE CHANGE IN MAN'S MENTALITY AND SENSITIVITY TOWARDS THE SPIRIT MUST PENETRATE DEEPLY IN YOU IN A SPECIAL WAY.
Not all who say "Lord, Lord…" will be worthy before My Son but the one who carries out the Father's Will. My children's fidelity will be greatly tested and there in that instant is when I will see a small number of faithful, strong, courageous and confident in My Son, who will never abandon you.
My Maternal Heart yearns for the harvest to be abundant, that the fruits be abundant, but in that abundance of fruits, not all within themselves will be what they appear.
My beloved:
THE INSTITUTION OF THE CHURCH WILL CONTINUE TO LIVE PAINFUL INSTANTS AND INSTANTS OF
TRIAL. YOU MUST FORM THAT PRAYING ARMY, THAT PRACTICING ARMY, THAT ARMY OF PRAYER WHICH MY SON WILL MAKE USE OF TO GET THE BOAT OUT OF TEMPESTUOUS WATERS.
Beloved children of My Immaculate Heart, evil rises with great power, communism has underhandedly prepared and mentally predisposed its peoples for a hard and cruel fight. YOU, YOU FAITHFUL OF MY SON, AWAKEN THE SLEEPY MINDS OF YOUR BROTHERS AND SISTERS, WHO DO NOT WANT TO HEAR WHAT HAPPENS AROUND THEM.
In all places where I have conveyed My Word, I prepared those who are Mine for this instant, and with Motherly Love I called them to return quickly to the path and to the practice of Faith, but My Calls were not heeded nor are they heeded, My Tears are scoffed at and the Blood that My Son sheds in some images of Mine, is despised… NO! THAT IS NOT HOW GOD'S PEOPLE SHOULD RESPOND.
THE SIGNS ARE MANIFOLD AND OVERABUNDANT SO THAT YOU WAKE UP AND IT IS NOT LATE WHEN YOU REACT, because evil will have already appropriated man's mind and all his belongings, through which it will lead him to totally despise My Son and this Mother, to supply man's basic needs. Evil will take you to the antichrist, to discard My Son's Word and prevent that you receive My Son's Body and Blood, it will close Churches and will forbid My worthy and faithful Priests from carrying out the Eucharistic Sacrifice.
My Heart grieves because of it, for that "Holy Remnant" conscious of this that I have mentioned, suffers, suffers because they fully know this Truth, but those who do not believe and despise and offend Me, those who will not believe, will be the persecutors of My Son's Church, they will be the ones who will hand you over into the hands of the antichrist and your oppressors. BUT YOU, IN A TOTAL ECSTASY OF DIVINE LOVE TOWARDS MY SON, CONTINUE ON THE PATH THAT EVEN IN THE
MOST BLOODY INSTANTS OF THE TRIAL, WHEN THE TRIBULATION REACHES ITS MAXIMUM OPPRESSION, YOUR BROTHERS OF JOURNEY WILL COME WITH THE HEAVENLY MANA: WITH THE BODY AND BLOOD OF MY SON TO FORTIFY YOU SO THAT YOU DO NOT GROW WEAK.
Do not fear, My Son's People are not alone. After the tribulation My Son will come for His Harvest, and I desire that you, as abundant and mature fruits, be taken by Him and that you enjoy the Divine Blessings.
I invite you to pray and to act in the likeness of My Son in spirit and truth, being faithful and true, helping My Son in whatever He requests of you and asking for My Intercession, for I need man to request My Intercession so that I can take him by the hand towards Eternal Happiness.
You know that after rainy days the Sun comes out and shines with splendor in Heaven, and when the
Sun is at its zenith, there is no shadow because its rays illuminate even the smallest place. THUS IS
THE HOLY SPIRIT: HE ILLUMINATES ALL, GIVES HEAT TO ALL, GIVES HIS LOVE TO ALL, GIVES WISDOM TO ALL, BUT YOU MUST REMAIN WILLING TO RECEIVE HIM AND BEFORE WHAT IS COMING, I ASK YOU TO INVOKE THE HOLY SPIRIT CONTINUOUSLY SO THAT HE FINISHES FILLING THOSE HOLY CUPS.
Beloved children of My Immaculate Heart, a great and unexpected storm will draw near to the Earth and will keep you on alert. Do not forget that My Son protects you, but you must act with the reason which My Son has gifted you.
In this instant you must use your senses, the gifts and virtues that My Son with His Holy Spirit has poured out in you. You must not blind yourselves but on the contrary, open the senses of the spirit, for these will guide you on the right path and will lead you to be cautious in the instant in which you must be so.
DO NOT FEAR TO BE MESSENGERS OF LOVE…
DO NOT FEAR TO DECLARE YOUR FAITH…
DO NOT FEAR TO PROFESS THE FAITH…
DO NOT FEAR TO SAY THAT YOU BELONG TO MY SON…
AND DO NOT FEAR THAT YOUR BROTHERS AND SISTERS KNOW THAT YOU ACT
AND WORK IN THE WILL OF THE MOST HOLY TRINITY…
Before each Declaration of Faith, the Angels in the heights sing with joy: "Alleluia, Alleluia, Alleluia," before the Throne of the Most Holy Trinity. Every yes from you echoes in all of Creation and this is not only blessing but a coming closer to My Son's Truth.
All of My Calls have not yet been revealed, and I wait with patience, I hope that all of My Message given in Fatima is revealed.
DO NOT FORGET, BELOVED CHILDREN OF MY IMMACULATE HEART,
THAT MY HEART WILL TRIUMPH AND MY CHILDREN WILL BE BLESSED.
DO NOT FORGET THAT BY DIVINE ORDER I ALSO ANNOUNCED IN GARABANDAL THE EVENTS THAT ARE A STEP AWAY FROM THIS GENERATION.
Prepare, prepare, prepare.
I bless you.
Mother Mary.
HAIL MARY MOST PURE, CONCEIVED WITHOUT SIN.
HAIL MARY MOST PURE, CONCEIVED WITHOUT SIN.
HAIL MARY MOST PURE, CONCEIVED WITHOUT SIN.