Wednesday, August 14, 2013
Message from the Blessed Virgin Mary
To Her Beloved Daughter Luz De María.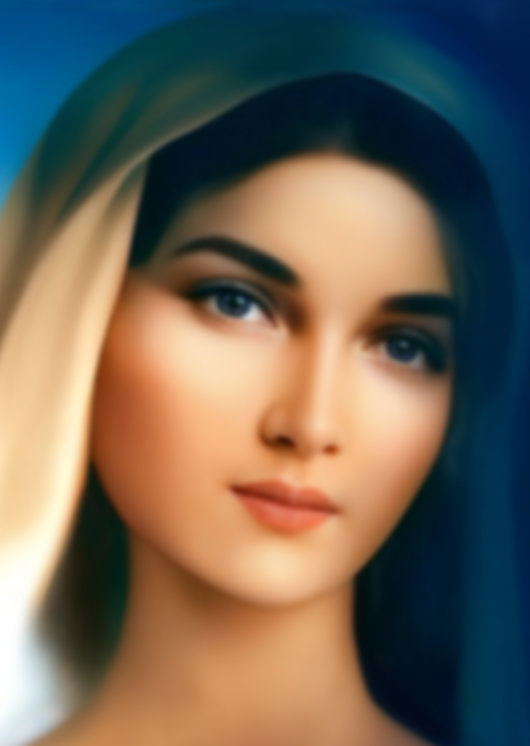 Beloved children of My Immaculate Heart:
MY IMMACULATE HEART WILL TRIUMPH FOR THE GOOD OF HUMANITY, THIRSTING FOR MY SON.
Beloved, be like My Son: humble and simple of heart, like those who, not desiring merits for themselves, give themselves to God's Will, trusting that what He requests of them is for the good of their souls and of the whole world.
My beloved:
Do not be like the one who avoids professing his faith, rather be the living testimony of humility and love, since on Earth everything that man forges has been created by the Eternal Father for his service.
My Son's ways are not those that man expects, neither thrones nor glory exist in them, nor are some more important than others. So man: the one who believes himself to be greater before My Son, will be the least, and the one who believes himself to be the least will be the greatest in the Kingdom of Heaven.
MY CHILDREN ARE THE SIMPLE OF HEART, SOULS CONSCIOUS OF BEING AT MY SON'S SERVICE AND WILLING TO FOLLOW HIM WHEREVER HE CALLS THEM.
The humanity that I love continues open to sin, has set aside the observance to Heaven's Orders, ignoring the imminence of its purification.
The false idols do not cease, they grow and advance form one place to another to confuse My children, so that they do not heed and they renounce My Calls to amend the path.
My beloved:
BE THOSE PEOPLE OF FAITH, FIRM AND UNSTOPPABLE, CONVINCED OF THE CALL TO THE SERVICE OF MY SON. He is the greatest of the great, the One who sees what happens on Earth and beyond it. He is sovereign, sees it all, infinite Mercy.
Children, be conscious of all that the Paternal House has allowed you to know, do not be of those who feel they have Heaven earned, for these could fall with only a blow of the wind.
MY CHILDREN KEEP VIGIL WITH THEIR MOTHER SO AS NOT TO SLEEP, THEY REMAIN SIMPLE AND HUMBLE, AND ARE AWARE THAT BEFORE THE SAME IGNORANT HUMANITY, the wealthy
emporiums of the antichrist rise up, inciting the Peoples to the perdition of the soul. Man has desired to be powerful, he is not satisfied with little, he has crossed his own limits, the Peoples being direct strengtheners of those who subjugate them.
The scorn for the gift of life is, in this instant, ignored by those who must raise their voice. A power silences the voice of rulers and the powerful, a voice that wants to annihilate My Son's Church: the voice of the masonry that gains followers before the great ignorance that is maintained among My Son's People.
As Mother and Intercessor of and for humanity, I call you to imitate the unity of those, who being soldiers of the love of My Heart, do not stop preaching the truth, and by remaining united, they remain alert to bring the Word in spirit and truth, without discord and with one longing and one faith. MY SON IS ONE AND HIS OWN MUST BE ONE.
Each human being contains within himself or herself not only My Son's Love and that of His Mother, but contains one Mission and within that Mission another rises, which is UNITY, on the contrary evil will achieve its mission and this is not the wish of this Mother, rather it is My wish to present to My Son all who are His, those He redeemed.
Be a constant testimony, praying for one another in My Heart.
DO NOT SLEEP, BEFORE YOU TIME IS NOT TIME, BUT A BLINK OF AN EYE.
DO NOT GIVE YOURSELVES OVER INTO THE HANDS OF EVIL, REACT, THE WORLD SINKS IN ERROR… WAKE UP!
Your Protectors will come, your Companions of journey to lead you by the path that is just and safe….
One will come especially who will enliven the flame of the love of My Son and this Mother, who will alert you about evil so you are not deceived.
Divine Love and Divine Mercy pour out in torrents over everyone; men being deaf, they continue without hearing the call from on high.
AFTER THE STORM COMES THE CALM, THE SUN WILL SHINE FOR ALL,
THE EARTH WILL BE RENEWED AND THE MEN OF GOOD WILL SHALL WALK UPON IT.
All united in My Immaculate Heart, receive My Blessing and in it the call to not separate yourselves from My Son.
Mother Mary.
HAIL MARY MOST PURE, CONCEIVED WITHOUT SIN.
HAIL MARY MOST PURE, CONCEIVED WITHOUT SIN.
HAIL MARY MOST PURE, CONCEIVED WITHOUT SIN.