Sunday, August 18, 2013
Message from Our Lord Jesus Christ
To His Beloved Daughter Luz De María.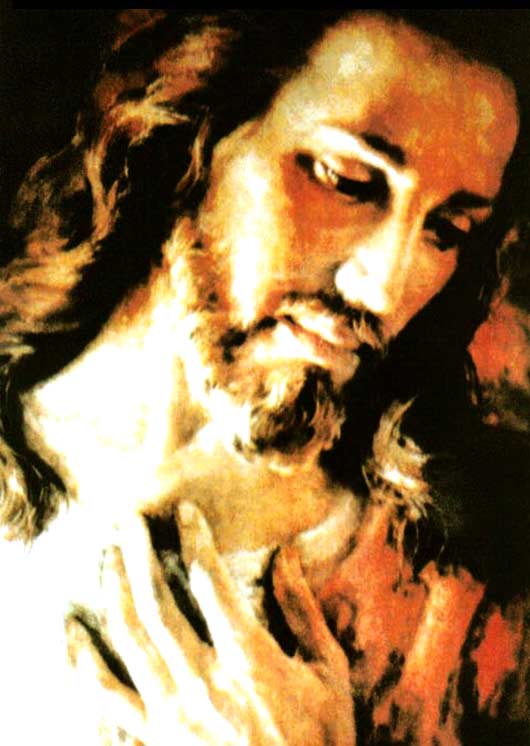 Beloved children, My People:
In man's vertiginous race for power over the dominion of all of humanity, man will forget that he is a human being and that his body is like that of his fellow man, so that by annihilating part of humanity, evil will continue to circle the Earth and to spread its poison over everyone, without anyone being exempt from the inconceivable results, arising from human supremacy.
I HAVE TOLERATED THE WICKEDNESS OF THIS GENERATION THAT LIVES SCORNING THE GIFT OF LIFE IN THE MIDST OF THE UNCONTROLLABLE SLAUGHTER OF INNOCENTS, WHO INCREASE GRADUALLY IN THE FACE OF MAN'S IMPIETY AND THESE INNOCENT CRIES PIERCE MY HEART.
Not until My children become aware of the value of life and of the very serious sin they commit, not until that instant will this genocide stop. You experiment with life and go beyond where the human being itself thought, the man of science wants to arrive where none other has arrived before…
THE SEALS OF THE APOCALYPSE HAVE BEEN OPENED AND THEY SPILL OVER THE UNAWARE, IRRESPONSIBLE HUMANITY AND OVER THE SACRILEGIOUS PEOPLE.
I am not pleased by the one who does not respect life, the offerings that come from the hands of those who offend Me to the extreme, do not please Me.
I called you to fish for souls and to cast the nets, but instead you have cast the nets into the sea with dead bodies…
I gave you a fertile land with crystalline waters and you have defiled it to the point of keeping it in a constant agony…
You have contaminated the waters with nuclear energy, and leaders keep silent…
You, My beloved, are poisoned with contaminated seafood and it alters human genetics, being the cause of degenerative diseases.
Beloved children, do not base life in the economy, this false god will fall from one moment to another, and you will realize that you wasted your life in what is superfluous, while the truth is only in My Hands.
THIS INSTANT IS FOR PROFOUND REFLECTION, in which the unity of My People and only unity, will be what breaks the heavy chains you drag, in a disobedience without precedent…
IT IS NOT WITH MEANINGLESS AND EMPTY WORDS WITH WHICH YOU PLEASE ME, BUT WITH YOUR ACTS AND WORKS ACCORDING TO MY WILL,
WHICH AT THIS INSTANT IS INSULTED BY THOSE WHO DO NOT REMAIN HUMBLE.
Science has broken through the permitted wall…, I look at you, and I grieve.
The silence of My People before so much evil displeases Me. My People must be courageous and remain in My Will, feeling offended when everyone else is transgressing My Will.
PASSIVITY IS A STRONG TENTACLE OF THE ANTICHRIST, HE CRUSHES THE PEOPLES. MY CHILDREN DO NOTHING TO PLEASE ME… AND I WHO SEE IT ALL… I SUFFER!
My beloved:
THE ONE WHO FINDS AND LIVES IN MY WILL POSSESSES THE GREATEST TREASURE,
HE WILL NOT ANTAGONIZE ME AND HIS STEPS AND THOUGHTS WILL BE A BLESSING WHERE EVER HE WALKS BRINGING MY BLESSING AND MY LIFE WITH HIM AND IN HIM.
My Will expects men of good faith, who appreciate and rediscover My Will for everyone.
The powerful of the Earth prepare My children's pain, this has made the cup overflow.
I will come with glory and power to gather the good seeds, who have remained faithful to Me, but first they will be purified and tested in the Faith.
Pray, My beloved, for the United States, it will suffer.
Pray for My Church, it will be torn.
MY CHILDREN ARE FAITHFUL, STRONG AND CONVINCED, NOT LUKEWARM OR UNAWARE, I SEEK SOULS OF GOOD WILL.
The correspondence between words and actions will be placed in the balance of My Will.
The great emporiums will not raise up My Kingdom, nor will the great rulers of the Nations, rather those who do not fear proclaiming My Truth, those who are firm, strong and decided. Those who know that for Me nothing is impossible, that My Power extends over all that exists and My designs go against human logic.
Those docile ones that follow Me out of Love for Me, conscious that My Second Coming is upcoming and are not silent before the threats, because I Am present in each step they take, their path has been blessed by those who preceded them, giving proof of Their Faith.
I bless you. Your Jesus.
HAIL MARY MOST PURE, CONCEIVED WITHOUT SIN.
HAIL MARY MOST PURE, CONCEIVED WITHOUT SIN.
HAIL MARY MOST PURE, CONCEIVED WITHOUT SIN.