Friday, August 23, 2013
Message from Our Lord Jesus Christ
To His Beloved Daughter Luz De María.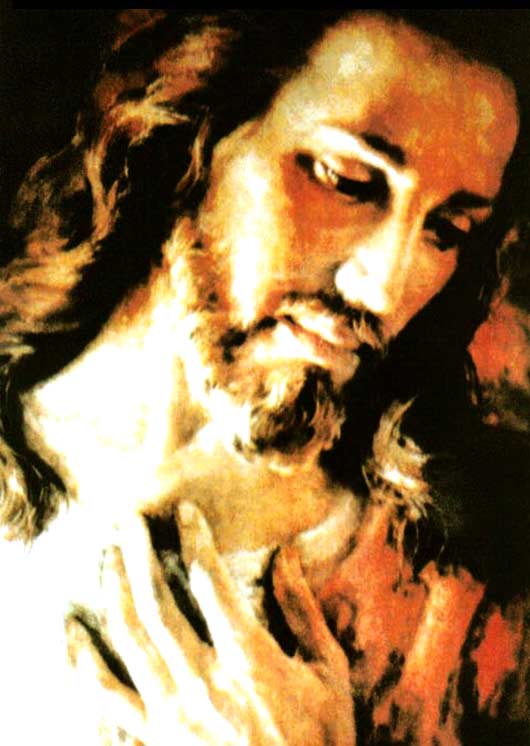 My beloved People:
I am a splendid light.
I am a sun in the fullness of midday.
I am a light that shines in the firmament.
I am a star that decorates the firmament, and at the same time, I am the tired feet of those who walk secure.
I am hands that not only receive but that give what they have.
I am a heart that burns, that beats with Eternal Love for Its creatures.
I am a tongue that clarifies what this generation lives in this instant.
I am eyes that see beyond where human eyes see.
I am, at once, thought and memory.
I am a conscience that urges you, instant to instant, to remain on the right path.
"I AM WHO AM"
My beloved, My beloved People, for whom I have come time and again, for whom I gave Myself and for whom I continue to give Myself ardently…
I am eyes, eyes that weep continuously before man's injustice.
I am eyes that weep seeing thousands and thousands of innocent children fallen vilely because of minds that are perturbed and in satan's clutches.
I am eyes that see everything, eyes that scrutinize hearts and minds, farther than where you can think.
I HAVE COME TO EACH GENERATION TO CLARIFY MY WORD, I HAVE NOT COME ALONE, I HAVE COME WITH MY MOTHER WHOM SO MANY SCORN, IGNORING THAT SHE IS:
THE INTERCESSOR BEFORE ME, MY FATHER'S FAVORED ONE,
THE ONE WHO IS TEMPLE AND TABERNACLE OF THE HOLY SPIRIT.
And how can you invoke the Holy Spirit in you if you only love that which is His gifts and scorn She who is His Temple and Tabernacle?
LOVE MY MOTHER, BEYOND WHAT YOU LOVE HER, SHE IS THE DEFENDER OF MY PEOPLE, TO HER I HAVE ENTRUSTED MY CHURCH, and the one who does not cling to Her Protection/Help, is like the one who walks with a band over his eyes -- he will walk but will always find obstacles in his path.
My beloved People:
How little of a conscience the powerful who subjugate the peoples maintain! What little love towards Me and what little gratitude towards My House!
I AM LOVE AND JUSTICE AT THE SAME TIME, I come soon with a scale in My hands and each one of you will present yourselves with your works and your actions before Me to be weighed in My Scale, for I am not only Love, but Justice, if not, I would not be Your God.
I will come for those who are faithful to Me, for those who listen to Me and do not scorn My Calls and those of My Mother.
I will come for those who know how to walk in Faith even though their feet are completely covered in wounds because of life's mishaps and stumbles.
I come for those who have known how to say: YES LORD, I AM HERE PRESENT! Yet not only in word, but with full Faith, with works and actions, giving testimony of what they confess with their tongue.
I come for My People, for those who suffer, I come for the People who suffer oppressions and for the People who in this instant suffer the effects of ill-used science, before the predominant desire of the great Nations to seize all the Earth.
How much My Heart suffers and how many tears My Mother sheds seeing a humanity that battles against itself, that has destroyed its heart and values, not only in daily living and sharing, not only against its own body, but it has destroyed the spiritual values!
With so much bitterness I see those who confess faith before Me and are not sincere but are instruments that the devil uses to increase the antichrist's riches! The one who will call himself the powerful one, him they will serve, knowing his infernal aims.
Man rushes himself individually towards a precipice, and humanity is collectively led by the egotistical desires of a few leaders, towards a holocaust and towards suffering…
My beloved People:
YOU ARE NOT ALONE, I DWELL IN YOU AND WALK WITH YOU, I SEE IN YOU, I SPEAK IN YOU, BUT…
… I do not dwell in those who battle against humanity itself and against My very Creation.
… I do not dwell in those who debase the minds of men.
… I do not dwell in those who usurp My children's life.
… I do not dwell in those who act with a destructive science.
YOU KNOW WELL WHAT IS COMING, AND I CLARIFY TO THOSE WHO ARE MINE, because it is necessary to continuously remind man of what remains before him, since man easily forgets and becomes distracted by banal and worldly affairs.
I called My Disciples to follow Me through all paths, to follow Me to the Cross and beyond It. So I have called you, My true children, those who do not fear raising their voice before the cruel and powerful, who do not fear proclaiming My Truth of Love and of Justice.
You, those who just like in the past cast the nets into the sea to achieve a greater catch, you constantly give Me crystalline water with which to quench the thirst for souls, those souls who constantly prevail in My Heart and for which My Heart burns.
You, those who, just as when I called My Disciples, I invited to follow me and to leave it all, you, My faithful, My true children, those who will help their brothers and sisters in the instants of pain, YOU… MY LOVE BLESSES YOU WITH ETERNAL LOVE.
My beloved People:
I cannot, as God that I am, direct My Word and praise a world and a humanity arrogance by its works and its actions; I would not be speaking with the Truth if I proclaimed it to be a perfect humanity and if I did not warn it before so much sin and before so much of the coming purification… I would not be God if I acted in this way. My Love prevails before you and this is the cause of My continuous Calls and My Mother's Calls.
YOU MUST BE CONSCIOUS AND KEEP IN MIND AND IN YOUR MEMORY, GREATLY GUARDED, THE CONVICTION THAT WITHOUT UNITY, YOU WILL BE DEFEATED.
ONLY WITH UNITY, THROUGH IT, WILL YOU BE ABLE TO STRENGTHEN ONE ANOTHER.
My instrument's must unite, their Missions are different like the fingers of the hands are different, but in all must prevail that desire for UNITY so that all, hand-in-hand, form an invincible wall and protect and alert those who are Mine, and fight against those who minimize My Calls and call My Instruments liars because they carry out My Will.
THIS IS MY WILL IN THIS INSTANT:
TO ALERT MY PEOPLE SO THAT BEFORE MY WORD THEY CONVERT AND RETURN TO MY FOLD;
SO THAT THEY REMAIN IN CONSTANT PENANCE SETTING ASIDE EVERYTHING WORLDLY AND SINFUL.
I call you to receive Me decorously and with a contrite and humble heart in the Eucharist where I am present. I invite you to keep Me company in the Tabernacle, being souls who find time and do not place obstacles before Me, who abandon themselves in Me to send their prayers towards all of humanity.
These are difficult and dangerous instants in which minds, scourged by the infernal enemy's power, bring humanity pain, and only through true unity in spirit and in truth, will My Church rise victorious as it has risen in every instant: loving one another as I love, not separated, or in conflict, but in unity, being copies of My Love and bringing the love of My Word wherever they go, but above all within themselves so that they reflect My Goodness, My Charity, My Patience, but above all the Faith they have in Me.
These are not instants for wavering, they are instants in which My true ones will make themselves known and the lukewarm will be vomited from My Mouth.
My beloved People:
MAKE AN EFFORT, MAKE AN EFFORT, MAKE AN EFFORT BECAUSE THIS INSTANT IS AT ONCE AN
INSTANT OF BLESSING FOR THOSE WHO BECOME AWARE OF THE SEVERITY OF THIS SAME INSTANT.
THIS INSTANT IS ALSO OF BLESSING AND OF MERCY FOR THOSE WHO TURN TO/COME TO ME.
I remain before the lost sheep, before the prodigal son, before the worker who has arrived at the end of the afternoon.
I come to gather all those who want to amend their life.
I am Love, I love all, I want to rescue everyone but it is urgent that you willingly give up the human will and accept Me in your lives.
I AM ETERNAL LOVE, AND I WAIT FOR EACH SOUL AS IF IT WERE THE ONLY ONE TO BEJEWEL IT WITH GOLD OF OPHIR.
My beloved People, here you have Me, from Nation to Nation, from People to People, from soul to soul gathering My lost People. We will walk united facing the obstacles, you are not alone, you will receive what you need but this Christ needs your Faith and the opening of the human will to fill you, to saturate you with My Love and My Predilection?.
Pray children, pray for what is coming.
Pray for the great Nations.
My Love remains present, I do not forsake you, I alert you out of love.
Each and everyone of you who remains desirous of not going astray are the most precious jewel of My House.
REMAIN IN MY PEACE.
IN THE NAME OF MY FATHER, IN MY NAME AND IN THAT OF OUR HOLY SPIRIT.
The Strength of My House and Peace be with you.
Your Jesus.
HAIL MARY MOST PURE, CONCEIVED WITHOUT SIN.
HAIL MARY MOST PURE, CONCEIVED WITHOUT SIN.
HAIL MARY MOST PURE, CONCEIVED WITHOUT SIN.