Monday, September 2, 2013
Message from Our Lord Jesus Christ
To His Beloved Daughter Luz De María.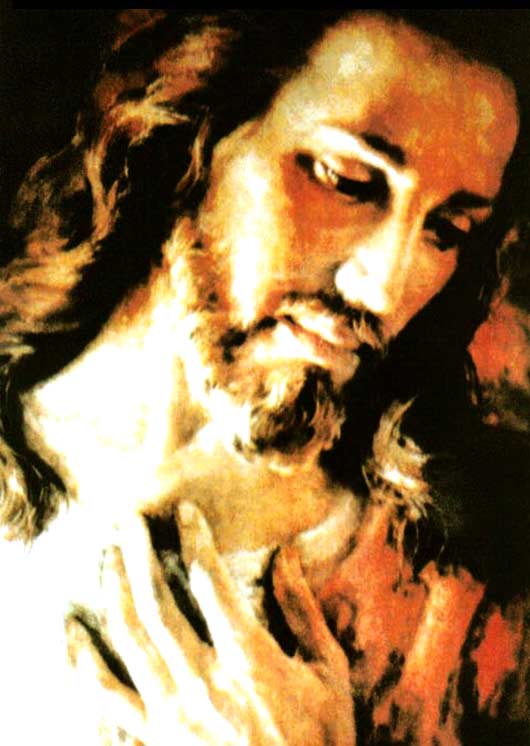 My beloved People:
I BLESS YOU, I BLESS YOU, I BLESS YOU…
My Truth spreads through all of Creation, it flies like the wind from person to person looking for someone to find, seeking those who have not yet given themselves to Me.
My beloved:
DO NOT WAIT FOR WHAT IS COMING IN ORDER TO REDISCOVER THE WAY TO ME; BE ONE WITH ME, LOVE MY MOTHER AND BE AN EXAMPLE OF UNITY.
Beloved children, darkness draws closer to humanity, and I remain beside each one of you so that this darkness does not invade you. I will be oil and light at the same time so that your lamps never go out.
My Church walks and walks without ceasing, being shaken and purified.
My People walk contrary to My Will, they walk towards their own justice.
My beloved:
THE DISOBEDIENCE TO MY CALLS IS THE CAUSE OF HUMAN SUFFERING.
I POINT OUT THE CORRECT PATH TO YOU, BUT YOU DO NOT HEED AND STRAY.
The Earth will shake again and along with that shaking, your hearts will stir, not because of your conscience, but only because of the fear before Nature's fury. I want you to become aware of My Calls, being attentive and obedient children of the One who gave Himself for all.
It is not in vain that the drums of war are raised, being heard by all of humanity. This is the result of man's thoughtlessness, man who has driven Me away from his side, he has banished Me and does not wish to know of Me.
YOU, BELOVED CHILDREN WHO HEAR MY CALLS, DO NOT BE DISCOURAGED BEFORE WHAT IS COMING; ON
THE CONTRARY, REMAIN STANDING, IN PRAYER AND IN ACTION, BRINGING MY WORD TO YOUR BROTHERS AND SISTERS AND IN THIS WAY SHARING THE TREASURE OF MY WILL.
Do not remain static; My People are a People of heroes that prepares with joy and in harmony before My Second Coming, facing what precedes it with joy. All that will happen will occur in the blink of an eye before man who expects time, which is not time but is My Will, to continue being submissive to the whims of human beings.
THE INSTANT HAS ACCELERATED BY MY MERCY, AT THE REQUEST OF MY MOTHER.
THE INNOCENT CRY OUT TO MY MOTHER FOR MY COMING AND I, WHO AM ALL LOVE, HEED MY MOTHER'S CRY.
Man will destroy himself and My Heart will bleed; My Side will be pierced anew. Man, whom I love, keeps Me at a constant coming and going, he calls Me and turns to Me when he has needs, he evicts Me from his soul when he no longer needs Me. Even so, I am Love for My children and for the one who turns to Me however many times he needs, being welcomed by Me, if he is sincere and humble.
I invite you to pray intensely for the Middle East.
I call you to pray fervently for the leaders of the great world powers.
I invite you to pray for the United States.
Those who think they have the power in their hands will be surprised.
My beloved, look on high, be astute, see the signs of the times so that you are not suddenly surprised; do not wait any longer, turn quickly to Me. With infinite Love, I send help from My House to the one who wants to receive it.
The one who will be a blessing for all men will arrive, he will receive My People and will guard them as long as they remain faithful and attentive to Me. He will guide them in the instants of darkness and they will recognize him, for he will carry My very Word. He will open the path through which My Flock must be guided, advancing steadily and safe towards My Second Coming.
LET NOT FEAR OR UNCERTAINTY DISTANCE YOU FROM ME…
THE ONE WHO CALLS ME WITH LOVE AND TRULY REPENTANT FOR HIS ACTIONS,
THAT ONE WILL BE THE ONE WHO WILL FIND MY LIGHT AND HIS LAMP WILL BE FILLED WITH NEW OIL.
My beloved, fire will emerge with fury through a volcano. Pray, for the events rush one after another. Give the necessary yes in this instant; do not wait for what you should not wait for or seek what you should not seek.
I am here in each one of you, giving you time to call Me to take you in My Arms and protect you like a Loving Father who cares for His children. Turn to My Mother, to whom I have entrusted My Mystic Body, so that with Her Protective Mantle She does not allow the enemy of the soul to snatch anyone of those who are Mine.
LIKE A GOOD SHEPHERD, I REMAIN ATTENTIVE TO MY SHEEP AND THESE MUST RECOGNIZE MY CALL AND MY WORD. LOOK ON HIGH, FOR FROM ON HIGH WILL COME THE BLESSING TO ALL OF HUMANITY.
Do not fear, you remain deep, very deep within My Heart.
My Will is that you return soon to Me.
I bless you,
Your Jesus.
HAIL MARY MOST PURE, CONCEIVED WITHOUT SIN.
HAIL MARY MOST PURE, CONCEIVED WITHOUT SIN.
HAIL MARY MOST PURE, CONCEIVED WITHOUT SIN.