Sunday, September 8, 2013
Message from the Blessed Virgin Mary
To Her Beloved Daughter Luz De María. Feast of the Birth of the Blessed Virgin Mary.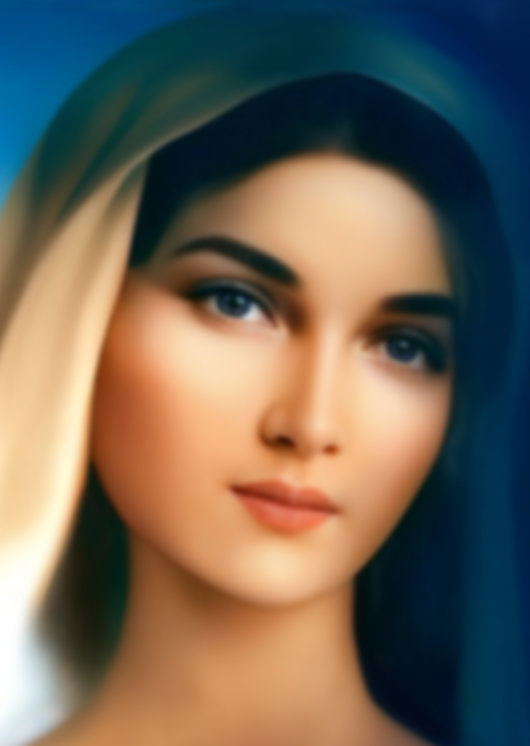 Beloved children of My Immaculate Heart:
MY SON HAS PILGRIMAGED, PILGRIMAGES AND WILL PILGRIMAGE FROM HEART TO HEART, FROM SOUL TO SOUL, FROM PERSON TO PERSON KNOCKING AT THE DOOR SO THAT YOU OPEN IT… AND IN THIS INSTANT, MY CHILDREN MUST KNOCK ON THE DOOR OF THEIR EGO AND OPEN IT TO MY SON: THEIR KING AND LORD.
Humanity's history has been a history of love, of pacts and alliances, but in this generation everything that has happened has been distorted.
As Mother and Queen of all of creation, I call you to return to the path of blessing. Those who have not obeyed My Son's Word face purification and pain on their journey.
IN THIS INSTANT, THE SAME AS IN THE PAST, THOSE WHO DO NOT OBEY MY SON'S WORD AND DO NOT HEED HIS CALLS, ARE HEADING TO FACE THE PAIN OF THEIR ACTIONS.
As Mother of all of humanity, I open My Heart for all those who come near and allow Me to intercede before My Son.
I CALL YOU TO BECOME FULLY AND REALLY AWARE OF THE STATE IN WHICH THIS GENERATION LIVES. It is necessary and urgent that each one of My children raises his or her eyes to the heavens and cries out to My Son for a blessing, not only a personal one but for all of his or her brothers and sisters. Pain navigates in tempestuous waters approaching humanity, which looks on with great indifference at everything that arises in the world, as if what moves before humanity will never involve it.
Beloved children of My Immaculate Heart, you live on Earth habitually, without becoming aware of the spiritual battle that occurs before you in this instant: the forces of evil battle against the forces of good, for souls.
YOU MUST BECOME AWARE OF THE VALUE OF THE SOUL…
I INVITE YOU TO GIVE THANKS TO MY SON FOR THE LIFE OF EACH ONE OF YOU,
AND I INVITE YOU TO CONSCIOUSLY BLESS YOURSELVES AND THE REST OF HUMANITY.
My beloved, the Purification advances in tempestuous waters by the hands of man himself. Man will detonate pain without stopping to think about the consequences of his actions. This is how man acts, without thinking, only for the sake of acting.
My Hands, Hands of a Mother, Hands of Love, Hands that soothe the one who suffers, the innocent and the helpless; I stretch these Hands out to all those who allow Me to do so.
Beloved children of My Immaculate Heart, in the depths of the Earth not only does fire move and shake, not only the gases that will rise through several volcanoes, but the foundations of the Earth itself move, shaking the Peoples little by little, without these peoples being able to help on time those who will suffer in a constant sequence.
Beloved, look on high, look at the sun, it is not affable to you due to man not living in concordance with My Son's Will. The sun will surprise you without you expecting it. Look on high, do not walk as if you must not look on high…
A GREAT SIGN APPROACHES FROM ON HIGH AND THE ONE WHO HAS NOT WISHED TO LOOK ON HIGH MUST LOOK EVEN WITHOUT WANTING TO LOOK.
A SIGN WILL COME SOON AND WILL MAKE EVERYONE'S HEART QUICKEN.
Beloved:
Are not these the signs of the instant in which you move?…
Are not these signs of the nearness of My Son's Second Coming?…
Are not these signs that announce, not only with trumpets but with pain itself, ALL that I have announced to you throughout My Calls in every age?…
My beloved, if humanity had the smallest awareness of what it brings with its evil actions and the evil actions of those who maintain power on the Earth, you would march in unity demanding, demanding an end to violence… This is My desire as Mother, that of My Son and of all those who follow My Son and love Him in spirit and truth.
It is the instant of madness of an unbridled humanity, that by not containing its evil instincts, will unchain the greatest pain that this generation has ever lived in the flesh. It will be the instant announced for the antichrist to appear and take possession of what belongs to My Son.
STRENGTHEN YOURSELVES NOT ONLY IN FAITH, BUT IN THE CONSTANT COMMUNION WITH MY SON, SO THAT THE COMING INSTANTS DO NOT CRUSH YOU AND CAUSE YOU TO FALL TO THE GROUND.
Children, remain alert. Faith must not decline, each one of you in particular consecrate yourself to My Immaculate Heart and by solely human will, consecrate and give your life to My Son's Heart so that you receive the necessary and indispensable help in this instant in which humanity hangs by a thread.
I PROTECT YOU WITH MY MATERNAL MANTLE, I BLESS YOU BECAUSE I LOVE YOU. DO NOT FEAR.
LIFT YOUR EYES AND WITH CONFIDENCE CRY OUT TO MY SON ASKING FOR PROTECTION FROM ON HIGH.
UNITY is indispensable for those who are Mine; LOVE is the base of Unity.
Beloved children of My Immaculate Heart, I bless you; walk united, continue in My Son's Peace and in the Trinitarian Love.
I bless you.
Mother Mary.
HAIL MARY MOST PURE, CONCEIVED WITHOUT SIN.
HAIL MARY MOST PURE, CONCEIVED WITHOUT SIN.
HAIL MARY MOST PURE, CONCEIVED WITHOUT SIN.