Friday, September 13, 2013
Message from the Blessed Virgin Mary
To Her Beloved Daughter Luz De María.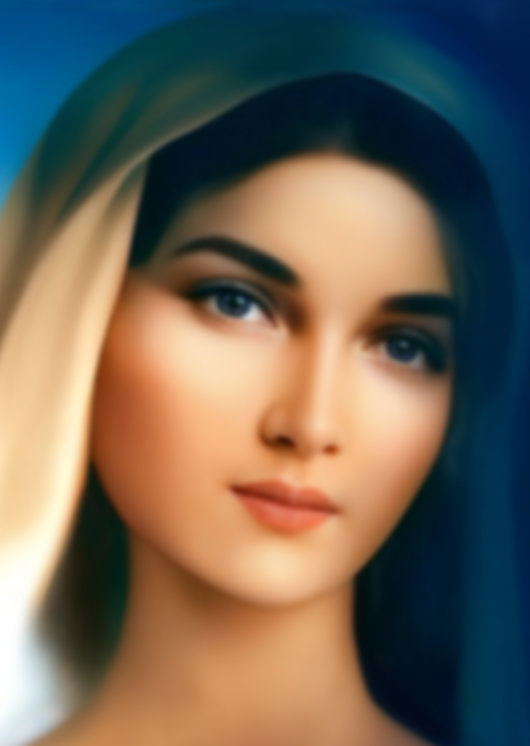 Beloved children of My Immaculate Heart:
MY MANTLE REMAINS UPON EVERY HUMAN BEING THAT COMES TO ASK FOR MY PROTECTION.
I am Mother of all of humanity. It is the human will that allows Me to approach those who are Mine or not, by opening or closing the door to Me. As Mother, I desire you all beside Me.
Children:
You have sought personal satisfaction, and in those instants you have forgotten your brothers and sisters…
You have looked for My Son outside of yourselves, and this has led you to fall into the extremes of the evil that surges with greater force without you noticing that it is becoming more generalized, leading humanity in search of perdition…
YOU HAVE STAYED ASLEEP, AND MY SON COMES FOR A CHURCH OF ACTION IN WHICH YOU HAVE FOUND YOURSELVES FIRST AND THEN SEARCHED FOR AND ASSISTED YOUR BROTHER OR SISTER.
The man of this generation does not know himself internally; he has looked for My Son outside of himself succumbing to false idols and being threatened by his own pride. It is the craziness of the world that does not allow him to quiet himself.
BELOVED, YOU HAVE BEEN BORN WITH A MISSION TO FULFILL, the majority pass through life without knowing that personal mission; some discover it and ignore it, fearing it because they are rooted to what is worldly or blinded by fear and ignorance.
MY SON SEARCHES FOR HIS FLOCK. He looks for it without ceasing, day and night, under the stars that cover the Heavenly Dome and over the Earth that he gave to it as its property. Without waiting for man, He goes towards man, in search of those souls for which He gave Himself.
Man will not recognize his own weakness until he is aware of the Greater Reality that awaits him. Everyone must know his or her own weakness and fight to overcome it. If you pray, I help you, however, each one of you must wage his or her own battle against his or her own human egoism.
The depths of evil are enormous, and you remain static, being one more that does not bear fruit. Those who do nothing are wrong… for the one who does nothing collapses spiritually. The one who remains on My Son's path, even though it seems he or she does nothing, he or she does everything with his or her disposition.
Man walks aimlessly being dragged and following the thoughts of some of the powerful. War will never be the salvation of the Nations, rather it is man's oppression of man and the indiscriminate slaughter of innocents whose lamentations I hear with great pain. You forget that all will suffer in the same measure, for pain makes no exceptions.
WHAT IS NOT DESIRED BY MY SON'S HOUSE IS BEING GESTATED. The pain of innocents will fall into the hands of those who cause it. The bitter cup will be drank by those who, feeling they are powerful, navigate without breaks or limits, destroying everything as they pass by.
The lack of knowledge, the lack of sanity and the lack of truth before the reality man has always lived, have penetrated in the human mind thus allowing a total disrespect of the Divine Commandments.
My children:
EVIL EXISTS, HELL IS A REALITY FOR SOULS AND PURGATORY IS NOT AN IDEA OF THE PAST.
SO TOO, HEAVEN IS THE JOY OF THOSE WHO HAVE WALKED UNITED TO MY SON.
Prayer is to the soul as water is to the plants. Living fused to My Son's precepts, receiving Him in Holy
Communion satiates thirst and hunger and gives understanding when the person is conscious of the Communion. That each one of you find Him in your Personal Tabernacle, that is to find the greatest Treasure.
MAN'S PUNISHMENT HAS BEEN FORGED BY MAN HIMSELF;
USING THE SCIENCES FOR EVIL, HE WILL PUNISH HIMSELF AND THE FOOLISH MAN,
THE ONE WHO DOES NOT BELIEVE, WILL BE MOVED TO HIS CORE BEFORE SO MUCH BITTERNESS.
The seas and rivers will burn, their waters will not be for the good of man, the marine animals will disappear and their mutations will be a cause of horror.
The Sun sends its fire without anything stopping it. How many events are approaching man, those events being the fruit of his harvest!
EVIL INCREASES, IT BECOMES GIGIANTIC; ONLY THE WEIGHT OF LOVE WILL BE ABLE TO CHANGE MAN. And that love, so profound, will be given by The Young Person sent from My Son to fill hearts, which after the Warning, will desire to know how to live in the Will of Christ, King of the Universe.
The human will is not a good companion for man, it leads him to fall deeply, for which I urge you to meditate and to be willing to amend your works and actions. The instant is only an instant and quickly goes. The conscience will point out to every human being the refusals he or she made to My Son and his or her constant rejections of the Divine Will. [2]
Pray for Japan.
Pray for the Middle East.
Pray for peace.
HE IS NOT LESS WHO RECOGNIZES THAT HE LIVES OUTSIDE OF MY SON'S WILL AND REPENTS… HE IS NOT MORE WHO RECOGNIZES IN HIS LIFE MY SON'S WILL AND ENJOYS IT IN LOVE…
Humanity will lament and suffer…
AND I, WHO LOVE YOU, RECEIVE YOU WITHIN MY WOMB AND IN IT I PROTECT YOU FROM EVIL.
I bless you.
Mother Mary.
HAIL MARY MOST PURE, CONCEIVED WITHOUT SIN.
HAIL MARY MOST PURE, CONCEIVED WITHOUT SIN.
HAIL MARY MOST PURE, CONCEIVED WITHOUT SIN.