Wednesday, September 18, 2013
Message from Our Lord Jesus Christ
To His Beloved Daughter Luz De María.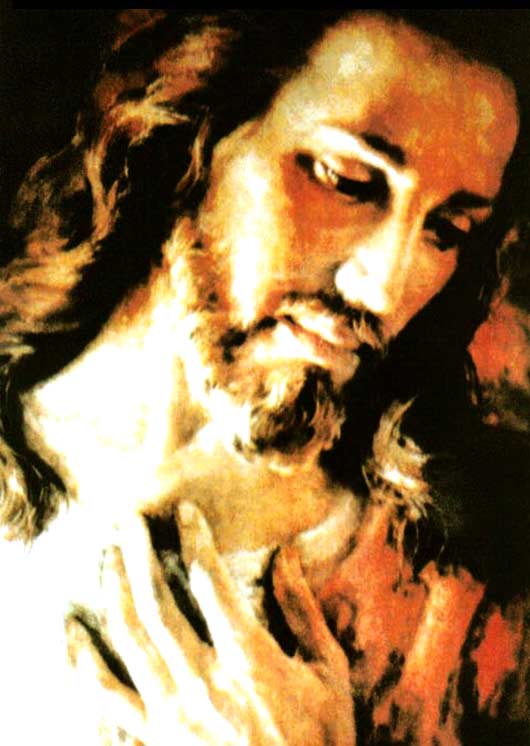 My beloved People:
MY LOVE ILLUMINATES EVERY HUMAN BEING WITHOUT LOOKING AT THE SPIRITUAL STATE IN
WHICH HE OR SHE IS FOUND, I AM DRAWN BY THE SINNERS FOR WHICH I CONSTANTLY SERACH.
My radiant Love cannot be contained; it is man who holds it back with a wall that bad behavior have forged before each one of you, a shield that prevents the soul from feeling My Light.
The instant arrives in which man will be his own hangman, without a conscience or forgiveness, without stopping or sensitizing his own conscience.
I PROMISED THOSE WHO ARE MINE NOT TO ACT WITHOUT WARNING MY PEOPLE, THAT IS WHY EVERY ONE OF MY WORDS IS A WARNING FOR YOU.
A rebirth of Faith will be darkened by hands that dwell within My Church, depriving the weak of what little they understand and seducing them without reserve towards a disorderly and thoughtless path.
Humanity will digress without measure by miserable and impoverished daily paths. The ill-fated influences of what has led them to decay, will break the weak conscience they possess.
MY PEOPLE ARE NOT A STRONG PEOPLE OF PRAYER, THEY HAVE NOT SILENCED THEIR MIND,
NOR ARE THEY WILLING TO REMIAN IN MEDITATION, THEY DO NOT SCRUTINIZE THE DEPTHS OF THEIR SOUL OUT OF FEAR OF SEEING THEMSELVES IN THEIR REALITY.
I am Lord of all who are Mine, I left no one outside of My Cross of Love; all were united to Me in the Tree of Love, in My Holy Cross.
I DO NOT DESIRE MINDS THAT COME TO ME ONLY ON SUNDAYS,
I DESIRE THE EXPANSION OF THE HUMAN BEING, LIKE ITS EVOLUTION WITHIN THE KNOWLEDGE ORDERED FROM THE TREASURE THAT IS MY GREAT AND INFINITE LOVE.
Steer into the waters that are beside Me, row sail out to sea for danger lies in wait at the shore.
My children are decided, they remain secure in the shadow of My Love, without ceasing to look at Me and without fear for the unknown invading them, rather they cast the nets of My Love trusting in Me and obtain the Wisdom that is hidden. Entrusted in friendship with My Holy Spirit and illuminated by My Love, they act in unity, in love, without dissimulations or narrowness MY LOVE HAS NO LIMITS BUT THOSE THAT MAN SETS FOR IT.
Those who do not know Me as Father ignore My Omnipotence and kneel before attractive but false gods, gods that deceive them with false beliefs and induce them to live a passive life without fruits of Eternal Life, to paralyze their physical and spiritual senses, leading them to be a part of the confusion of society.
Nature is a Divine creation; it is not a science outside of My Father's creating hand. You cannot attribute it a determined denomination, rather every man that exists upon the Earth must see Me in it as the God who creates and lives.
MAN'S safety and welfare TRANSCENDS AND GOES BEYOND THE INSTANT OF DEPARTURE AND IS TRANSFORMED INTO JOY WHEN I CALL YOU.
Children:
The water continues its course.
Everyone exists within a vast personal universe in which you do not act alone, rather your actions are a constant sharing with your brothers and sisters.
BE FORESEERS, MOVE FORWARD IN THE SPIRIT AND SEEK ME IN THE SILENCE OF MY WISDOM SO THAT YOU SOAK CREATION WITH IT.
Man does not respect My Pleas, death and hatred are a sign of supremacy and this will worsen the chaos of humanity.
The weapons man has created are a sign of man's mental state.
Woe to the one who begins man's catastrophe, the death of My innocents and the persecution of My People!!!
Look with love to the heavens and do not distrust in My Mercy.
THE VOLCANOES CONTINUE TO SPEAK TO MAN…
THE WATERS CONTINUE TO SPEAK TO MAN…
THE WIND CONTINUES TO SPEAK TO MAN…
THE EARTH WILL MOVE SPEAKING TO MAN…
BUT THIS BLIND MAN, DEAF AND MUTE DOES NOT HEAR MY PLEAS.
THE FIRMAMENT WILL SPEAK TO MAN WHILE FIRE FALLS UPON THE EARTH.
Pray, My children, pray for the Middle East. Pray for El Salvador.
Humanity does not walk as it should: It offends Me with its evil modernisms, with its false prayers empty of love, it embraces Me at times and tosses Me away right away.
YOU WHO LOVE ME, MY POEPLE, YOU WHO LOVE ME IN SPIRIT AND TRUTH, AND WHO ARE NOT ASHAMED OK ME, CONTINUE OUTSIDE OF THE CURRENT OF THE WORLD BEING A TESTIMONY OF THE PRESENCE OF MY LOVE.
I bless you.
You remain in My Peace.
Your Jesus.
HAIL MARY MOST PURE, CONCEIVED WITHOUT SIN.
HAIL MARY MOST PURE, CONCEIVED WITHOUT SIN.
HAIL MARY MOST PURE, CONCEIVED WITHOUT SIN.