Saturday, September 21, 2013
Message from the Blessed Virgin Mary
To Her Beloved Daughter Luz De María.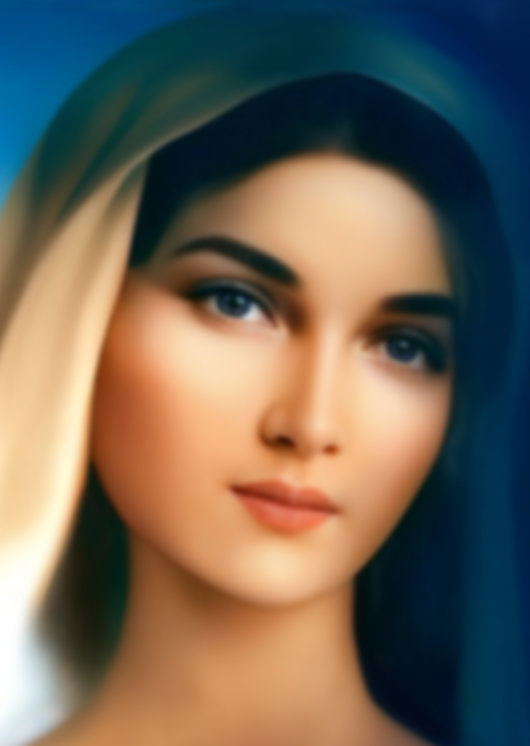 Beloved children of My Immaculate Heart:
THESE ARE NOT INSTANTS OF DISTRACTION BUT RATHER OF ACTION.
My children are provided with My Motherly Protection; I received you at the foot of the Cross, but not all allow Me to keep them under My Mantle, although I will keep it open for whoever desires it.
The present generation has been provided for and gifted by the Paternal House to expand knowledge beyond where it has existed.
LOVING MY SON IS NOT SHOWN WITH WORDS… ANY HUMAN BEING CAN PRONOUNCE WORDS.
LOVE TOWARDS MY SON IS SHOWN WITH THE JOYOUS AND ABSOLUTE GIVING OF ONESELF TO HIS HOLY WILL.
Every true lover of My Son must silence his or her internal "ego", silence the external voices and willingly submerge himself or herself in the Fountain of Living Water.
Only undertaking, penetrating this path and listening to the Holy Spirit is it that My children will again return to the path that will renew their soul agitated by the multitude of snares that quickly plunge it into the veil that separates the Divine from the human.
The lukewarmness with which man has been treated throughout the ages has not allowed him to be demanding in spirit, but on the contrary, in these battles you try to keep away the Comforter, the Spirit of Conversion, remaining in the comfort of worldly promises.
Beloved children:
THE INDECISION OF SOULS DOES NOT ALLOW THEM TO PENETRATE INTO THE MERCIFUL LOVE OF MY SON.
Man is instructed so that he grows and is a man of God. Here the land that flows with milk and honey is given to you; recognize the greatness of your Creator and submerge yourselves in His Mercy, knowing that love is at the same time rigor.
A man without love is a motionless body, nothing moves or touches him; evil will make use of this to persecute My Son's People, and the People must respond to what Their Lord asks of them even if they do not fully understand
THE CHRISTIAN MUST NOT CALL HIMSELF SAVED,
LET NONE OF THOSE WHO ARE MINE CALL HIMSELF OR HERSELF SAVED;
SALVATION IS LIFE, WALKED, POLISHED AND GIVEN TO THE DAILY BATTLE AGAINST ITS HUMAN EGO, UNTIL IT IS THROWN WITHOUT LEAVING THE SMALLEST TRACE.
This generation has received blessing without taking into consideration that true knowledge is living fused with My Son's Will; it has not carried this knowledge in its reason or in its heart, having remained ignorant of it, this generation has not carried it in its heart, not having been instructed about this great Truth.
The instant will arrive in which science will declare itself impotent, and those who are simple will be enlightened by the Holy Spirit who will reveal to them the mysteries that science seeks without finding. You have sought My Son outside of yourselves, but He is found within each one of you.
BELOVED, MAGNIFICENT TEMPLES ARE NOT PLEASING TO MY SON, BUT RATHER THOSE INTERNAL TEMPLES IN WHICH HE IS LOVED IN SPIRIT AND TRUTH, IN UNITY TO HIS LOVE AND TO NEIGHBOR.
HUMANITY LACKS THE SEASONING OF MY SON'S LOVE PRESENT IN EACH ONE OF YOU;
IN ITS PLACE EVIL HAS INCRUSTED HATRED, AGGRESSIVENESS AND SPIRITUAL IGNORANCE,
THUS GIVING ROOM FOR THE BASENESS IN WHICH YOU LIVE, COVERED IN MUD BY WHAT IS
CONTEMPTIBLE AND ABOMINABLE, MAKING MAN THE UNDESIRABLE CREATURE IN CREATION.
My children:
Pray in the fullness of consciousness and make reparation for the ignorance in which you live, be it from human will or because that is how you have been formed not only in the domestic temple, but by the Church.
Pray for Canada.
Pray for the United States.
Pray for the needs of humanity.
My beloved, you walk religiously prideful, loving My Son; from His Hand you will find strength and the Faith with which to continue and not fall in the coming attacks.
Man's greatest gift is life; man's greatest fall: threatening life.
The Earth has provided you with what you have needed, and, what has man done with the Earth?… Intoxicate it, destroy it; she will rebel with greater harshness demanding its own that was snatched from her.
MY SON APPROACHES WITH HIS ROD IN HAND AND WITH HIS HEART OVERFLOWING WITH MERCY.
Beloved children of My Immaculate Heart:
My Mantle is protection and love, gentleness and firmness, warmth and intercession.
YOU LIVE INSTANTS OF PAIN, THEN BLESSING WILL COME BEFORE EACH ONE OF YOU, FULLNESS WILL COME AND ALL WILL BE PEACE.
I bless you, I love you.
Mother Mary.
HAIL MARY MOST PURE, CONCEIVED WITHOUT SIN.
HAIL MARY MOST PURE, CONCEIVED WITHOUT SIN.
HAIL MARY MOST PURE, CONCEIVED WITHOUT SIN.