Thursday, September 26, 2013
Message from the Lord Jesus Christ
To His Beloved Daughter Luz De María.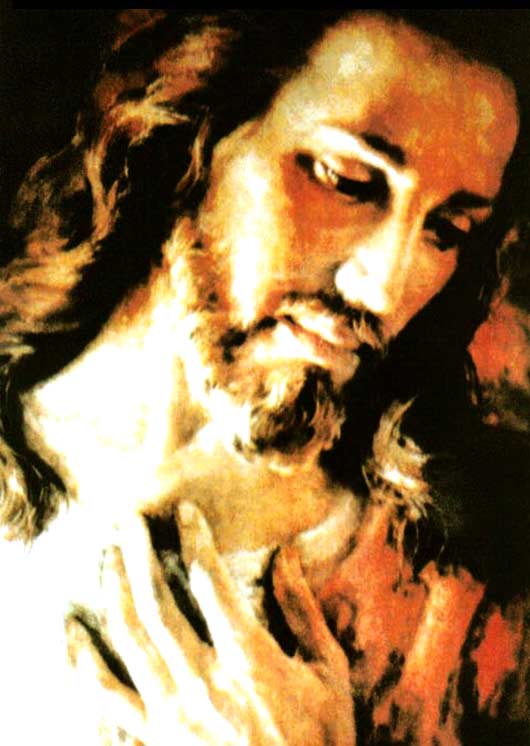 My beloved People:
HAND-IN-HAND WITH MY HOUSE YOU ADVANCE, UNITED TO MY MOTHER AND YOURS ALSO.
Children, those who remain in Me are those that like strong trunks, are not moved by daily onslaughts, but rather in these onslaughts, they make you stronger to combat more bravely what can separate them from Me.
I SEEK A HUMANITY THAT LOVES ME…
I SEEK A HUMANITY THAT ABANDONS ITSELF IN ME, THAT IS FIRM AND CONVINCED, AND THAT IS THIRSTING AND IN NEED OF ME.
The very human concepts and interpretations of My Word and the Apparitions of My Mother are that: merely human concepts. If the person possesses light in his or her soul, her or she will find My Light; if he or she carries darkness with him or her, he or she will find darkness and will be plunged into it, trying to darken what I have laid out.
Human reasoning will not reach the width of My Love to accept My Word with awareness if man does not break the ego and exhale humility.
I am Absolute Love, I am Mercy without end and I do not judge or condemn any of those who are Mine, giving them the opportunity for repentance.
Man judges with predisposition and not only man but those who must live forgiveness: My Priests, those who I called to maintain the flame of the lamp of My Flock lit.
Humanity remains in great agitation, it is not necessary for My Representatives to signal out My sheep with judgmental words, but on the contrary, they must use words of Shepherds that call My sheep to gather in the Fold, without straying.
HOW MANY OF MY CONSECRATED ONES DO NOT PRAY, DO NOT ATTEND TO MY SHEEP AND REMAIN ON THE MEDIUMS OF SOCIAL COMMUNICATION, NOT PRECISELY GUIDING MY CHILDREN!
My beloved, the instants of tribulation have already begun. Man has not corresponded as he should have in response to My Calls, nor has he become aware of the seriousness of this instant, on the contrary: he lacks reason since he does not desire it within himself. He fears all that can lead him to meditate about his worldly behavior.
Truth has been buried by appearances, souls have removed My Love and in its place they receive false liberal ideologies to continue in blindness and justify their evil actions.
Man does not know Love, this language is bothersome for libertinism. Man flees from all that signifies responsibility and commitment, obedience is kept in an unknown place before the uncontrolled reactions of men.
Human thoughts are directed towards that which in its smallness interests man, lowering his thoughts towards the caverns of evil, giving the enemy of the soul strength. And man thus belittling, violence from himself, issues alteration and scorn towards his fellow man, externalizing it without any measure.
I CAME FOR ALL MY PEOPLE, NOT ONLY FOR SOME.
Beloved:
THE UNITY OF THOSE WHO ARE MINE IS THE WEAPON THAT WILL DEFEAT WHAT APPROACHES; YOU KNOW IT… AND STILL, YOU FIGHT ONE ANOTHER WITHOUT AWARENESS OF ALL BEING MY CHILDREN AND ALL BEING BROTHERS AND SISTERS.
My absence in human beings is more than an absence, it is ignorance, darkness, a stop or an obstacle; and they continue like this, until in some instant the consequences of human will cause them to stop, and in some cases, to look within but they do not see me because they find themselves empty, taking actions outside themselves.
This generation will despise My Gifts given to it, its pride will be uncontrollable, its sordid ego will lead it to obstinacy, acting against itself and My Precepts, remaining farther away from My House, more distant than in any other previous time.
MY LOVE IS SUCH THAT PROFOUNDLY DESIRING THE SALVATION OF HUMAN KIND, I WILL SEND HELP TO HUMANITY, AND THEN:
They will hear My Word in spirit and truth…
They will feed themselves from the "land flowing with milk and honey"…
They will drink from the fountain of living water…
The light will again come to you so that you do not succumb before the deceptions of evil…
MY WORD WILL FLOW LIKE A CLEAR FOUNTAIN TOWARDS THOSE WHO KEEP THE FAITH AND DO NOT HAND THEMSELVES OVER TO THE ANTICHRIST.
Children, I reside within each one of you, do not seek Me outside, silence yourselves and close your being to all the external noises and allow Me to speak to your heart.
PRAYER IS NECESSARY, AND IT IS ESSENTIAL THAT YOU ARE CONSCIOUS THAT YOU ARE MY CHILDREN AND THAT EACH ONE OF YOU HAS A PARTICULAR MISSION. Without becoming aware, man annuls himself and tears the connection with My House.
Pray for Italy, it will suffer.
Pray for the United Stated, it will suffer.
My People are faithful, fear does not distance them from Me. I will remain beside you, I will not abandon you, you are My treasure.
I bless you.
Your Jesus.
HAIL MARY MOST PURE, CONCEIVED WITHOUT SIN.
HAIL MARY MOST PURE, CONCEIVED WITHOUT SIN.
HAIL MARY MOST PURE, CONCEIVED WITHOUT SIN.