Wednesday, October 2, 2013
Message from the Blessed Virgin Mary
To Her Beloved Daughter Luz De María.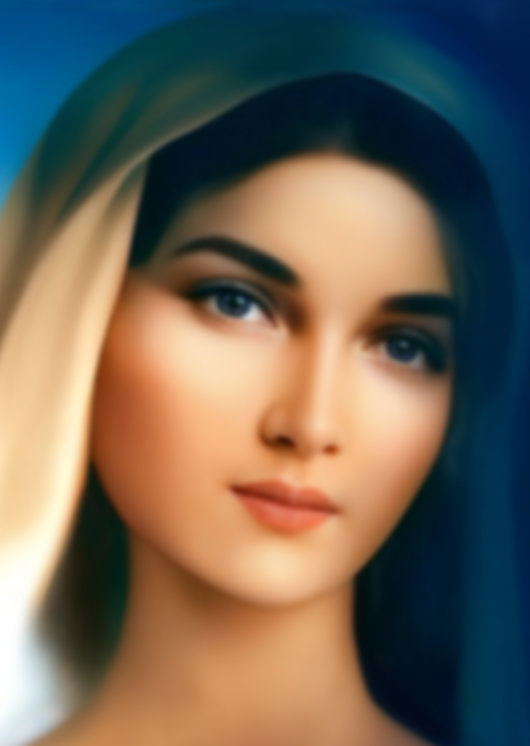 Beloved children of My Immaculate Heart:
I LOVE YOU. I CALL YOU TO WALK AGAINST ALL THE MODERNISMS OF THIS INSTANT.
Beloved children:
In other instants, in My various apparitions around the world, I addressed My Son's People bringing the Divine Will for humanity; with My Word I called you to conversion and to preparation precisely for this instant. IT IS DUE TO THIS THAT I DO NOT BRING THE SAME CALL NOW THAT I PREVIOUSLY MADE TO HUMANITY, RATHER IN THIS INSTANT, I COME TO CRY OUT TO THIS GENERATION SO THAT YOU CARRY OUT THE DIVINE WILL.
My Son suffers and hurts before the scorn of this generation that ignores Him and constantly drives Him away from its path.
I COME TO CALL THIS GENERATION TO BE AWARE OF ALL THAT I ASKED OF YOU IN THE PAST, so that in this instant the rudeness of the events not be of the magnitude it has reached in this instant.
I do not come with a Word, rather I come with My Heart in My Hands…
I REMAIN OVER THE TERRESTRIAL GLOBE WITH MY HEART IN MY HANDS SUPPLICATING FOR THIS GENERATION that has lost its values and has disobeyed this Mother's Calls and ignoring them has scorned My Son's Will for every human being.
Beloved children of My Immaculate Heart:
The shadow of misguided minds seizes those who are ignorant and innocent of present situation.
Children, I do not want you to walk hand-in-hand with modernisms, or that you give a place to false idols, rather I come to cry out so that My Son's People return to the path of holiness as I have cried out for in previous ages.
IN THIS INSTANT, I CALL THE PRESIDENTS OF ALL NATIONS OF THE WORLD SO THAT THEY FIGHT TO MAINTAIN THE PEACE AND UNITY OF THEIR PEOPLES.
I ESPECIALLY CALL THE PRESIDENTS OF THE GREAT POWERS SO THAT LOOKING TOWARDS THE
FUTURE, THEY DO NOT SCORN THE CALL I COME TO BRING THEM IN THE NAME OF MY SON
AND SO THEY CEASE ALL DISAGREEMENTS, AND CEASE ESPECIALLY THEIR DESIRES FOR POWER, WHICH WILL CULMINATE IN A THIRD WORLD WAR.
I CRY OUT BEFORE THE PRESIDENT OF THE UNITED STATES, SO THAT THIS SON OF MINE HEAR THIS
MOTHER WHO SEES BEYOND WHERE HE SEES AND WHO SUFFERS BEFORE THE CONSEQUENCES OF A MILITARY ACTION THAT WOULD TRIGGER THE CATASTROPHE FOR ALL MY CHILDREN.
I CRY OUT TO MY SON THE PRESIDENT OF RUSSIA,
SO THAT HE FIGHTS FIRMLY AND HOLDS BACK WAR.
You well know that in this instant science has created what can come to be the destruction of humankind. There has not been another instant such as this one in which science has been so illused…
Beloved children of My Immaculate Heart:
Behind the back of the majority of humanity, actions that you are ignorant of are hidden, actions of the powerful who seek to usurp power in all Nations and dominate all Nations.
IN FRONT OF A MILITARY ACTION, COMMUNISM WILL RISE AS NEVER BEFORE, AND MY CHILDREN WILL SUFFER AS THEY HAVE NEVER BEFORE SUFFERED.
I call all those children of My Immaculate Heart, who ignoring Me as Mother, despise Me and take My Calls as falsehood.
I INVITE YOU TO AN INNER SILENCE SO THAT YOU HEAR IN YOUR CONSCIENCE MY SON'S WILL, EXPRESSED THROUGH THIS ADVOCATE FOR HUMANITY.
Beloved children of My Immaculate Heart, become aware of all that takes place before you and which you are letting pass by ignored without giving it due importance.
The winds of war have not ceased, they have only been distanced from humanity's knowledge.
Not only will nuclear energy be the great scourge of humanity, but what is in laboratories. Ill-using the blessing My Son gave man to develop science for good and ill-using science, in laboratories they hide what would be used in a military action and would torture man in an inhuman way.
The Sun will continue to draw its strength closer to the Earth leading all of humanity into a great regression.
Why do you not unite your efforts to seek wellbeing and give protection to the helpless of humanity in general?
Oh My Son's People! Oh children of My Immaculate Heart! Be aware of My Calls, which are none other than those of an intercessor who loves you since before you were conceived.
My beloved children:
WITH MY HEART IN MY HAND, I BEG YOU TO PAY ATTENTION TO THIS MOTHER'S WORD AND TO THE CRY OF THIS MOTHER WHO DOES NOT WANT HER CHILDREN TO SUFFER.
OPEN YOUR CONSCIENCE, DO NOT CRAWL YOURSELVES LIKE THE SERPENTS, ELEVATE YOUR SPIRIT TOWARDS MY SON AND UNITE IN A SINGLE VOICE AND A SINGLE CRY.
My Son is Mercy, and I am Mother of Mercy…
It is the rulers of the Nations who, in these instants, maintain the destiny of the Peoples in their hands.
YOU MY CHILDREN, WHETHER YOU LOVE THIS MOTHER OR NOT, BE AWARE OF THE EXISTENCE OF
ONE GOD WHO RULES HEAVEN AND EARTH AND BEFORE WHOM YOU MUST FALL ON YOUR KNEES, FOR WITHOUT HIS HELP, EVEN YOU POWERFUL ONES WILL PERISH.
MY SON COMES, HE APPROACHES SLOWLY BUT SUCURE, COMING TO GATHER THE HARVEST, AND THIS MOTHER DESIRES IT TO BE ABUNDANT AND GENEROUS.
The Mystic Body must raise its voice, must cry out and demand of its rulers peace.
The Church's Hierarchy must be Holy as My Son is Holy.
I bless all My children who have raised up not only prayers but sacrifices for world peace. If this prayer does not stop war, it mitigates it, for no prayer goes unheard by My Son.
Beloved children of My Immaculate Heart:
I BLESS YOU SO THAT YOUR CONSCIENCES OPEN,
SO THAT REASON IS MADE CLEAR AND YOUR THOUGHTS BE UNITED WITH THE TRINITARIAN WILL.
It is not that this Mother interferes with the politics of the world, but as Mother I have the duty to interfere crying out for the Peace of you who are My children, because I love you.
I bless you, I love you.
Mother Mary.
HAIL MARY MOST PURE, CONCEIVED WITHOUT SIN.
HAIL MARY MOST PURE, CONCEIVED WITHOUT SIN.
HAIL MARY MOST PURE, CONCEIVED WITHOUT SIN.