Wednesday, October 9, 2013
Message from the Blessed Virgin Mary
To Her Beloved Daughter Luz De María.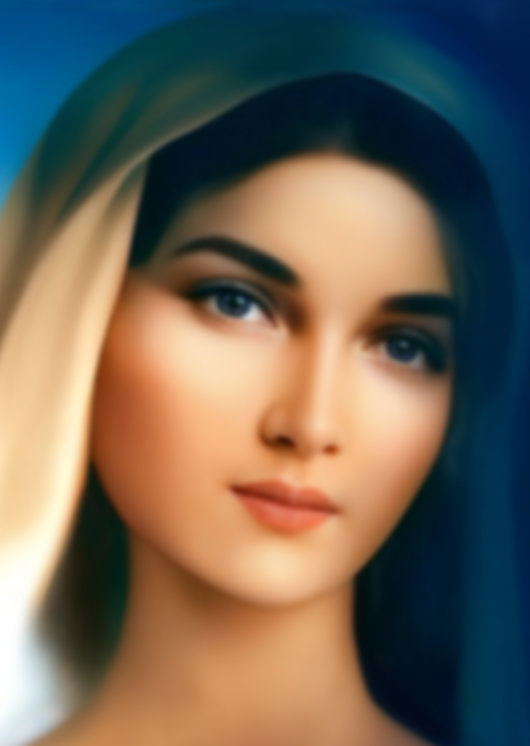 Beloved children of My Immaculate Heart:
BE THOSE TRANSPARENT AND STAINLESS CRYSTALS THROUGH WHICH
MY SON'S DIVINE LIGHT IS GIVEN TO OTHERS WITHOUT ANY INTERFERENCE.
Beloved children, in each of My Apparitions by Divine Command, I have addressed all of humanity without distinction, even those who do not consider Me their Mother. I have made My language appropriate to each age. Just as the human generation evolves, so I make Myself understood by My children and in this generation I cannot but speak to you clearly about all that is coming. As a Mother I do not remain silent; I keep nothing for Myself but make known to My People all that My Son allows Me to communicate to you.
Beloved children, you must maintain your Faith; the coming attacks can make you stagger, that is why in every instant I have called you to remain firm and strong, to be dedicated and to adore My Son "IN SPIRIT AND TRUTH" crying out to Heaven constantly so that the Divine Spirit does not leave you.
WOE TO THOSE WHO ARE DARKNESS IN THE LIGHT!
WOE TO THOSE WHO IN THE DARKNESS PRETEND TO BE LIGHT!
BECAUSE THEY WILL NOT ESCAPE MY SON'S GAZE OR HIS SCALE
MY SON'S CHURCH WILL BE GREATLY SHAKEN. Faith must not decline in any instant. You, My People, My children of My Immaculate Heart, you who continue to faithfully listen to this Mother's Calls, are conscious of the harshness of this instant in which you live: THIS GENERATION HAS SEPARATED MY SON'S HOUSE FROM ITS LIFE.
My Son calls you without ceasing and I as a Mother, come to you because I love all of you with My Motherly Love.
BY THE LIGHT OF TRUTH OF SACRED SCRIPTURE, DISCERN THE SIGNS OF THESE TIMES, do not be blind or deaf, do not desire to give false interpretations to clear and crystalline water. THIS GENERATION MUST BE PURIFIED, TRIED AND THEN IT WILL SIT AT TABLE WITH MY SON TO ENJOY THE ETERNAL BANQUET.
My beloved, violence has seized the reason, the thinking, the conscience and heart of those who are Mine, leading them to fall into the power of the evil one, oppressor of the soul. This is not just any battle, it is a bitter and bloody battle. Being aware of it, strengthen yourselves with the Sacraments, visit My Son and receive Him in the Eucharist.
Woe to those who, believing themselves to be learned in My Son's Word, emit judgments "a priori" against My Chosen! My Son was dispised, treated as Beelzebub when He preached the Truth.
I CALL MY FAITHFUL INSTRUMENTS TO NOT FEAR OPPRESSION, OBEDIENCE IS THE KEY THAT OPENS THE DOOR TO THE DIVINE WILL, IN WHICH FAITH PREVAILS AND THE STRENGTH TO PROCLAIM HEAVEN'S CALLS WITHOUT HIDING WHAT IS REVEALED TO YOU ALSO PREVAILS.
Children of My Immaculate Heart, violence increases throughout the whole world; great realities are kept secret, the slaughters, the genocide that is committed before the indifference of governments, it carries the blood of innocents. Violence will become more general and My children will suffer and lament, but martyrdom, and pain and suffering are crowns in Heaven when you offer them out of love for My Son's Will. How many are massacred for professing their Faith in My Son! But they enjoy Eternal Happiness.
Woe to those who work in silence causing My children's death!
These are not instants of softness, they are instants of Truth and of Word, of harshness so this generation heeds the Calls of My Son's House, since human stubbornness has led you to destroy what My Son gave to you on Earth for your survival. Creation in general laments before a man made to have leprosy because of sin.
I INVITE MY PRIESTS SONS TO STRONGLY PREACH,
TO RESCUE SOULS AND SATIATE MY SON'S THIRST FOR THOSE HE LOVES.
My beloved, war advances and with it pain and destruction, but you who love this Mother and form part of My battalion of praying souls, do not rest; continue to intercede for your brothers and sisters.
Those who deny My Calls and My Word will see what I have revealed fulfilled, and with awestruck eyes they will see what I have announced fulfilled, they will believe and I will receive them with My open Arms and loving Heart. But let them not delay in converting, because time is not time and the instant has ceased to be an instant.
My beloved:
THE BLESSING COMES FROM HEAVEN TO EARTH, LOOK ON HIGH,
LOVE THAT OMNIPOTENT GOD, CREATOR OF HEAVEN AND EARTH, THAT GOD WHO CAN DO IT ALL AND WHO KNOWS ALL.
Do not be frightened before the news that reaches you, rather remain firm in Faith and continue awaiting the Blessing that My Son's House will send all of humanity.
WALK WITH YOUR GAZE TO HEAVEN, FOR YOUR GUARDIAN ANGELS, BROTHERS COMPANIONS OF JOURNEY, DO NOT ABANDON YOU AND MY SON WILL SEND MYRIADS OF HIS SONS, ANGELIC BEINGS, TO RESCUE THE FAITHFUL WHO SUFFER.
My children, the WARNING is not far from this generation, it walks to meet it an then the Truth will be revealed in the soul of each one of you, and how those will suffer who have persecuted those who, out of obedience and love of My Son's House, have proclaimed and will proclaim the Truth!
Pray for the Church, it will be shaken, it will be divided.
Pray for all those who, being innocent, encounter death by unknown or alien hands.
WOE TO THOSE WHO DISPOSE OF THE GIFT OF LIFE! How many innocents are aborted second per second! My Heart sheds blood for them. Degeneracy increases and man tries to justify himself proclaiming that everything is fine; this is because his conscience has been contaminated and he does not see reality, even though the offense is constant.
You who are aware of it, raise your voice and with courage guide your brothers and sisters, do not fear rejection. My Son was rejected by His own, do not fear rejection, do not fear those who can take away your life, rather fear those who can steal your soul.
I bless you, I keep you in My Heart, the Ark of Salvation.
Remain in My Son's peace and in these Motherly Arms. I bless you.
Mother Mary.
HAIL MARY MOST PURE, CONCEIVED WITHOUT SIN.
HAIL MARY MOST PURE, CONCEIVED WITHOUT SIN.
HAIL MARY MOST PURE, CONCEIVED WITHOUT SIN.