Wednesday, October 16, 2013
Message from the Blessed Virgin Mary
To Her Beloved Daughter Luz De María.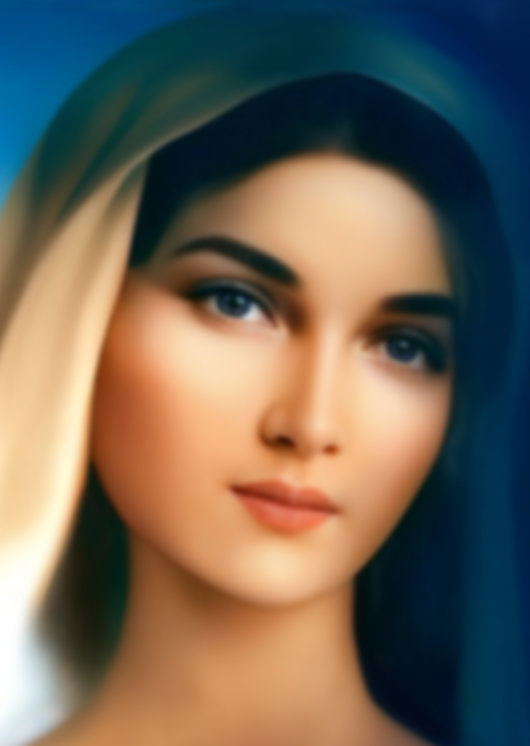 Beloved children of My Immaculate Heart:
MY HANDS REMAIN OUTSTRETCHED BEFORE YOU TO GIVE YOU SUPPORT AND SO THAT YOU DO NOT LOSE FAITH BEFORE DAILY ATTACKS.
DO NOT DOUBT IN ASKING FOR MY MOTHERLY PROTECTION, MY MATERNAL BLESSING.
YOU ARE THE FAITHFUL OF MY IMMACULATE HEART WHO HEAR MY WORDS ATTENTIVELY AND RESPOND TO THEM QUICKLY.
My beloved, My Son's People, in this instant communism has ceased to be a shadow and has become a dragon that will soon breathe its fire over humanity causing great havoc. Do not ignore how that dragon uncoils, so much, that it will invade Nations and subject the People to itself.
My beloved:
My children's obedience is the flag of Truth, obedience to My Cries and My Calls is the response of the faithful towards My Son's Will.
Disobedience nourishes evil in all its facets; disobedience has been the fall of man while obedience has raised him up in spirit.
My beloved People:
I HAVE COME AND WILL COME TO ASK YOU FOR REPARATION.
YOU, MY BELOVED AND FAITHFUL CHILDREN, MAKE REPARATION FOR THE DISOBEDIENCE TOWARDS MY CRIES.
Children of My Immaculate Heart, faithful to My Son: behind, plunged in darkness, leaders make pacts to favor each other mutually. These alliances plunge this generation in pain and in tribulation as you have never before experienced; the cruelty against the faithful will be punished. Those who unite in this instant, will mutually betray each other later, which will motivate unexpected wars.
My beloved:
With obedience, how much would be avoided! And with disobedience, how much pain draws near to humanity!
YOU WHO ENTRUST YOUR JOURNEYING TO THIS MOTHER, DO NOT DECLINE NOT EVEN AN INSTANT.
I DO NOT IGNORE MY CHILDREN, MY HEART AWAITS THE SUPPLICATIONS OF THOSE WHO ARE MINE TO GO QUICKLY TO THEIR AID.
How many live totally submerged in what is worldly, trusting the security of their future and of their lives to the money god! And in the midst of suffering they will be sorry for this.
How many hope in saving their body and how wrong they are!
BELOVED CHILDREN OF MY IMMACULATE HEART, PROTECT YOURSELVES IN MY SON'S CROSS, IN MY SON'S HOLY CROSS, WHICH IS A REFUGE FOR SINNERS AND TRUE CHRISTIANS.
How many reject and laugh at the Sacred Scripture! How many deny the Divine Word framed in the Sacred Scripture, with haughty voices they deny it, and with astonishment and repentance they will moan before such a grave sin.
CONTINUE TO NOURISH YOURSELVES FROM MY SON'S BODY AND BLOOD.
FUSE YOURSELVES WITH MY SON IN EVERY STEP, IN EVERY ACT AND IN EVERY WORK OF THE DAY, SO THAT EVIL DOES NOT MAKE PREY OF YOU.
My beloved, do not be discouraged, remember that My children reproduce themselves endlessly and their prayers and actions make reparation for so much evil that exists.
Beloved children, the continents will change in their geography. Those faithful to My Son must not fear, for your companions in life, your companions on your journey, your Protectors and My Heavenly Hosts will rescue you, they will not allow My Son's People to perish, for you will be seed for the future of Peace and Love that awaits humanity.
IN THIS TRAVELING THROUGH THIS VALLEY OF TEARS, MY SON WILL SEND THE COMFORTING BALM OF HIS WORD AS A COMFORT FOR THE INSTANTS OF THE GREAT TRIBULATION. This balm will be the creature that will accompany the faithful and humble of heart, the obedient People; not diminishing the authority of the Hierarchy of My Son's Church, but tearing the vale that blinds men, impeding them from seeing the Truth.
My beloved People, children of My Immaculate Heart:
Do not decline in prayer, do not decline in being living testimonies of My Son's Love for all of humanity. And in the midst of the coming tribulations, adore, praise and glorify My Son, do not be discouraged for your Protectors will come with Mana to keep My Children standing.
DO NOT FORGET TO CLING TO THE HOLY CROSS,
DO NOT FEAR TO DECLARE YOURSELVES CHRISTIANS.
I invite you to pray for My beloved People of Peru, who will unite to My Son's Holy Cross.
I invite you to pray for My beloved Chilean People, whom I addressed with My Presence and now invite to not let My Words be forgotten and to not let Faith decline under any circumstance.
I invite you to pray for My beloved Argentina, My Son's Holy Cross will come to fuse itself with this Land, but first it will be purified.
Beloved children, the Faith of men is the great miracle of My Son's Love towards man himself, the Faith of My children is support in every instant.
My Son comes for His Holy Remnant, My Son approaches with power, glory and majesty, shaking the Universes and all His Creation.
How ignorant the man of science still remains and how much he does not know of the power and omnipotence of the Father!
MY SON APPROACHES WITH HIS LEGIONS, FULL OF MAJESTY AS KING OF GLORY AND POWER CHRIST REIGNS, CHRIST OVERCOMES ALL EVIL!
I invite you, My children, to continue consecrating yourselves to My Immaculate Heart every day, the instants merits it and in your personal consecration do not forget to consecrate Russia as I asked when I revealed My Third Secret at Fatima.
My beloved, I bless you. Do not forget that My protective Mantle remains over each one of you, do not eagerly seek the Truth in modern and false ideologies; the Truth is written and I have come to clarify it to this generation, who blind, deaf and mute and with a heart of stone, does not want to recognize My Son's Word.
I INVITE MY PRIESTS SONS TO LIVE IN POVERTY AS MY SON LIVED, to go from town to town to bring the Truth, to encourage the sick and the disadvantaged.
I INVITE MY PRIESTS SONS TO BE SIMPLE AND MEEK, I invite them to love all My children without keeping merely social partialities. Eagerly seek the good of souls, do not scorn any person no matter how sinful or poor they be.
I INVITE YOU TO GO OUT AND PREACH WITH THE TRUTH, souls not only arrive at the temples, they are also found outside of them, in the homes of the communities that have been entrusted to you. As shepherds, go out like beggars of love to knock on the doors of the homes in your communities, to console and bring to the fold all the sheep.
Beloved children of My Immaculate Heart:
Do not separate yourselves from My Son's love, do not separate yourselves from this Mother who loves you and that with My Mantle full of the beauty of the Firmament, I have desired to speak to man so that he understands that the stars not only shine before man's eye that is limited, but they shine in the omnipotence of the Father's Creation.
I bless you, remain in Peace.
Mother Mary.
HAIL MARY MOST PURE, CONCEIVED WITHOUT SIN.
HAIL MARY MOST PURE, CONCEIVED WITHOUT SIN.
HAIL MARY MOST PURE, CONCEIVED WITHOUT SIN.