Sunday, October 20, 2013
Message from Our Lord Jesus Christ
To His Beloved Daughter Luz De María.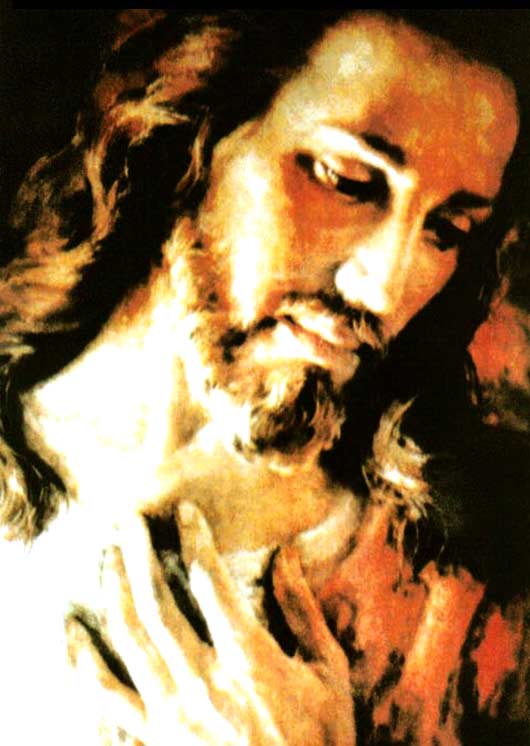 My beloved People:
I bless you.
TAKE MY HAND SO THAT YOU WALK SECURELY AND INCREASE IN FAITH. TAKE MY HAND WITH COMPLETE HUMAN FREEDOM AND ALLOW ME TO TRANSFORM YOU IN SPIRIT AND TRUTH.
I have given you the nets to accompany Me to a greater catch. Within the freedom that each one of you possesses, you will know if you accompany Me out into the sea or instead, on the shore you collect all that which is not Mine and you allow yourselves to get dirty in the mud of what is worldly.
From generation to generation I call souls with equal intensity; you are My beloved children. Do not continue to pollute the human conscience, see how My Love longs to transform you, how My Heart desires to find you in It.
My beloved People, I am infinite Mercy, and My Mercy alerts you, for what has not been fulfilled will be fulfilled, because what is announced by My House is fulfilled on time and out of time.
These are fragile instants for all, but I remain here before each one of you, within each one of you so that you are not easy prey for evil.
BELOVED, FIGHT AND DO NOT POLLUTE YOUR THOUGHTS,
MIND AND HEART WITH ALL THAT HAS BEEN FABRICATED BY PRSENT-DAY MAN
WHO WALKS WITH AN EMPTY SPIRIT AND A CONSCIENCE SATURATED BY WHAT IS NOT MINE.
How much I alert you so that you return to Me! And My People will suffer even more. And how can you ask Me as a Good Shepherd to not alert those who are Mine when evil does not rest from continuously attacking My People, debilitating them in one way or another?
My People, the ingenuity of some is their weakness, and the aggression of others along with their unawareness is a sword that leads the weak to fall and that is why I am here before each one of you with My Hands open so that you take them and walk beside Me.
How may ideologies surround you beloved children of Mine! BUT ONE IS MY TRUTH AND YOU CANNOT CHANGE IT, ONE IS MY LOVE AND YOU CANNOT CHANGE IT, ONE IS MY BODY AND YOU CANNOT CHANGE IT, ONE IS MY VIVIFYING ANDREDEEMING BLOOD.
The instants change but My Word does not change, it remains. My Body and My Blood do not change, they remain.
My beloved People, cling to My Cross of victory. On My Cross I gave Myself, and I continue on It with profound love for each one of you.
How many are persecuted because of My Name! How many are massacred because they do not deny Me!… and the voices are not raised proclaiming and denouncing this Truth to humanity, remaining hidden those who in My Name and for love of Me, give life. These remain at My Side, seated at My Table.
THE RIGHT TO CALL YOURSELVES TRUE CHRISTIANS DOES NOT BELONG ONLY
TO THOSE SCHOLARS WHO PROCLAIM MY WORD,
IT DOES NOT BELONG ONLY TO THOSE WHO LOUDLY CLAIM TO KNOW MY WORD,
RATHER IS BELONGS TO THE ONE WHO LIVES AND CARRIES OUT MY WILL…
AND MY WILL IS THAT YOU LOVE ONE ANOTHER WITH MY SAME LOVE, THAT YOU ENTER INTO THE MYSTERY OF MY LOVE AND THAT YOU KNOW ME PROFOUNDLY.
The one who does not love Me in the silence, in meditation, in prayer and in giving himself or herself for his or her brothers and sisters, cannot love Me. Those are the Christians of this instant, the ones that I, your Jesus, desire.
My beloved People, help one another, share My Divine Love towards you with your brothers and sisters.
THE INSTANT OF INSTANTS IS SO CLOSE, THAT THOSE WHO LIVE SUBMERGED IN WORLDLY NOISE ARE NOT ABLE TO HEAR HOW CLOSE I AM AND THE NEARNESS OF THE EVENTS. Continue to look on high, for I come for those who are Mine, to rescue My People with My Love and My Truth.
Do not give in or falter before those who threaten you if you do not renounce My Love; My Legions will accompany you so that among acclamations you do not lose Faith.
Pray, My beloved People, pray for Spain, its heart will bleed.
Pray, My beloved People, pray for the United States, it will burn.
THE INSTANTS ARE BLOODY, BUT MY LOVER OVERCOMES ALL, I DO NOT ABANDON YOU. Do not be discouraged before the trails, each trial is a drawing closer to Me, it is a revealing of Myself before you, it is entering into the Mystery of My Infinite Love.
Do not limit Me, for My Omnipotence surpasses man and all creatures. Allow the fire of My Love to devour whatever is of the world that has entered you, so that like iron in the crucible, you come to Me, willing to find Me in the Truth of My Word.
I bless you.
CONTINUE WITHOUT FEARS, FOR FEARS BELONG TO THOSE WHO DO NOT HAVE FAITH.
MY OWN KNOW ME AND KNOW THAT I WILL NEVER ABANDON THEM.
I love you, I bless you.
Your Jesus.
HAIL MARY MOST PURE, CONCEIVED WITHOUT SIN.
HAIL MARY MOST PURE, CONCEIVED WITHOUT SIN.
HAIL MARY MOST PURE, CONCEIVED WITHOUT SIN.