Wednesday, October 23, 2013
Message from Our Lord Jesus Christ
To His Beloved Daughter Luz De María.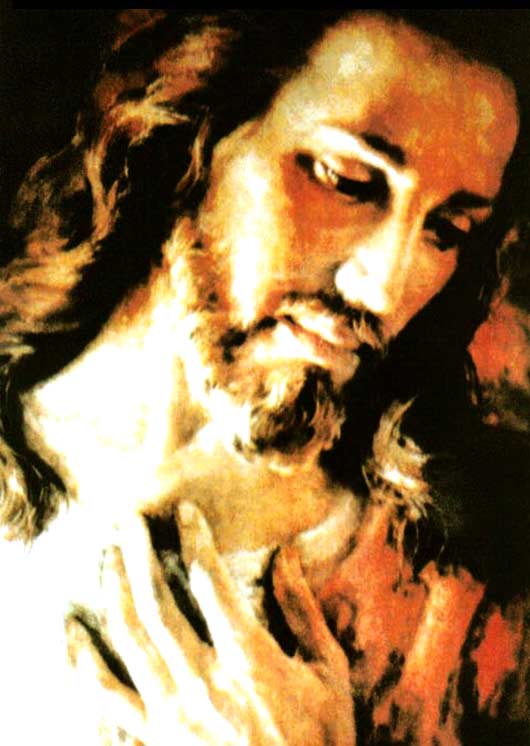 My beloved People:
YOU WALK AND WITH EVERY STEP YOU TAKE, MY PRECIOUS BLOOD IS SHED TO PROTECT YOU.
You continue living, separating Me from you and pushing Me away from you… My beloved, in the end times I will be cruelly driven off by My children and abandoned by those who are Mine.
My beloved People, consternation will reach all those who love Me, but Faith in My Protection must keep you secure. Just as My People were fed in the desert, so again those who are Mine will be fed and protected.
THE OPPRESSOR OF SOULS , WITH A HEAVY HAND, TURNS TO TORTURE MY PEOPLE WITH DECEITS AND LIES… AND MY PEOPLE WILL BELIVE IN HIM.
You turn away from Me so quickly, that My Heart trembles continuously. You do not know Me:
You have come to disown Me…
You have come to forget My Word…
You have come to even mention that My Word is not true…
You have come to question Me and science has not evolved for good, rather on the contrary, it has led man to feel superior to Me and to believe he is lord of all that has been created, but Creation maintains its subjection and respect to Its Creator and Lord. ONLY MAN FORGETS ME WITH GREAT EASE.
I am a King, and I remain constantly alert over My People, but My People have disowned Me and I must wait with My Infinite Patience for them to return to Me.
My beloved People:
MY BLESSING IS NOT SEPARATED FROM YOU, IT REMAINS IN YOU,
IT IS YOU WHO HAVE CONTINUOUSLY TURNED AWAY FROM MY PRESENCE, FORM MY LOVE AND DO NOT ACCEPT MY WORD THAT IS BLESSING FOR YOUR JOURNEYING.
I invite you to pray for My beloved People of Costa Rica, they will suffer.
I invite you to pray for Jamaica and China, they will suffer.
And to all those souls who remain before Me supplicating, humble and obedient, fighting against all of evil's machinery, I INVITE TO SPREAD MY WORD AND TO LEAD ALL TO THE KNOWLEDGE OF THE CONSECRATION TO MY MOTHER'S IMMACULATE HEART, URGENTLY, IN THIS COMPELLING MOMENT FOR THIS GENERATION.
My beloved, before the warnings of an economy that is sunken, lost and suffocating, maintain Peace. It is not with the god man adores and that rules the will of the materialist man, it is not with that false god of money with which My People will reach Me; it is with the awareness of and obedience to My Words and with the faithful fulfillment of My Commandments, it is with the constant sojourn of each one of you in the Divine Will, and it is with My People's action, being living testimonies of My palpitating Love.
Keep in mind that evil moves quickly and My Church continues passive; be aware of the Truth I convey.
My beloved People:
I LOVINGLY CALL YOU TO BE WORTHY CHILDREN OF MINE,
TO REMAIN IN FAITH AND CARRY OUT MY PETITIONS,
BECAUSE I COME SOON TO GATHER THE HARVEST AND TO SEPARATE THE WHEAT FROM THE CHAFF.
I bless all those children of Mine who make an effort so that My Word and My Requests reach all your brothers and sisters.
I bless those who suffer for Me, those who endure, those who proclaim My Calls with courage to this humanity thirsting for Divine Love and that scorns Me continuously.
Nature already gives signs of repudiation towards man, the animals give signs of the nearness of My arrival and of the purification of the man of this generation.
The pure Earth that has supported those who are Mine, you have contaminated it to its bowels and thus, man will suffer the consequences of this great evil he has caused.
I BLESS YOU WITH MY LOVE, I BLESS YOUR MIND, YOUR THOUGHTS, I BLESS YOUR WILL SO THAT YOU FIRMLY BIND IT AND BRING IT BEFORE MY PRESENCE.
Remain in peace, without forgetting that this King does not abandon His own and will provide them with whatever is necessary so that My children do not suffer more than is due.
MY LOVE AND MY PEACE BE WITH EACH ONE OF YOU.
I BLESS YOU.
Carry My Word and My Love constantly in you, for only the one who is a living testimony of My behavior and actions, is a worthy reflection of My Love.
Your Jesus.
HAIL MARY MOST PURE, CONCEIVED WITHOUT SIN.
HAIL MARY MOST PURE, CONCEIVED WITHOUT SIN.
HAIL MARY MOST PURE, CONCEIVED WITHOUT SIN.