Monday, November 4, 2013
Message from the Blessed Virgin Mary
To Her Beloved Daughter Luz De María.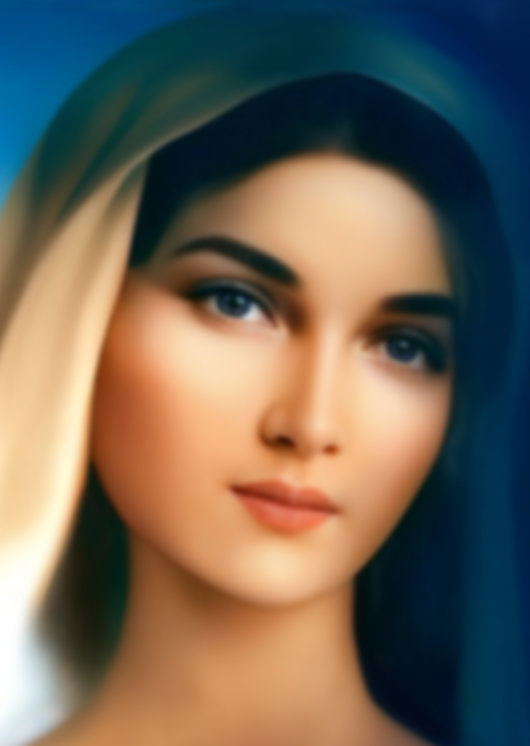 Beloved children of My Immaculate Heart:
MY HEART IS RAPT IN LOVE FOR YOU.
EACH ONE OF YOU IS INDISPENSABLE IN THE GREAT WORK OF CREATION.
I REMAIN, INSTANT TO INSTANT, BESIDE YOU,
SO THAT YOU DO NOT FEAR IN THE FACE OF ADVERSITIES.
My beloved:
This generation lives constantly with its mind and thoughts stalked by technology and by the decline in man's morality. This must not be a pretext for not ascending; humanity, in every instant, has had to confront the hindrances of its generation, however, those who have desired to overcome the trials and see closer to My Son have achieved it.
IT IS TO YOU WHOM I SPEAK, TO YOU WHO ARE MY SON'S PEOPLE AND WHO ARE MY CHILDREN, THOSE WHOM I LOVE INFINITELY…
Beloved, Nature must be a sign for you, upon seeing it and contemplating it, it should not go by unnoticed how Nature has aged in the hands of man, rather it should be a great Sign. All that exists gives man signs to warn him and so that what is approaching does not go unnoticed.
The behavior of the animals is not the same as in the past; it is unnatural. Animals are abandoning their habitat, for they sense that Nature advances by leaps and bounds to encounter man, who has overwhelmed it and has slain it, due to the great contamination man has spilled upon it.
My beloved, do not expose yourselves to the Sun; it is emanating its strength, energy, magnetism and elements that harm the human being.
Beloved, YOU WILL LIVE A GREAT CRISIS OF FAITH IN WHICH A GREAT AMOUNT OF THOSE WHO ARE MINE WILL STAGGER. THAT IS WHY I ALERT YOU, THAT IS WHY I CALL YOU SO THAT YOU DO NOT CEASE TO LOOK AT YOUR INNNER STATE. Whoever does not enter within and corrects himself or herself will find it difficult to rise up by himself or herself that is why I send souls, creatures, with My Words and with My urgent Calls so that nothing takes you by surprise.
SUBJECT YOUR THOUGHTS, DO NOT GIVE FREEDOM TO THE HUMAN "EGO", WHICH STUNTS THE PATH OF THE SPIRIT WITH ILLUSION.
My beloved, keep your mind clean like crystalline water so that your senses find equilibrium and they stop immediately. Do not expose yourselves to what is worldly, do not think about what is fleeting but rather about the Eternal Life that awaits you.
As a Mother I address this generation so that you understand Me and so the events do not find you hesitant in the face of what I have insistently announced to you.
THE HUMAN BEING MUST ELEVATE ITS SOUL,
UNSTICK IT FROM WHAT IS EARTHLY AND UNITE IT WITH THE SPIRIT.
THE HUMAN BEING MUST TRANSCEND AND MAINTAIN ITS LIFE ON THE SEARCH OF TRUE UNION WITH MY SON.
I intercede for each one of you, only prepare yourselves, recognize that you need a change so that I can help you, united with the saints whose help you ask. Man by himself does not pick raise himself up; He needs Heaven's help so that thus he may find the Truth Path.
My beloved:
WITH PAIN I SEE THE DISTRESSING WALKING OF THIS GENERATION, BUT YOU CAN TURN AWAY
FROM THIS PATH IF YOU KEEP YOUR THOUGHTS AND MIND ON MY SON, WITH A GENTLE HEART
AND SENSES SUBJECTED TO MY SON, WHO SACRIFICED HIMSELF OVER FOR ALL OF HUMANITY.
In the midst of worldly noise, silence your internal voices and remain united to My Son and within My Immaculate Heart. Only thus will you be able to overcome the trial that will take place; each one of you will take a look at yourself and at the same time you will feel you have become distanced from My Son. You will see your works and actions, and My Son will not allow a single work or a single act to not be recognized by you. They will be instants that will seem an eternity; the trial is necessary so that man recognizes the poverty in which he has lived while being a child of the King, Lord of all Creation. A spiritual poverty usurped by what is worldly, empty, fleeting and immoral.
My beloved, return to the True Path and those of you who still do not know My Son, turn to Him, I will be the Intercessor of all those who draw near.
The instant of the trials is near; the man lacking in love of neighbor and who does not know brotherhood, uses the power he possesses to overwhelm his fellow man.
I grieve before the crimes, before so many innocents aborted and before those who are victims of hatred and of power that uses them as it pleases…
I grieve for My children, their bodies are destroyed without them perceiving it… I grieve before discrimination…
How My Heart suffers because of the vexations and offenses that occur in this instant! Ah, they have not taken place like in this generation! This is why My Son's People must be purified, like iron melts in fire.
Beloved of My Immaculate Heart:
REMAIN ALERT, DO NOT BE CARELESS, COMMUNISM STALKS ALL OF HUMANITY, IT EXERCISES
POWER IN SMALL COUNTRIES AND TOWNS, GROWING AND STEALTHILY TAKING OVER SO AS NOT TO BE TOTALLY DISCOVERED and in this way it grows, that scourge of the end times, grows. That arm and simultaneously part of the head of the antichrist -- it is seizing all of humanity and will cause great pain and confrontations among My Children.
My Beloved:
THERE IS SO MUCH ABOUT WHICH I MUST WARN YOU THAT I ASK YOU TO CONTINUALLY PRAY TO MY SON SO THAT THE HOLY SPIRIT ENLIGHTENS YOU AND GIVES YOU THE DISCERNMENT NECESSARY IN THE MOST BLOODY INSTANT OF THE TRIAL.
Do not forget that man's enemy dresses like an angel to confuse you; how many will come to you with words of love… and in truth are wolves in sheep's clothing!
CHILDREN, NOURISH YOURSELVES FROM THE SPIRIT, FEED YOURSELVES WITH MY SON'S BODY AND BLOOD, DO NOT NEGLECT THE SPIRIT AND BE MASTERS OVER YOUR SENSES AND NOT YOUR SENSES MASTERS OVER YOU.
Remember that the one who desires first place will not obtain it if he does not lower himself and makes himself the smallest of all.
I call you so that you do not let yourselves be confused, other wise false ideologies penetrate your mind and lead you to fall.
Pray, My beloved, pray for Colombia, it will suffer a great Tribulation.
Pray, My beloved, pray for Chile it will groan.
Pray, because each time the spirit of war draws closer to this generation.
REMAIN UNTIED, PRAY FOR ONE ANOTHER, MINISTER TO ONE ANOTHER, MAINTAIN FRATERNITY, SCORN WHAT IS MATERIAL AND LOVE WHAT IS SPIRITUAL.
I bless you.
Remain in peace and with My Love.
Mother Mary.
HAIL MARY MOST PURE, CONCEIVED WITHOUT SIN.
HAIL MARY MOST PURE, CONCEIVED WITHOUT SIN.
HAIL MARY MOST PURE, CONCEIVED WITHOUT SIN.