Thursday, November 7, 2013
Message from Our Lord Jesus Christ
To His Beloved Daughter Luz De María.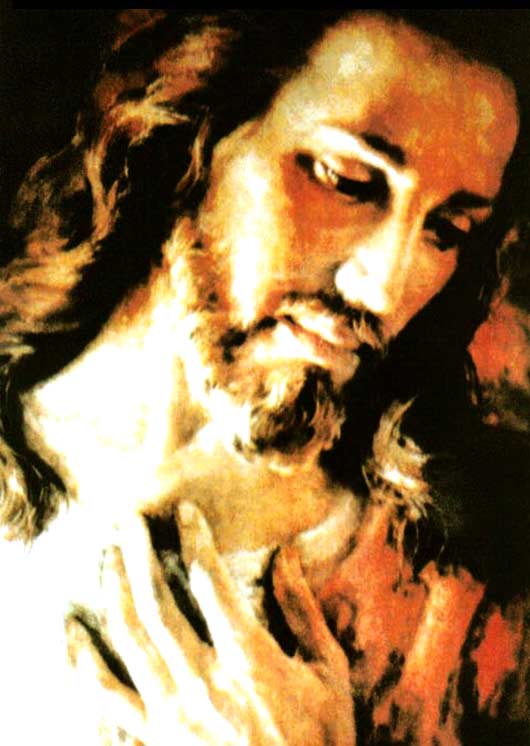 My beloved People:
MY WILL CALLS YOU…
EVERY HUMAN BEING REMAINS IN MY HEART, WITHOUT DISTINCTIONS.
I see human freedom, without turning away from a constant calling at the door of your hearts. I receive you with My Arms open.
I suffer and will suffer with each one of you each desolation, each injustice, each abuse against the Gift of Life, each scourge caused by the devastating arms of the forces of evil against My People and each abuse of power against the weak and simple.
I allow freedom, but the men with power in the world, abuse, scourging the freedom of those who are Mine, subduing thoughts and imprisoning the mind so as to bend human will toward where they desire, uniforming thoughts.
This generation, an expert in scientific advances, is scourged, instant to instant by those to whom humanity itself has entrusted power.
THE ABUSE OF PWER IS ONE OF THE SCOURGES OF MY PEOPLE.
In this instant of instants, My People again face pharaohs more powerful and more dangerous than in the past.
NUCLEAR ENERGY MAINTAINS AN END; IT HAS BEEN CREATED TO MASSIVELY DESTROY HUMANITY, without distinctions of class or beliefs. The specter of nuclear energy will culminate with the destruction of man by man.
I CALL YOU TIME AND TIME AGAIN TO BE SPIRITUAL PEOPLE THAT PASS OVER WHAT IS HUMAN, and you see from on high your brothers and sisters, so that they do not see your defects, rather, like My mirrors, they see the qualities and grades of each one of your brothers and sisters.
HUMANITY DOES NOT ADVANCE IF YOU ARE NOT WILLING TO TRANSFORM "THE HUMAN EGO", THE CAUSE OF THE GREATEST DISASTERS OF ALL GENERATIONS, ONCE AND FOR ALL AND FOREVER.
The ignorance looks at itself, the good disposition sees My Will and not the human will.
Pray, My People, pray for Japan, it will contaminate the Earth.
The Earth that has cradled you and that has provided you with what is necessary, has received cruelty from man, just as from man I have received being deprived from the love of those who are Mine. Egoism suppresses sensitivity and love, leaving space for evil to possess man.
I CALL YOU TO AWAKEN IN EVERYONE THE TRUE SPIRITUAL RACE.
YOU WILL NOT ACHIEVE THIS THROUGH VIOLENCE, BUT THROUGH AWARENESS
AND PRINCIPALLY THROUGH THE HUMAN BEING'S DISPOSITION TOWARDS MY DESIGNS.
Renew yourselves within with a generous spirit, maintain My Teachings, do not see them within the superficiality that you are accustomed to, rather in their essence.
My beloved, the pain of My Heart is an actual pain. I dwell in each one of you, I grieve with My People and walk with My People in unity.
I AM NOT A GOD OF FEARS BUT OF TRUTHS,
AND IN THEM EVERYONE IS RESPONSIBLE FOR HIS OR HER BEHAVIOR.
The way of the Cross is not only of suffering, but of fullness of joy in the commitment…
The way of the Cross is a sign of Resurrection, of Purification and in the Cross love is edified; whoever does not know My Cross does not know Me.
I have not abandoned My People, and I will not abandon them. I will send My Blessing from on high, this Blessing being My Word: pure, clean and transparent. It will come to share with My People the encouragement of My Love when they are in the hands of the usurper.
What has been prophesied will be fulfilled and men will see with pain the battles that will increase and extend throughout all the Earth, bringing desolation upon human beings.
Pray My people, pray for the Middle East, cruelty will expand towards humanity.
The money god will fall and masonry will lead beside others that serve evil, not only the spirituality of the Peoples, but the global economy. It will be the destructive power, FOR MY PEOPLE HAVE NOT UNDERSTOOD THAT THE ANTICHRIST, FAR FROM BEING ONLY ONE PERSON, LIANS UPON A WHOLE A POWER THAT FEEDS HIM ON EARTH WITH THE END OF DOMINATING EVERY MAN AND WOMAN.
THEY HAVE INDOCTRINATED YOU TO NOT BELIEVE THAT THE SON OF EVIL WILL ARRIVE, AND ALL THOSE WHO ARE LUKEWARM WILL FALL INTO HIS CLUTCHES.
Nourish your faith with right disposition, the conscience cannot exist if the person does not make himself or herself willing for Me to act in him or her. The Earth is exhausted of so much sin that is upon it, and the Earth will make a sequence of fire emanate from volcanoes, and in those instants, those who have not wanted to listen will remember My Words and cry out for My Help and My Blessing and I will come, out of love, to man.
Do not forget that My Heavenly Hosts will make themselves present on Earth and will be visible to the eyes of humanity.
DO NOT FEAR, MY BELOVED PEOPLE; YOUR PRAYERS AND ABOVE ALL YOUR COMMUNION WITH
MY PRECEPTS AND COMMANDMENTS WITH MY BODY, MY BLOOD AND DIVINITY WILL BE A STRONG ARMOUR THAT WILL PREVENT THE ENEMY FROM CAUSING YOU TO FALL. My Mother:
Door of Heaven and Morning Star, will illuminate the heart of those who are Mine.
My beloved People, when the disease is known by all men and draws near and contaminates everything in its path that has life, do not forget that My Mother is your Refuge, and Her Love in Her different invocations, will heal Her children. My Mother will not abandon you even if you do not love Her.
Look to the Heavens, for the signs are continuous, they do not stop, rather they alert you so that you perceive what is coming in advance.
THE PERSON WHO DOES NOT LIVE IN SILENCE, WILL NOT SEE BEYOND WHERE THE EYES SEE.
REMAIN READY TO LIFT UP YOUR BROTHER OR SISTER,
NOT FOR HIM OR HER TO REMAIN PROSTRATE ON THE GROUND.
The one who fears, fears because he or she does not live in Me and has not allowed Me to take possession of My Kingdom in him or her. I am a Just Judge and the measure I impart is the most fair.
DO NOT FEAR, RATHER RECEIVE MY CALLS WITH TRUST SO THAT FAITH DOES NOT DECLINE AND THE SPIRT IS FREE, REALLY FREE.
I bless you, I love you, I impart to you My Blessing so that all who live and meditate profoundly upon this Call of Mine, be filled with Wisdom.
I bless you in the Name of My Father, in My Name and of the Holy Spirit. Amen.
Your Jesus.
HAIL MARY MOST PURE, CONCEIVED WITHOUT SIN.
HAIL MARY MOST PURE, CONCEIVED WITHOUT SIN.
HAIL MARY MOST PURE, CONCEIVED WITHOUT SIN.