Sunday, November 10, 2013
Message from the Blessed Virgin Mary
To Her Beloved Daughter Luz De María.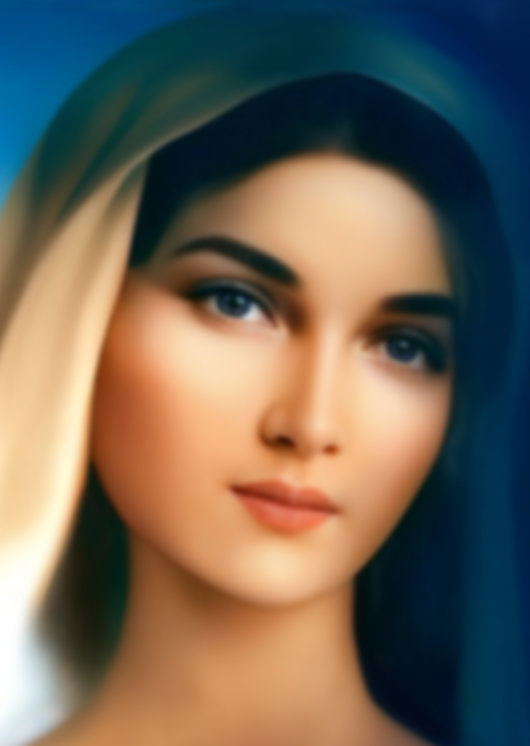 Beloved Children of My Immaculate Heart:
My Heart shelters you, and My Love burns when you respond with a firm resolution of amendment.
Be impenetrable before those who desire to turn you away from My Son with falsehoods, remain attentive and do not turn away from My Son's Will.
I am a Suffering Mother in the face of the events, which will increase for humanity, and the lack of conscience of humanity before what its brothers and sisters experience where nature's hand has scourged them.
What I tell you about you must take seriously; it is not just another message, it is a moan from My Heart that does not want you to be taken by surprise. You, My children, will be able to overcome evil, but first you will be passed through the sieve of The Purification, within which you are besieged more in spirit and conscience, which at the moment is saturated with what is worldly and with its own earthly gods.
My Son's Cross is heavy, and It must be carried by His Church, those consecrated and the laity, in instants of great spiritual confusion and provocation. These are worse times than those of Sodom and Gomorrah.
Children of My Heart, I grieve before the persecution in which those who remain faithful to My Son are and will be subject to a greater degree.
EVIL HAS PERMEATED THE MIND OF SOME HUMAN BEINGS TO SATIATE ITS THRIST FOR
VENGEANCE AGAINST MY SON'S PEOPLE, NESTING IN HEARTS THAT ARE ASLEEP AND SUBMERGED
IN WHAT IS EARTHLY AND HARDENED BY THEIR LACK OF LOVE TOWARDS MY SON AND THEIR NEIGHBOR.
Be conscious that My Son remains beside each one of you; He has not abandoned you nor will He abandon you -- that is His promise.
In these instants, He has entrusted to Me those who are His, so that as Mediatrix, I intercede and come to every heart, supplicating for Love towards the Sacrosanct Trinity, so that souls are not lost.
Beloved, do not continue in ignorance; each one of you is the image and likeness of the Creator, and as such, you possess the attributes to walk increasing the Blessing you have received from the Holy Spirit and to be the light of the world and salt of the Earth.
Beloved, draw near to receive My Divine Son. He will fill all who are empty; you will not have to search for Him in places where you will not find Him. Do not pretend to obtain in one day what you have not wanted to receive for years; be perseverant and do not lose faith.
Pray My beloved children, pray for Spain, it will bring pain upon itself.
Pray for Mexico, it will suffer greatly.
It is not in great and exposed reasons in which the errors are seen, but rather in what appears to be hidden and passes as inoffensive.
Be lit lamps with new oil.
Look to the heavens, for from on high will the Blessing come.
MY SON WILL SEND YOU BALM IN PAIN, HE WILL SEND HIS HELP FROM HIS HOUSE TO SUSTAIN YOU.
Water will continue to flog the Earth will move and My Children will lament the great amount of offense they have caused and the result of what they themselves have gestated; nature has rushed upon Earth emerging from the depths of the Earth itself. The sun will emanate its heat to the Earth and you will be surprised.
Remain with the good purpose of being better every day, maintain the disposition to be better, that way it will be easier to walk without finding so much resistance in yourselves. Humanity revolves against the hands of the clock, due to this walking through life is more difficult, since the hands of the clock turn more quickly.
IT IS NECESSARY THAT YOU GROW AND LOVE WHAT THE FATHER DESIRES FOR EACH ONE OF HIS CHILDREN.
The Sacrosanct Trinity gives Itself to all equally; it is ignorance that leads to not everyone seeing that Divine Light similarly. Receive the Divine Light with amplitude of awareness and the rest will be given unto you.
Before the great darkness arrives on the Earth and the Earth all shakes, change, change, children! The instant is not an instant, and the souls desirous of attaining Eternal Life must prepare themselves to not wait, but rather to give themselves in spirit and truth.
Do not forget that My Son will ask: "Who is MY MOTHER AND WHO ARE MY BROTHERS?" …
THE ENDEAVOR OF PLEASING MY SON MUST BE PRIMORDIAL FOR ALL. MY CHILDREN ARE THE
SOULS THAT FIGHT TO NOT EXPOSE THEMSELVES TO TEMPTATION, TO NOT FALL AND SUFFER THE
ETERNAL FIRE, FOR TEMPTATION ON OCCASION LEADS YOU TO ALWAYS CONTINUE IN SIN. THOSE WHO REMAIN IN THE CONSTANT BATTLE, THOSE, THOSE WILL ENTER THE HEAVENLY HOME.
THESE ARE NOT USELESS WORDS; HUMANITY IS FRACTIONS AWAY FROM SUFFERING BECAUSE OF ITS SINS AND OF ITS DISTRUST AND REJECTION OF MY SON.
THE SIGNS ARE IN SIGHT -- HUMANITY DOES NOT WANT TO SEE THEM OUT OF FEAR.
IT IS NEVER TOO LATE, ONLY YOU MUST NOT WAIT UNTIL THE FINAL INSTANT.
I WAIT FOR YOU, I WILL PUT YOU IN MY HEART AS A TEMPLE AND SANCTUARY OF THE HOLY SPIRIT; I REMAIN BESIDE YOU, YOU NEED ONLY CALL ME.
I bless you with My Heart full of love,
Mother Mary.
HAIL MARY MOST PURE, CONCEIVED WITHOUT SIN.
HAIL MARY MOST PURE, CONCEIVED WITHOUT SIN.
HAIL MARY MOST PURE, CONCEIVED WITHOUT SIN.