Saturday, November 16, 2013
Message from the Blessed Virgin Mary
To Her Beloved Daughter Luz De María.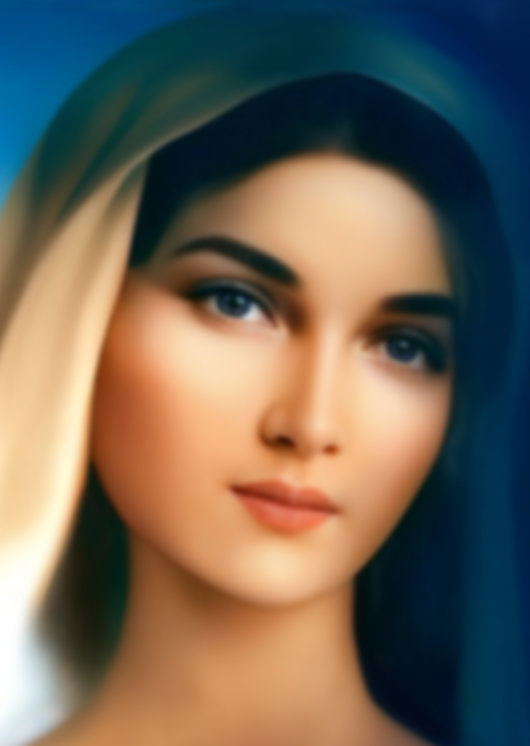 Beloved children of My Immaculate Heart:
I INTERCEDE CONSTANTLY FOR ALL OF HUMANITY BEFORE MY DIVINE SON.
I DO NOT TURN AWAY FROM YOU.
My faithful children will carry a heavy Cross. Each has taken up his or her Cross to follow My Son; in the Cross they will find the true path, the one My Son walked to give Himself and redeem all of humanity.
My children give themselves for their brothers and sisters; My children give their life for their brothers and sisters, thus fulfilling the first Commandment and loving God the Father above all.
Pain is part of man's journey, and when this pain is offered up and carried with patience, it is transformed into purification and joy for the spirit.
When a person remains in a state of indifference towards all that surrounds him or her, he or she will continue to be just one more who does not leave a mark; he or she will continue to be the one who does not share with his or her brothers and sisters the pain, joy and whatever happens to him or her in life. The one who knows brotherhood, who truly knows what Divine Love is, the one who does not look at his or her brothers and sisters with indifference, that person continues to be an image, a mirror of My Son.
Humanity is approaching intense instants of suffering, due to the arrogance, pride and impiety of which man is an object; by turning away from Your Creator, you have allowed the enemy of souls to take possession of hearts, leading you to be insensitive creatures.
Beloved children of My Immaculate Heart, do not separate yourselves from this Mother, I do not abandon you. As I am a faithful disciple of My Son, so I desire that you, My beloved children, be faithful disciples of My Son; I guide you towards Him, towards His Way and towards His Truth so that you enjoy full happiness and sit at the table of the Heavenly banquet.
My beloved, I am on pilgrimage from place to place bringing My Son's Word and therefore, bringing My desire for more souls not to be lost. My cry goes to all of humanity -- not only to a few, but to all of humanity.
You must examine yourselves continually, so that you resume that path with a disposition towards good, refusing to fall into the clutches of evil. This generation, like others, refuses to hear the calls of My Son's House.
Do not look at Me, look at My Son, offering Himself on the Cross for you.
I remained at the foot of the Cross for everyone and thus in this instant, My faithful children must remain at the foot of the Cross, a sign of Redemption and Glory.
My beloved, walk on the narrow path, against worldly fads; what is worldly is fleeting and distances you from the truth, creating false gods to which you cling with ease with tricks and traps, contrary to what is good. My Son offers you the Bread of Life, and you refuse to take part in this Banquet. You have scorned True Love for fleeting love, you have scorned the truth, you prefer lies and have scorned fidelity, choosing infidelity.
OH My children, children of My Immaculate Heart, make reparation, make reparation for the pain caused to My Son, make reparation for the pain those who scorn Him cause Him.
My beloved, these are violent instants in which this generation moves; violence seizes man and man reacts simply by impulse. Reflect and dispose yourselves to good, even if you leave the path watered with your tears.
My beloved, in order to attain the Eternal Blessing, you must change; this instant is one of decision: those who are lukewarm will be vomited from the Father's mouth. You must decide with your will and disposition to amend the route you have taken and to not travel on the wide path of sin. The great gods creators of the inventions lethal for the spirit, will continue to attack man's will to put an end to it, casting it to the mud so that it does not rise. Resist; do not let yourselves be carried away by what is worldly, by the news; cling to My Son, to His Word.
My beloved, as Mother of all of humanity, I cover you with My Maternal Mantle, but each one of you must annul the human ego that is inclined to evil, and allow goodness to take possession of your senses and to open up a good disposition within you.
My Son's Church must remain active, opening the heart of men and women and not pushing aside those who, with a hardened heart, turn away from My Son. STRENGTHEN YOURSELVES WITH MY SON'S BODY AND BLOOD, NOURISH YOURSELVES IN THE EUCHARIST, VISIT MY SON IN THE SANCTUARY AND NOURISH YOURSELVES IN THE SPIRIT, SO THAT YOU ARE ABLE TO FACE ALL THAT IS APPROACHING WITH FAITH AND WITHOUT FALTERING.
My beloved children, I invite you to pray for Denmark, it will suffer greatly.
Beloved children, do not neglect your prayer for the United States, water will make it suffer. Beloved children, pray for the Middle East, will will spread terror throughout several countries of the world.
The mind of the man of power wants to seize territories so as to, in that way, enlarge his power over those who are smallest. In this instant, the powerful compete for the Nations and the supremacy in them, and I, with My Heart grieving before My Son's lament, I see how those who exercise power in the great nations look at their brothers and sisters of other countries with great indifference, as if they were just another thing and not children of the same Father.
Beloved children… you, children, do not become divided; help one another. Where one brother or sisters suffers, the rest suffer, but remember that the instant will arrive in which you will not be able to help one another like you do now, for the succession of the events will not allow the peoples to help one another.
My beloved, communism expands its clutches and with its chains subjects the small Nations. It rises without being seen and has become a great power that will bring desolation to those who are Mine.
Oh humanity! What have you become?
Oh humanity! You do not see your God.
Oh humanity! How you have distanced yourself from the truth! Oh humanity! Why don't you see yourself where you are?
Beloved children of My Immaculate Heart, once again I invite you to give yourselves to My Son; I invite you to pray the Holy Rosary.
And when you do not call Me, I remain before you, guarding you. I remain at the foot of the Cross of Glory.
My beloved, center yourselves in fraternal love, obey My Commandments, gather yourselves and minister to one another. You do not remain alone, My Son dwells within each one of you, the Holy Spirit will give you discernment if you silence the worldly voices.
Beloved children, these are agonizing instants and evil has begun a fierce battle for souls. My Heavenly Hosts remain on Earth, battling for those who plead to My Son for His Divine help. I bless you. My Womb is an Ark of Salvation, I remain beside everyone, within the Heart of those who thus allow Me to be there.
My Legions invite you to unite with them and battle evil with good, disaffection with love, insult and slander with understanding and forgiveness. You are My Son's People and My beloved Children.
Keep in mind in every instant MY SON'S WORKS AND ACTIONS AND ACT AS HE HIMSELF ACTS, BE MERCIFUL. I BLESS YOU, CHILDREN, I COVER YOU WITH MY MATERNAL MANTLE.
Mother Mary
HAIL MARY MOST PURE, CONCEIVED WITHOUT SIN.
HAIL MARY MOST PURE, CONCEIVED WITHOUT SIN.
HAIL MARY MOST PURE, CONCEIVED WITHOUT SIN.