Thursday, November 21, 2013
Message from Our Lord Jesus Christ
To His Beloved Daughter Luz De María.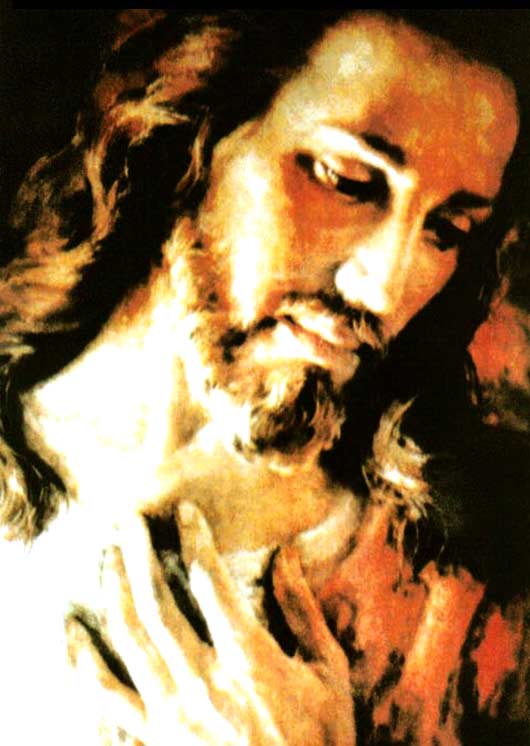 My beloved People:
I BLESS YOU. I LOOK UPON YOU FROM MY CROSS OF GLORY, OF TRIUMPH AND OF MAJESTY.
MY MERCY DOES NOT RUN OUT FOR MY PEOPLE, MY MERCY REMAINS CONCEALED BEFORE SINNERS.
My Father sent Me as Man-God so that by bringing to humanity the excess of His Love, I might deposit it in My Cross for each one of His children.
MY BELOVED, I AM INFINITE MERCY AND AT THE SAME TIME, I AM A JUST JUDGE.
Woe to those who only proclaim My Mercy and not My Justice, causing My People to totally go astray and be captives of evil's clutches in all its aspects!
I drove away the merchants of the Temple, I drove them out from My Father's Temple, and so, in this instant I return with My Justice to drive out the merchants who have profaned My Father's House. Each one of you is a Temple of My Spirit and I come soon in leaps and bounds to drive out those merchants who, by human will, have come to destroy the inner Temple in each one of you.
Woe to those who do not alert My People, these People who have walked in the midst of ignorance, these people who have risen against My Commandments and the Sacraments!
Woe to those who do not alert with the truth, who do not raise their voice and who do not alert My innocent People about My Justice!
I COME IN LEAPS AND BOUNDS BEFORE EACH ONE OF YOU TO SHOW YOU ALL THE IRREVERENT WORK AND
ACTIONS WITH WICH YOU CONTINUALLY HURT ME, WITH WHICH YOU WOUND ME CONTINUALLY, BECAUSE YOU ARE WILLINGLY THROWING YOURSELVES INTO THE HANDS OF EVIL.
My Father did not create you to be lost, to be plunged into hell. You have been created to enjoy the Eternal Blessedness, the Eternal Glory; but My People, believing Me to be only Merciful and not a Just Judge, have abused, have gravely abused, forgetting that whatever each one sows in his or her path, that, that is what he or she will harvest and receive as fruit.
My beloved People:
IT IS URGENT THAT THE CONSCIENCE AWAKEN THE MAN SO THAT HE IS ALERTED AND ALL THE FALSE IDOLS BE THROWN FAR FROM MY PEOPLE.
It is not the words of a scholar that save My People, rather the Truth about My Love, about My Rigor, about My Justice, the Truth of My Sacrifice for each one of you, it is The Truth; that you possess all the gifts necessary to believe and walk hurriedly in the spirit and rise to Me.
The gifts and virtues of My Holy Spirit are not a prerogative, they are not gifts for a few, but for all those, who are humble and simple of heart, who know that This Your Christ suffered and surrendered Himself without reservation to carry out My Father's Will: you are the Father's Will. My Beloved People:
How I await you! Like a Shepherd in search of His Flock. I move continually in the conscience of each one of you. My Spirit shakes you, but you, empty of all that is Mine, continue submerged in perdition, in moral and spiritual decadence never seen before.
In leaps and bounds you approach those pains that will shake not only the spirit, but the body, the mind and the heart of each one of those who are Mine before the horrors and doctrinal errors that will soon spread over My People, the spawn of Satan. And those who denied Me; will quickly fall into his nets.
SHEPHERDS WHO HELP ME IN THE CARE OF MY FLOCK; ALERT MY PEOPLE!
As My Mercy is infinite and as I Am limitless forgiveness, those who continually persist in transgressing My Laws and My Commandments without sincerely repenting, but that "a priori" offend with premeditation My Holy Spirit to hand over souls to Satan…. To those; If they do not repent, I will judge them, with My Justice.
SHEPHERDS OF MINE, ALERT MY PEOPLE, THAT THE ENEMY MOVES AMONG HUMANITY AND CAUSES A GREAT SUBVERSION WITHOUT BEING PERCEIVED!
But I will not silence Myself; I will not silence Myself, because I will alert My People as I have alerted them in every instant. To My people, I speak with My Truth; To My people I do not hide what will happen to them, since a Merciful Father cannot be silent before His children, when they are in danger and it would not be merciful if I act in that manner.
My beloved, the irresponsible man has not stopped war, he has only delayed it; do not let your guard down, even if before this you feel helpless to act, drawing closer to Me leads you to super abound in Faith and My Spirit strengthens you before the trials.
My beloved:
THE SPIRIT OF EVIL, THE SPAWN OF EVIL, IS THE ONE WHO IS STEALTHILY SEIZING MY PEOPLE, THROUGH
MODERNISMS AND THROUGH COMMUNISM THAT HAS RISEN WITHOUT YOU DESIRING IT. THAT SPIRIT OF
EVIL WILL LEAD THE MAN, AT A DAWN AND A BLINK OF AN EYE, REALIZE; THAT THIS CHRIST OF LOVE WHO SPEAKS TO YOU, HAS BEEN PROHIBITED AND FORGOTTEN.
But do not forget that the one who lives and does My Father's Will, is in communion with Me:
The one who does not allow faith to be taken away from him,
The one who sees Me in every brother and sister,
The one who loves Me despite his suffering,
The one who loves Me even if they tell him I do not exist,
The one who does and lives; My Father's Will… that is the one who continually is bonded in My Spirit.
My beloved:
MY MOTHER ALERTS YOU, I HAVE ENTRUSTED MY CHURCH TO HER; TO HER, TO THE WOMAN CLOTHED
WITH THE SUN WHO FIGHTS AGAINST EVIL TO RESCUE THOSE WHO ARE MINE; TO HER: TO MY MOTHER,
WHOM I LOVE, TO THAT SACRED AND CRYSTALLINE VESSEL, TO THAT IMMACULATE WOMB THAT IN THESE
INSTANTS IT IS DEPRIVE OF MERITS, TO THIS MY MOTHER THAT I HAVE ENTRUSTED THIS GENERATION SO THAT SHE BRINGS IT TO ME.
Do not separate yourselves from Her, turn continuously to Her with the praying of the "Hail Mary" and do not forget that the praying of the Holy Rosary contains within it the power to drive away evil, if it is prayed with devotion.
I AM HERE WITH MY PEOPLE, I LIVE PRESENT AND PERMANENT, CONTINUOUSLY, I DO NOT ONLY DWELL
BESIDE MY FATHER AND OUR HOLY SPIRIT IN HEAVEN; I AM PRESENT WITH MY HOLY SPIRIT IN YOU, I HAVE NEVER ABANDONED YOU, AND I WILL NEVER ABANDON YOU.
My People, pray for Holland, it will sink in weeping.
My People, pray for the United States, its leaders bring pain for My children.
My beloved People, pray without ceasing, for you have destroyed and contaminated the Creation My Father gave to you, pray without ceasing.
And how would you desire that this Christ do not speak to His own of the wrongdoings they commit?…
How would you want Me not to mention that you have contaminated the Creation with which My Father bejeweled His children?
That would be to deny that Creation, the Stars, the Moon, the Sun, the Constellations and all that was created came from My Father's Hand.
No, children, you must become aware that you continually offend this suffering Christ who speaks to you, as well as My Father.
Do not forget that the one who commits a sin against the Holy Spirit, that one, that one does not have forgiveness, for by his own actions and words he condemns himself.
MY BELOVED PEOPLE, ALERT ONE ANOTHER,
WITHOUT FEARS RASING THE FLAG OF MY LOVE AND BEING PROTECTED WITH THE SHIELD OF FAITH.
Continue united, hand in hand, heart in heart; strength increases when those who are Mine remain united. Look to the heavens, since from the heaven on high the Blessing comes for My People; wait with patience for I will send My Help.
I bless you, My People whom I love, for whom I immolate Myself and continue being immolated.
Continue walking with Faith, walking without falling into errors.
CONTINUE TO WALK TOWARDS ME, HAND IN HAND WITH MY MOTHER. THAT WOMAN,
SHE WHO IS THE MORNING STAR, REFUGE AND COMFORTER OF SINNERS, IS ALSO YOUR MOTHER.
Every effort will not remain without receiving from My Hand, what is just for the person.
I come for My People with My Arms open to welcome you in My Mercy.
I bless you.
Your Jesus.
HAIL MARY MOST PURE, CONCEIVED WITHOUT SIN.
HAIL MARY MOST PURE, CONCEIVED WITHOUT SIN.
HAIL MARY MOST PURE, CONCEIVED WITHOUT SIN.