Sunday, December 1, 2013
Message from Our Lord Jesus Christ
To His Beloved Daughter Luz De María.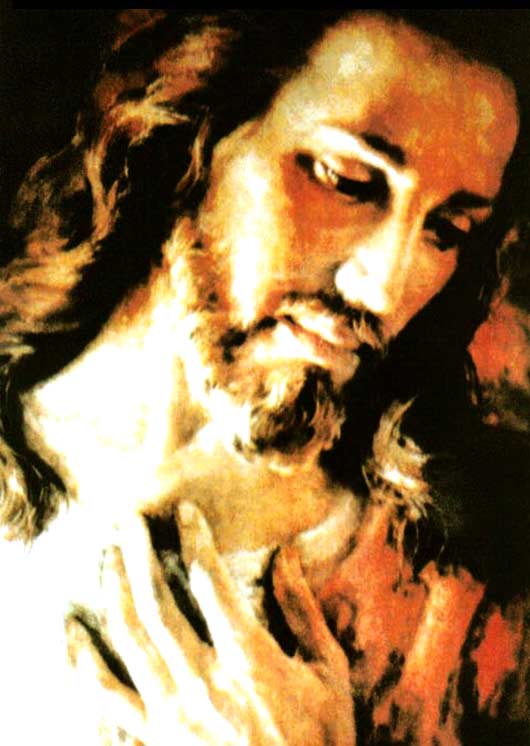 My beloved People:
MY LOVE CALLS YOU WITHOUT CEASING. SEEK ME WITHOUT CEASING.
I LIVE WITHIN EACH ONE OF YOU, IN EACH MOVEMENT, IN EACH BEAT OF THE HUMAN HEART, IN EVERY GLANCE, IN EVERY BREATH… MY KINGDOM IS WITHIN YOU.
I give Myself for all without distinctions; it is the human person who accepts or rejects Me: some because they do not love Me, others, out of ignorance. They do not recognize Me, they do not know Me in My Truth; I do not live in the highest, rather I live within each one of those who are Mine. I AM THE ETERNAL PRESENT, I DO NOT ABANDON THOSE WHO ARE MINE.
This is the instant of instants for those who are still blind, walking without faith, wandering without a path and submitted to what the world offers them.
My beloved, charity is a fruit of those who see Me face to face in each one of their brothers and sisters, without distinctions. I convoke My People to unite in My Heart and that of My Mother. Fraternal unity is truly My reflection in those who are Mine.
Fraternity, guided by True Love, does not see others' defects, rather it corrects itself, rigorously demanding of itself the Golden Rule, "love one another", within which helps its brothers and sisters, with the softness of My Word.
Violence plows hearts with harshness until it makes them bleed, and these aching and insipid hearts, continue to increase the violence they received, causing greater pain without the least feeling towards their fellow man.
THE SUFFERING OF HUMANITY IS NOT MY WILL, RATHER IT HAS BEEN MAN WHO HAS FORGOTTEN
THE PRINCIPLES OF ACTING IN MY LOVE AND FRATERNITY, WHICH HAS BROUGHT PAIN, BY REJECTING CHANGE IN HIS LIFE.
In this instant, man lives the result of his violent and indiscriminate acts against what the Hand of My Father created for the wellbeing of His children. Humanity has altered the equilibrium of Creation, and Creation comes to the encounter of man with the end of making man return to My Side. I suffer with those who suffer, I agonize with those who agonize.
MAN HURTS ME BY USURPING MY WORD AND DEFORMING IT. MY LOVE IS NOT REFORMED, IT IS ALWAYS THE SAME, IT DOES NOT MODERNIZE, IT IS ALWAYS THE SAME. You must find happiness in pleasing Me even if that pleasing Me implies swimming against the world's current, impoverished by the scarcity of a heart empty of My Love and My Will.
The senseless of human desire to find Me, does not see the essence of what was revealed and is explained in this instant by My Mother and by My Word for humanity, warning as a Father would do with His children, without rest so that they, knowing what is coming, do not separate themselves from the correct path and are not lost.
HUMAN BEHAVIOR BRINGS UPON ITSELF ITS OWN PAIN-FILLED FUTURE.
I SUFFER BECAUSE OF IT, AND I AM NOT HEEDED AND MY MOTHER IS MOCKED.
DISOBEDIENCE TO MY WORD HAS LED TO PRESENT-DAY MAN HEADING TOWARDS A STRONG AND FORCEFUL PURIFICATION, AS PREPARATION FOR MY SECOND COMING.
The lack of a conscience in people, who gifted with intelligence, have lost the wisdom given by My Spirit and supplanted by the forces of evil, to create means of mass destruction, with the end of destroying a great part of the global population. This is the goal of the minds of the leaders of great nations.
My beloved children:
DO NOT STOP, DO NOT RETRACT WHEN YOU PROCLAIM MY TRUTH, MY TRUTH.
THE MAN OF THIS INSTANT MUST BE TOTALLY SPIRITUAL,
LIVE IN MY PRESENCE IN EVERY ACT AND WORK, WITHOUT FORGETTING THAT I SEE EVERYTHING.
I live painfully the scorn for the Gift of life; men kill each other as a sign of bravery and of power over their brothers and sisters. This is acting against My Will. The leaders of great nations unchain this violence, adopted by man's heart that, filled with violence and invaded by evil, acts in a savage state.
My Church must maintain the conscience of My People alert before the existence and insistence of the evil power over those who do not love Me and ignore My Will.
I COME FOR ALL MY CHILDREN, NOT ONLY FOR SOME, BUT FOR ALL THOSE WHO LIVE, WORK AND ACT IN MY FATHER'S WILL.
The Divine Will is not exclusive, it does not set apart those who do not declare themselves Christians, rather it adopts those who live with a generous spirit, acting in obedience of My Will and drawing closer to Me.
SUPERFICIALITY MAKES ME NAUSEOUS, the truth of living in My Will acting in It, attracts Me without stopping.
HYPOCRISY MAKES ME SICK, the fake acting for Me makes Me sick. What captivates Me is the truth of a generous spirit committed to Me, without fear of being different and of being scorned.
I have given to man in every age, the tools and more to find My Love and My Path; man has scorned it, and My very Church has blocked that encounter of My children with My Will.
MY LAWS ARE NOT UPDATED, MY COMMANDMENTS ARE NOT UPDATED AND MY TRUTH IS ONE:
THE SAME AS YESTERDAY, TODAY AND ALWAYS.
My beloved People, I call you with My Love to continue to make efforts, battling against what is worldly and low, against modernisms. The modernism of My Love, of My Will, is the modernism of a continuous acting in My Will that is continuous action, does not stop, goes in search of My Sheep so they are not lost.
I REMAIN PRESENT IN EACH ONE OF YOU, I PROTECT YOU WITHOUT STOPPING, I HELP YOU PERMANENTLY.
I AM WHO AM.
My People, I bless you, I love you.
Your Jesus
HAIL MARY MOST PURE, CONCEIVED WITHOUT SIN.
HAIL MARY MOST PURE, CONCEIVED WITHOUT SIN.
HAIL MARY MOST PURE, CONCEIVED WITHOUT SIN.