Wednesday, December 4, 2013
Message from the Blessed Virgin Mary
To Her Beloved Daughter Luz De María.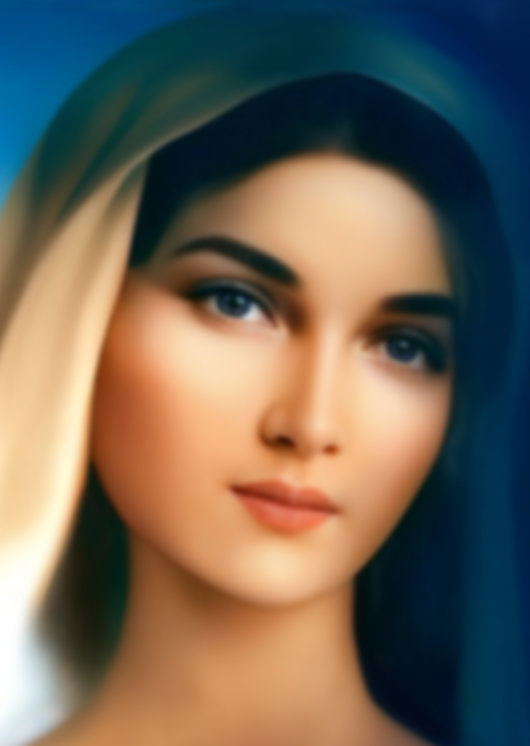 Beloved children of My Immaculate Heart:
I BLESS YOU, MY MANTLE REMAINS OVER ALL MY CHILDREN, OVER ALL OF MY SON'S PEOPLE, AS PROTECTIVE ARMOR THAT DEFENDS YOU FROM ALL EVIL THAT THE ENEMY WISHES TO SHED UPON YOU.
It is essential, My children, that you remain attentive, that your lives be a reflection of the works and actions of My Son, THAT YOU LIVE IN LOVE, IN FRATERNITY AND IN UNITY.
In these instants in which the celebration of My Son's Birth approaches, I evoke My call:
"Remain attentive, do not be prey of consumerism,
do not make rich the pockets of the great manufacturers of artifacts that contaminate the mind of the youth, do not be those who, through them, enlarge the coffers of the antichrist."
Great film companies create games that are seemingly inoffensive for children, the mind of the young is saturated with violence through which they scorn life and believe themselves to be in charge of ending this life and at the same time of being able to create it.
This generation, totally compromised and addicted with the new technological advances, has allowed its mind to be manipulated by those who invade and walk over the human being without distinction of social classes or creeds.
I, as Mother, alerted you in the past and I alert you again in these agonizing instants of this generation, which reproduces and multiplies all it has produced, and its heart has been transformed into a rebellious heart that does not obey My Son, and that does not obey this Mother. Instead, it rebels against what My Son asks of it, it gives free rein to its human will, saturated with what is worldly, with what is immoral and sinful.
I ARDENTLY ASK OF YOU, MY CHILDREN, TO REMAIN ATTENTIVE TO WHAT TAKES PLACE.
Do you not see a troubled humanity?...
Do you not see the violence in country after country?...
What are you expecting to happen, My beloved?…
What more are you expecting to happen so that you accept that you are in the instant of instants since the signs do not stop, but are increasing?
Beloved children of My Immaculate Heart:
MY SON'S CHURCH WILL BE GREATLY SHAKEN.
REMAIN IN FAITH, GAZED FIXED UPON MY SON AND ASKING FOR MY HELP, YOU ARE MY CHILDREN AND I WILL DEFEND YOU CONTINUALLY.
A greater number of small countries will soon be subjected by communism, which silently advances, forming a single front that will go against humanity, causing pain.
My beloved, I ask you to pray for Costa Rica, it will suffer.
I ask for prayers for the Middle East.
Pray, beloved children, for the Nation that is the United States.
Walk looking toward the heavens, without ceasing to perceive the love and the mercy of My Son that will be shed from on high towards all of humanity.
Wait with patience, My Son will never abandon His own, be perseverant, do not loose heart. No matter how harsh the instants be and harsher still the path, My Son does not leave His Faithful.
MY SON CALLS HIS PEOPLE TO REMAIN ATTENTIVE AND TO BE FAITHFUL TO HIM, TO CONTINUE TO BE FILLED WITH HIS HOLY SPIRIT AND TO LOVE ME, AS THE MOTHER THAT I AM OF ALL OF HUMANITY.
The modernisms humanity wants to impose even with greater force, must not be welcomed by My true children.
I alert you constantly for My Son comes for His People, He comes to separate the wheat from the chaff, but the wheat of this instant must be of better quality, must remain free of any contamination, no matter how small it may be.
My beloved, humanity burns in violence and this makes My Heart grieve, this brings Me to share with you the love of My Son and His protection over those who are His, as well as My Intercession.
Beloved children:
NOT ONLY THE ONE WHO CALLS HIMSELF CATHOLIC, NOT ONLY THE ONE WHO CALLS HIMSELF A
CHRISTIAN OBTAINS SALVATION, RATHER THE ONE WHO WINS, DAY TO DAY FIGHTING AGAINST ALL THE OBSTACLES THAT PRESENT THEMSELVES ON THE WAY. SALVATION IS WON BY THE ONE WHO, ABOVE ALL, REMAINS IN THE FATHER'S WILL.
Those who are weak are discriminated, the ones who do not know My Son's Love, and this, My Son will punish greatly.
Religious persecutions increase -- with great pain, I communicate this to you -- but My Son's strength does not abandon those who are His.
All the Choirs of Angels descend to Earth to protect those who remain in the Father's Will, without distinctions like those made by man today.
MY BELOVED, REMAIN IN THE COMMANDMENTS, DO NOT SEPARATE YOURSELVES FROM THEM, FOR THERE LAYS THE WILL OF THE FATHER AND THE ONE WHO OBEYS THEM… OBEYS THE FATHER'S WILL.
You have memorized these Commandments without penetrating in each word and the infinite spiritual content of each one of them. This is not right, but it is not too late for you to bring them to life in your spirit and separate yourselves from all which you must free yourselves.
Beloved children, you do not walk alone; My Son remains attentive, and I, protective Mother of humanity, I come again because My Son has entrust Me: to remain alert and attentive so that the People are not subjected and tyrannized. Do not take lightly what occurs, be true Temples of the Holy
Spirit.
Confusion has reached humanity and humanity falls into confusion.
MY BELOVED, MY SON ASKS YOU FOR FAITH AND PERSEVERANCE, HE DOES NOT WANT CHILDREN
ONLY OF PRAYER. MY SON WANTS CHILDREN OF PRAYER AND OF FAITH, WITH THE COURAGE TO PREACH WHAT THEY LEARN OF THE GOSPEL AND OF MAKING IT LIFE WITHIN EVERY DAY IN EVERY PERSON, IN EACH ACT AND IN EACH WORK.
My beloved, remain attentive, you will be greatly shaken, but do not loose heart because My children know My Divine Son's infinite Love profoundly, and they know profoundly that man does not live on love alone, but that My Son is a Just Judge. Those who only see mercy will be confused, greatly confused…
Nature remains hurting because of man's abuse towards Her and man himself has brought the pain She causes him.
Remain attentive, look with close attention at the natural disasters that come upon humanity.
I invite you to turn to My Son in the Tabernacle and to keep Him company. I invite you to receive Him so that He is your strength.
Beloved children of My Immaculate Heart, do not forget that the Heavenly Hosts are over My Son's People. Look on high, for the Heavenly Hosts, carrying out the Father's Will, will allow you to see them so that you are aware of the Divine Protection over the faithful People.
Remain in peace. I bless you.
Mother Mary.
HAIL MARY MOST PURE, CONCEIVED WITHOUT SIN.
HAIL MARY MOST PURE, CONCEIVED WITHOUT SIN.
HAIL MARY MOST PURE, CONCEIVED WITHOUT SIN.