Monday, December 9, 2013
Message from Our Lord Jesus Christ
To His Beloved Daughter Luz De María.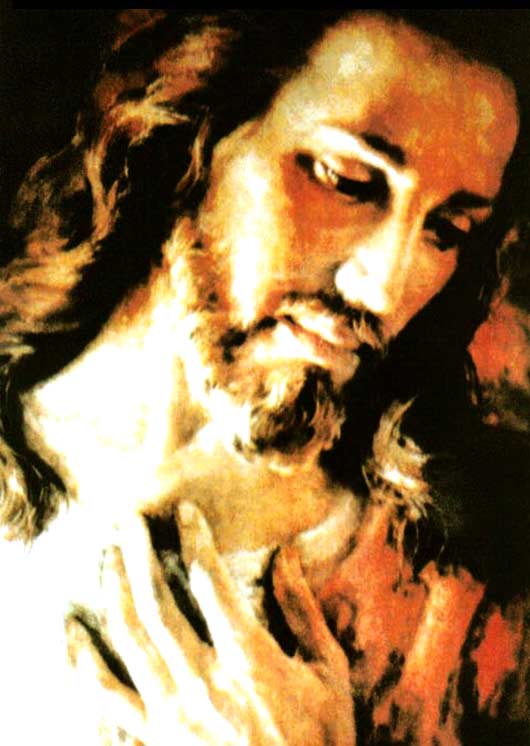 My Beloved People:
I AM GOD OF LOVE, AND AM ZEALOUS OF MY OWN.
MY PEOPLE WALK WITH THE ASSURANCE THAT IN MY ARMS THE ROAD IS LESS DIFFICULT.
YOU WILL NOT LIVE WITHOUT INSTANTS OF TRIAL, nevertheless those are the instants in which you show Faith and Trust that from My Arms you are not nor you will be snatched, if you of your free will do not accept it.
Men must reject whatever leads him away from Me. My Love does not find refuge if it is not in My creatures, those who bring me close and attract me, while keeping their lamp full of pure oil to draw My Gaze toward Earth and hear them call out this way:
"HERE IS YOUR KINGDOM, COME, AS WE ARE WAITING FOR YOU!"
I guide you with the softness of a Father and with the Love of My Mother, who is the intercessor of each one of you before Our August Trinity.
My Mother and Mother of humanity, Queen of all the Angels, rules the Heavenly Hosts entrusting them to the care of Her children in this battle against evil. Her mantle was placed over the firmament by the Angels themselves, engraving on it the Constellations, SO THAT MEN WILL NOT DOUBT OF THE ALMIGHTY POWER OF THEIR KING AND LORD, AND OF THE INDESCRIBABLE JOY THAT CAUSES IN MY MOTHER, BEFORE OUR TRINITY. NOT CONTENT WITH THIS MY ANGELIC CREATURES TOOK THE MOON AND PLACED IT AT THE FEET OF MY MOTHER AS A SIGN THAT EVERYTHING CREATED RECOGNIZES HER AS MOTHER, QUEEN AND LADY. She is the one that gives Light to the moon and to the souls of all who love Me and does the Will of My Father.
Men will understand through the Words of My Mother how much is My Will for these instants and She together with Her Legions, will be the help of My Home for this generation that constantly offends me, without any consideration.
My beloved, for men it means a struggle to carry out My Will compared to a will in great part ruled by the human impulses that continually rise, changing in this way what My Home has made ready so that whatever comes will not be so bloody.
The offense against human life, the killing of innocents on earth especially fertilized for My Mother, and turned over to evil by men's free will, has drawn the natural disasters upon the land of Tepeyac, from where My Mother chose to cradle and govern the Americas spiritually.
My Beloved:
I CALL YOU TO PRAY UNCEASINGLY FOR MEXICO; THE PEOPLE WILL BE OVERCOME BY THE PAIN OF THE INNOCENT SOULS WHO ARE SUFFERING AT THE HANDS OF THOSE WHO OFFEND ME AT EVERY MOMENT.
The land of this My Beloved People of Mexico, receives the blood of those who are aborted without mercy and while being innocent are prey of bitter taunting, of drugs and from the sects of domineering creatures that continually offend Me.
MY MOTHER, THE PURE VESSEL OF GRACE, SHOULD BE HEEDED AND NOT SCRONED.
My Children, innocent People, do not cry, be sad for those who offend Me and has brought the pain to this My beloved People of Faith.
DO NOT FORGET THAT I DO NOT ABANDON MY OWN PEOPLE IN THE MIDDLE OF THE STORMY
SEAS. I CARRY YOU IN MY HEART SO YOU WON'T SINK IF YOU ARE FAITHFUL TO ME IN SPIRIT AND IN TRUTH.
Pray to My Mother, make amends for your brothers, do not forget that I love you and I protect you, Children of My Mother.
Look on high, await for the One I will Send, pray to the Holy Spirit in every instant, He will give My Peace to those who live in Faith.
My Love does not decline as it does the love of men for Me.
My Word will reach to all the hearts even to those who have forgotten, it will be there in the instants that you will turn your gaze toward My House seeking My Help.
MY PEOPLE, IN THE HANDS OF THOSE WHO MASSACRE THEM, ARE A PEOPLE BORN FROM THE
HEART OF MY MOTHER; SHE IN HER MANTLE ROCKS THE ONE WHO IS A BLESSING FOR HER CHILDREN.
Beloved, pray for the United States, its leaders have propitiated to the Mexican Land, great evilness.
Just as the leaders of this Land have closed their eyes…
My Beloved People, pray for the Middle East, the stormy clouds looms over the miserable and mean humanity.
The Church will suffer; the crisis of Faith advances in giant steps; and the powers of evil struggle against Her.
WITH MY WORDS MY OWN DO NOT WEAKEN, BUT THEY RISE UP
WITH THE FIRM ASSURANCE OF MY PROTECTION AND OF MY LOVE. YOU ARE NOT ALONE; MY HOME IS SEEN IN MY FAITHFUL.
I bless you.
MOVE ALL THE EARTH WITH PRAYER AND BY THE ACTIONS DONE CONSCIENTIOUSLY IN MY WILL, so that your prayers will rise reaching the Vault of the Universe, reflected in Mother's Mantle.
I will come soon; do not sleep in sin.
Humanity I am speaking to you, not only to a people but also to all.
I bless you; do not fear as I remain with you.
Your Jesus
HAIL PURE MARY, CONCEIVED WITHOUT SIN.
HAIL PURE MARY, CONCEIVED WITHOUT SIN.
HAIL PURE MARY, CONCEIVED WITHOUT SIN.