Wednesday, December 11, 2013
Message from the Blessed Virgin Mary
To Her Beloved Daughter Luz De María.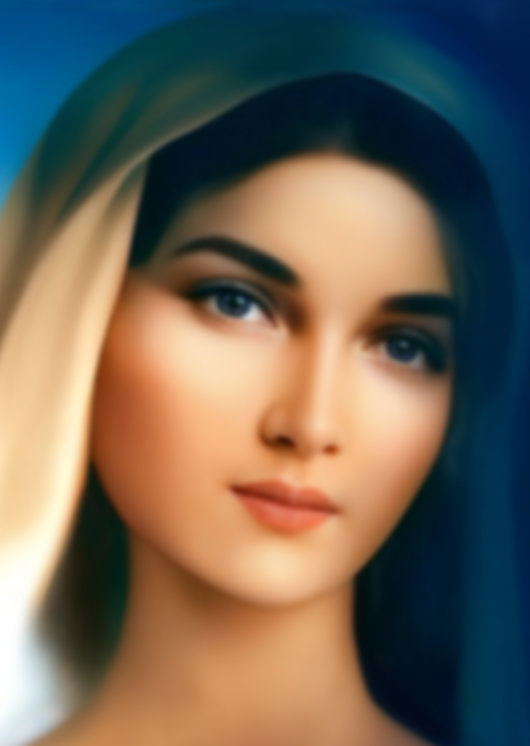 Beloved children of My Immaculate Heart, I bless you.
MY WOMB REMAINS OPEN, AWAITING, AS MOTHER OF LOVE, THE PROMPT RETURN OF ALL WHO ARE MINE.
Beloved children:
I INVITE YOU, ONCE AGAIN, TO ENTER INTO MY SON'S MERCIFUL LOVE AND, AT THE SAME TIME, TO ENTER INTO THE UNDERSTANDING OF DIVINE MERCY AND JUSTICE.
My beloved, the earth is profoundly agitated and with each crack darkness penetrates. It is the darkness of man's sin that penetrates into the bowels of the Earth, it is the darkness of the conscience of this generation that, welcoming the sin of previous generations, has come to exceed the resourcefulness and the wickedness of the devil himself.
The devil's followers are at the lookout for news of humanity's sin, and this leads My Heart to constantly grieve before so much offense to My Divine Son.
I call you to sincerely open your conscience, to arise in the spirit and to use your intelligence to understand that the Eternal Father must make His children return promptly to Him through His justice, and this does not take away from Mercy, rather it is the greatest act of Mercy from the Father towards humanity.
My beloved children, darkness has penetrated so much into man that the light is totally overshadowed. It is you, faithful People, you who battle against the world and its currents, IT IS YOU
WHOM I INVITE TO ENTER MY WOMB QUICKLY, FOR EVEN THOSE WHO LOVE ME MUST REMAIN WITH A CONSCIENCE AND READINESS IN THE ACCEPTANCE OF THE PATERNAL JUSTICE AND RECEIVE IT WITH LOVE.
Every FIAT pronounced by the Eternal Father at the instant of Creation, and in each age has carried the imprint of His Divine Love and at the same time, of His Divine Justice. The Earth will no longer be purified with water but with fire, which will not only descend from on High by Divine Justice, but will be fire that man himself, totally penetrated by greed, has fabricated with his own hands, knowing that this would lead to the destruction of humanity.
Woe to those who judge those who are bearers of this Act of Love from the Father! In His Just Wrath, He wishes to recover the greatest number of souls quickly, and for this slowly He has executed His Justice time and time again upon this generation, but they have not recognized the Father's Justice, they only appeal to Mercy, relying not on this Divine Act but in their own human word so as to continue in lustfulness, in evil and in all kinds of vexations.
IT WILL BE EASY FOR MY CHILDREN TO RECOGNIZE SOULS THAT ARE TRUE,
THEY WILL BE THOSE THAT NOT ONLY PRONOUNCE AND DEMONSTRATE DIVINE LOVE BUT THOSE THAT CALL HUMANITY TO RETURN TO THE TRUE PATH PROMPTLY,
FOR TIME HAS RUN OUT AND THE HAND OF THE ETERNAL FATHER'S JUSTICE POURS OUT THE REMAINING CONTENTS OF THE CHALICE UPON THIS GENERATION.
Beloved children of My Immaculate Heart, you who call yourselves Christians and Marian must love those instants of Divine Justice because enclosed in them is the salvation of a great number of souls.
YOU MUST FEAR; FEAR, BUT NOT THE FATHER, NOR MY SON, RATHER MAN'S WILL AND THE FREE WILL THAT HAS LED YOU TO A TOTALLY DEPRESSED STATE IN WHICH THE SENSES HAVE BEEN GIVEN OVER TO PLEASURE AND SIN.
Woe to those who idolize money and have lived their life in the midst of comfort! Soon instants will come in which money will not be able to be used. Famine in every aspect will spread and those who have placed their security in "the god of money" will greatly scourge themselves.
Blessed are those who live their life in unity with My Son and who in the midst of daily calamities continue fused to My Son! These, in the instants of shortage and of unknown illnesses will know to promptly turn to My Heart and to the Divine Will, for it is in Faith, in Commitment and in Awareness that you will find the door that will open to the cure for all possible ills.
MY BELOVED, I AS EMPRESS OF THE AMERICAS, MUST COMMUNICATE TO YOU THAT FROM THE AMERICAS WILL COME THE LIGHT FOR ALL HUMANITY, WITH GREAT FORCE, TO RESCUE THE FAITHFUL.
My beloved, you who love My Son, continue to firmly embrace His Cross, in It you will find comfort as
I did.
Just as I show in My invocation of the Mother of Guadalupe all of the Creation loved and taken by the Father, so you must discern the signs of the times and set aside the stubbornness and narrowness of the human mind that limits knowledge and limits the spirit.
RECEIVE THE HOLY SPIRIT WITH HIS TRUTH, FOR SOME OF MY SON'S WORDS
HAVE BEEN DISTORTED WITH THE PASSAGE OF TIME,
BUT YOU MUST KNOW THAT IF YOU WALK AWAY FROM THE COMMANDMENTS, YOU WILL PERISH.
Aspects in My Son's Church have been renewed, but the one who follows the Commandments, that one lives in the Father's Will; the one who makes them his, the one who penetrates in the Commandments, the one who loves them, that one, that one is a Christian. Not so the one who gives the Commandments a free interpretation, that one, that son or daughter must make a stop on the path and with awareness approach My Son so that the Holy Spirit gives him or her light of Truth.
Beloved children, just as the Eternal Father upholstered the Heavens with the light of the stars, do not cease to admire the beauty with which the Father arrayed you, look on high My beloved. My Angels, My Legions are awaiting a single sign. THUS, THUS, IS THE PROMPTNESS OF MY CALL SO THAT ONCE AND FOR ALL YOU REMOVE THE VEIL FROM YOUR EYES AND SEE THE TRUTH OF EVENTS.
Man dedicates his life to planning his future, but the future is in the hands of the Father.
I INVITE YOU TO ASK FOR THE ASSISTANCE OF THE HOLY SPIRIT WITH AWARENESS AND A GOOD DISPOSITION, BECAUSE THIS IS THE INSTANT IN WHICH MAN MUST THINK ABOUT AND DECIDE:
CONTINUING IN SIN OR ACCEPT, WELCOME AND LOVE THE DIVINE WILL.
Man must choose between the Purification and maintaining the Faith; the one who remains in Faith will suffer less, and the one who does not wish to see that the Father's Justice is necessary for the good of souls will suffer more.
MY BELOVED, CONSECRATE YOURSELVES TO OUR HEARTS, CONSECRATE YOURSELVES AND SHARE WITH YOUR BROTHERS AND SISTERS THAT TIME IS NOT TIME; DO NOT FEAR RIDICULE OR WALK WITH EXAGGERATED HUMAN RESPECTS, BE TRUE IN SPIRIT.
Beloved children, after the Purification My Son will arrive to reign with all His Love, and I, she to whom My Son has entrusted His Church in this so feared Purification and fulfillment of what I have announced,
I REMAIN AND WILL REMAIN WITH EACH ONE OF THOSE WHO ALLOW ME TO DO SO.
MY ANGELIC LEGIONS WILL DEFEND YOU.
If there has been an instant for humanity in which man must show his immovable Faith, it is this one, not another. DO NOT EXPECT ANOTHER INSTANT, IT IS THIS ONE CHILDREN… and the one who mentions to you that the Apocalypse is a fable, that person has a blackened heart and a blindfolded spiritual vision, because My Son's Word was not written not to be fulfilled, but so that it is carried to fulfillment. That is why He announces to you what is coming, but man, deaf, blind and mute before the inventiveness of new and new sins, scorns this Call and darkens himself.
MY BELOVED, LET US WALK UNITED TOWARDS THE ENCOUNTER WITH MY SON, TOWARDS
DEFINITIVE HAPPINESS WHERE HUMAN AFFLICTIONS WILL CEASE TO BE AFFLICTIONS AND ALL WILL BE PEACE, LOVE, AND MAN WILL REACH SUBLIMINATION…
I do not forsake you, I protect you with My Mantle. Be confident that this Mother does not abandon you, and in temptations I will immediately come with what is necessary to fight them. Draw near and cling to this Mother, for I intercede for you before My Son.
I BLESS YOU AND DO NOT FORGET THAT YOU ARE MY CHILDREN AND THAT I LOVE EACH AND EVERY HUMAN BEING, WITH THE SAME INTENSITY AND WITH THE SAME LOVE THAT I LOVE THOSE WHO CALL ME IN THIS INSTANT: MOTHER!
I bless you, My Heart remains open for each one of you.
Mother Mary.
HAIL MARY MOST PURE, CONCEIVED WITHOUT SIN.
HAIL MARY MOST PURE, CONCEIVED WITHOUT SIN.
HAIL MARY MOST PURE, CONCEIVED WITHOUT SIN.