Wednesday, December 18, 2013
Message from the Blessed Virgin Mary
To Her Beloved Daughter Luz De María.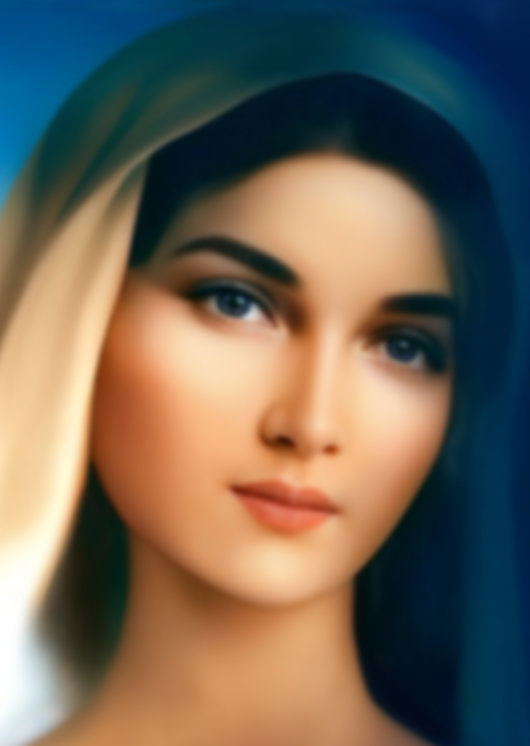 Beloved children of My Immaculate Heart:
My Son was born in a Manger in total humility, so, whoever calls himself or herself a Christian must be humble, humble in spirit so as to obey and abide by what My Son asks of you.
My beloved:
THE COMMANDMENTS MUST BE FOR YOU YOUR DAILY BREAD, YOUR SPIRITUAL NOURISHMENT, THAT WITHOUT WHICH YOU CANNOT WALK; YOU MUST BRING THEM TO LIFE IN YOU.
THE SACRAMENTS MUST BE OBEYED AND LOVED BY YOU, AND THE BEATITUDES MUST BE FOR YOU THE GREATEST SIGN OF HUMILITY AND OFFERING TO MY SON.
I invite My Priests to call all the Faithful, to worthily receive My Son: the King of Kings and Lord of
Lords. Man has created protocols to receive with dignity the important people of the world and My Heart grieves, for those who come to receive My Son, unworthily prepared, offend the King of Kings. Woman in particular, in her nakedness comes to receive My Son and My Priests allow it. Just as you have created protocols to be received by high people who command and lead the world, SO MY SON DESERVES ALL THE RESPECT.
Humanity has lost modesty and has submerged itself in immorality, and with it and in it they have walked towards My Son. Modernisms are modernisms and My Son is the King of Kings and before Him you must come with dignity. YOU KEEP HUMAN RESPECTS, BUT FOR MY SON YOU DO NOT GIVE THE DIVINE RESPECT HE DESERVES.
Beloved children of My Immaculate Heart:
WITH HOW MUCH LIGHTNESS IS SIN TREATED!
WITH HOW MUCH LIGHTNESS IS SIN CALLED: WEAKNESS!…
But you who are aware of how My Son is offended, you must act with righteousness in every instant. This generation that has transgressed all parameters and norms, avoids My Son's Justice and with the same intensity denies it.
You wait for the antichrist, for a character… and you are ALREADY in his hands, since those who sponsor him, have My Son's People in their hands.
EACH ONE OF YOU MUST BECOME A FIGHTER, A DEFENDER OF MY SON… EACH ONE OF YOU MUST BE FAITHFUL AND NOT LOSE FAITH.
My faithful Prophets will continue to alert My People without ceasing, alerting them without stopping abiding by My call so that humanity is not confused, and in this alerting of My children, a beloved Prophet of Mine will perish as a Great Martyr of My Son's Truth, he will perish in the hands of the followers of the antichrist, not without first unmasking them before all of humanity.
My beloved:
FOR MAN IT IS SO EASY CALLING HIMSELF A CHRISTIAN,
BUT IT IS SO DIFFICULT TO ENTER INTO THE MYSTERY OF LOVE AND OF COMMITMENT WITHOUT DISTINCTIONS AND WITHOUT CONSIDERATIONS.
Beloved children of My Immaculate Heart:
MY SON, KING OF HUMILITY WISHES TO ENTER "IPSO FACTO" INTO YOUR LIVES,
FOR TIME IS NOT TIME AND EACH ONE OF YOU WITH YOUR FREE WILL, WITH ALL THE STRENGTH OF YOUR BEING MUST FIGHT TO ASCEND QUICKLY.
There must be a radical change in the life of the children of the Church, for the Church will be shaken from its foundations. Maintain the Faith for purification is still lacking for the Church.
MY SON DRAWS NEAR IN HIS SECOND COMING AND WHEN THE KING APPROACHES, THE CRUCIBLE IS BEFORE EACH ONE OF THOSE WHO ARE HIS. Do not submerge yourselves with so much ease into worldliness, be aware that the world exerts a great imperceptible influence over the senses and on man's will, man who is still extremely weak, for he has not submerged himself into a strong and profound spirituality.
Beloved of My Immaculate Heart:
All that I revealed in the past, is being fulfilled in leaps and bounds; and hence My Prophets alert My children in this instant. Do not ignore them but I invite you to remain in the Holy Spirit so that you discern the wheat from the chaff. Not all who say: "Lord, Lord will enter into the Kingdom of Heaven," nor are all who call themselves prophets, prophets.
You must see carefully because the enemy has risen with strength before this generation to confuse it, and has taken the word of some people to detract from Heaven's calls.
These are extremely important instants for My Son's People, these are definitive instants for salvation; and as I, Mother of all men, alert you, in the same way evil wants to lead you to confusion, but if you follow the Commandments and love them, you bring them to life in you and you obey them, you will be able to discern with clarity.
MY SON DOES NOT MODERNIZE HIMSELF, HE IS THE SAME YESTERDAY, TODAY AND ALWAYS… THE COMMANDMENTS ARE NOT MODERNIZED, THEY ARE THE SAME YESTERDAY, TODAY AND ALWAYS…
THE SACRAMENTS ARE NOT MODERNIZED, THEY ARE THE SAME YESTERDAY, TODAY AND ALWAYS…
THE BEATITUDES ARE NOT MODERNIZED, THEY ARE THE SAME YESTERDAY, TODAY AND ALWAYS… WHAT YOU MUST BRING TO REALITY, IS THAT THE DIVINE WILL MUST REIGN AND LIVE IN EACH ONE OF YOU SO THAT YOU RESIST WHAT IS COMING.
This is the novelty of novelties: that you commit yourselves with confidence and love to the
Trinitarian Will, each one of you placing his life, his acts and works into the Trinitarian Hands. Just as My Son was born in humility in a manger, so you from this instant, be ready to meet with the King of Kings.
My beloved:
MAN'S TRANSFORMATION MUST HAPPEN IN THIS INSTANT, HE MUST GO FROM BEING A
MEDIOCRE MAN TO BEING A MAN CONSCIOUS THAT HE WILL FACE A BLOODY BATTLE, AND IF HE
DOES NOT DECIDE FOR HIMSELF TO TRANSFORM HIS LIFE INTO AN ALTAR FOR CHRIST, HE WILL PERISH.
And, woe to those who enter into these My Calls consciously trying to find some dark point in them, because they will be even more confused by Me! But those who approach these My Calls seeking light will find fullness and the correct path to draw closer to My Son.
DO NOT FORGET TO CONSTANTLY INVITE MY SON TO PARTICIPATE IN YOUR LIFE, IN YOUR ACTS AND WORKS SO IN THAT WAY YOU RESIST EVIL MORE.
The instant continues to approach, the instant in which, from Heaven, will come the Great Blessing for humanity, for this generation, that will guide you and will lead you closer to My Son's Path.
How many of My Prophets fight today and for it they are singled out and prosecuted, they fight against evil and against the followers of the empire of the antichrist! Pray for them, but I, as Mother of Humanity, will not abandon My People and will not cease to alert you under any circumstance, for I obey the Divine Will. But this Mother cradles you in Her Arms and My Son is light on the path of His Faithful.
My Angelic Hosts are on Earth guiding and protecting My Faithful children, those who love My Son Jesus Christ.
You are not alone children, at the end the light will shine and you will triumph with My Son. Do not fear what is coming, transform your life.
I love you, I bless you in the Name of the Father, of My Son and of the Holy Spirit.
HAIL MARY MOST PURE, CONCEIVED WITHOUT SIN.
HAIL MARY MOST PURE, CONCEIVED WITHOUT SIN.
HAIL MARY MOST PURE, CONCEIVED WITHOUT SIN.