Sunday, December 22, 2013
Message from the Blessed Virgin Mary
To Her Beloved Daughter Luz De María.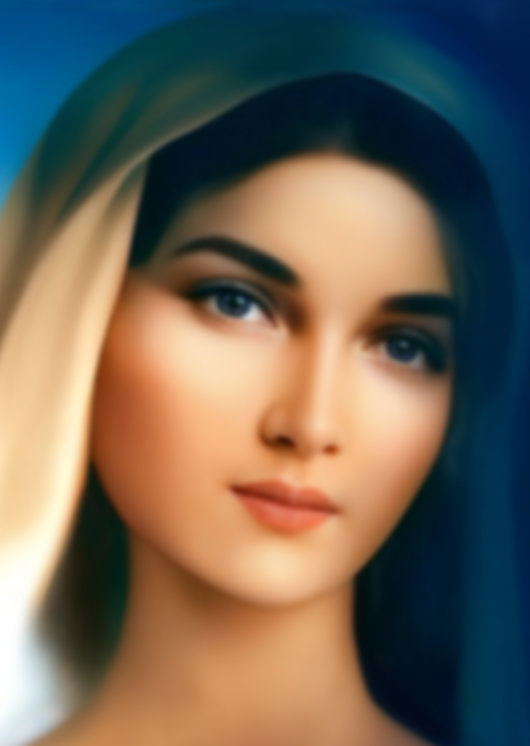 Beloved children of My Immaculate Heart:
MY BLESSING IS FOR ALL OF HUMANITY,
FOR ALL THOSE WHO LOVE MY SON AND OBEY HIM, WHO WORK AND ACTI IN HIS WILL AND FOR ALL THOSE WHO DO NOT RECOGNIZE HIM, DO NOT LOVE HIM AND DISOBEY HIM.
My Beloved Son dwells in every human being. He loves man so much, that that Strength of Divine Love does not allow Him to live separated from man.
In the date that approaches, My Son's People celebrate His Birth, celebrate True Love, that which does not ever separate from those who are His.
From His Birth, My Son poured out His Divinity for all ages. He gave His Love and Mercy for all generations; He gave His Compassion and His Truth for all generations, and in His Birth, he anticipated a Holy Church according to His Will, and through chosen souls He continues to explain Himself.
My Beloved Child was born making humanity participants of the rays of His Divinity, sharing with humanity His Divine Love, His Divine Intelligence and His Divine Will. But the generations have scorned Him, and these wonders of Divine Love have been buried by man himself; only a few have taken them as inheritance.
MY SON, BEING THE LORD OF THE UNIVERSES, WAS BORN WITH PAIN AS HIS COMPANION…, AND HE SUFFERED PAIN UNTIL HE REDEEMED HUMANITY, IN PAIN…
How many souls want to take My Child in their arms, adore Him and make reparation?
MY BELOVED, YOU MUST MAKE REPARATION FOR THE SINS OF THIS GENERATION, ITS INGRATITUDE AND MALICE. Sin has penetrated in people stealing their will and keeping them sedated so that they do not react. I find so many souls that are cowardly and do not offer resistance to temptation, but live in total disorientation; one after another fall immediately as if sin were a natural act.
Some of My Priests, in their act and work, do not make known or give testimony of This humble Child; in some of them the lightness with which they celebrate the Eucharist in one more nail that pierces My Son's Sacred Hands.
From My Womb, My Divine Son sent His light over humanity and sent graces and virtues to all people, even the most bitter sinners that plunge themselves in dark caves. My Jesus does all this to convert those souls and so they are not lost, but He has not obtained a response from men, but rather indifference and scorn.
My Son sees His Church indifferent before the undignified fashions and the sacrileges that are committed in Her.
Beloved of My Immaculate Heart:
ALL MY CHILDREN IN THE UNITY OF MY HEART MUST PRESENT THEMSELVES AND UNITE TO OFFER THEIR ACTIONS FOR THE GOOD OF SOULS, AND DO THIS WITHOUT CEASING.
THE MAJORITY OF MY CHILDREN TAKE ADVANTAGE OF THIS DATE TO ENJOY THE DISTRACTIONS THAT THE WORLD OFFERS, WITHOUT LIFTING A PRAYER OR CARRYING OUT A GOOD WORK… AND THEY CONTINUE TO DETHRONE MY SON.
How can the Father not unleash His wrath, for after having given His own Love in My Son to humanity, He sees that man continues in every instant to scorn more and more what comes from the Paternal House?
Beloved of My Immaculate Heart:
BE AN INEXHAUSTIBLE SOURCE OF LOVE AND FAITH, DO NOT BECOME DISCOURAGED, CONTINUE IN THE MIDST OF THE STORM, ADORING MY SON, BUT ABOVE ALL, CONTINUE LIVING AND ACTING IN THE DIVINE WILL.
Pray for Brazil, it will suffer from a tsunami.
My Son's Church will be scandalized.
Human violence will reach unimaginable limits, soon you will be surprised.
My beloved:
AS A MOTHER, I CARRY YOU IN MY HEART, I AM REFUGE FOR ALL, YOU ONLY NEED TO ASK.
A star will be more brilliant… And once more My Son will send protection for His People; receive this blessing with love, await this blessing with love.
From on high will come the blessing for the Faithful, and it will sustain them in the midst of confusion.
Those of you who love My Son, allow the awareness of the importance of fidelity in each one of you to grow.
I BLESS YOUR HOMES THIS CHRISTMAS, ESPECIALLY THOSE OF MY CHILDREN, WHO LIVE WITH THEIR LAMP FILLED WITH THE BEST OIL, WITH THE OIL OF THE TRINITARIAN WILL.
I love you.
"GLORY TO GOD IN THE HIGHEST AND ON EARTH, PEACE TO PEOPLE OF GOOD WILL."
HAIL MARY MOST PURE, CONCEIVED WITHOUT SIN.
HAIL MARY MOST PURE, CONCEIVED WITHOUT SIN.
HAIL MARY MOST PURE, CONCEIVED WITHOUT SIN.