Tuesday, December 24, 2013
Message from Our Lord Jesus Christ
To His Beloved Daughter Luz De María.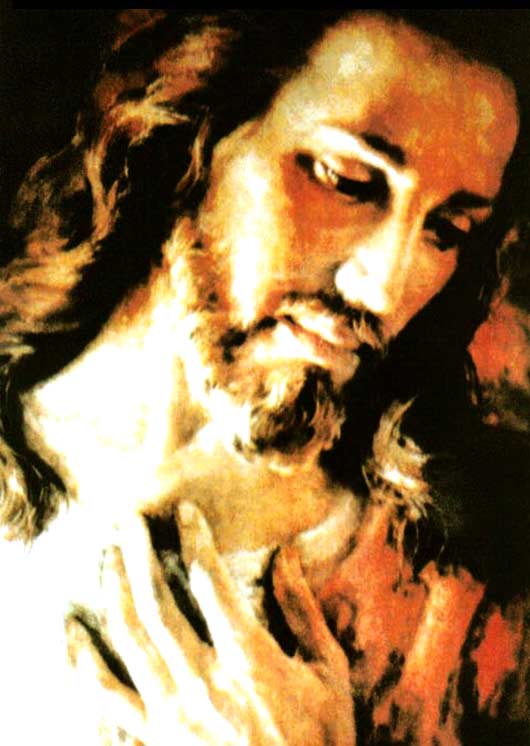 My beloved People:
THIS IS THE LIGHT OF MY WILL IN MY SECOND COMING.
Just as the shepherds, souls of good will, were flooded with My Love… and they, receptive, attended to that call, so you My children, attend, following the Star of My Will so that you do not go astray before the Herods of the present, who look upon My People with intentions of leading them to fall into the eternal abyss from where there exists no return.
The simple of heart adored Me, those who without greater knowledge loved Me for being the ManGod; they loved Me in their hearts and remained willing to maintain the Faith in what was entrusted to them. The erudite rationalized and not believing Me to be King because I was humble, turned away from Me. Some of them, years later, returned upon seeing miracles before them that they could not explain and the Wisdom that they did not possess.
The Wind itself announced My Birth; the Moon shone more, and the Stars came out in great number. The whole earth was resplendent, the celestial melodies from on high did not wait, and the blessings, made into sublime reality, descended over all who where there. So will it be in this instant for those who, loving Me, recognize the decadence of humanity, and become willing to alert their brothers and sisters.
Mercy maintains Its beginning in Me as an inexhaustible source. As a Father I must warn those who are Mine so that they are not lost and so they listen to My Word as a voice that cries out in the desert of the human mind.
I CALL TO CHANGE, I CALL TO A NEW PATH OF UNITY WITH ME,
BECAUSE TIME IS NOT TIME AND JUSTICE, FROM MY FATHER'S HAND, DOES NOT WAIT, PRECISELY OUT OF MERCY FOR SOULS.
I preached before the Doctors of the Law, and their arrogance led them to signal Me out and to scorn
Me. Doctors and non-doctors scrutinize My Calls to bring them down; I am not believed and neither is My Mother. This is how I remain within the manger of the human heart: in some, exiled, in others, only looked upon once in a while; few are the souls who truly keep me warm and sympathize with My Pain.
My Prophets announce the Warning for this humanity…, and for this cause they are mocked and discredited. I was condemned being innocent, like the majority of the martyrs…
IN THIS INSTANT EVERY HUMAN PERSON MUST BE WILLING TO BE A MARTYR FOR MY CAUSE, AND A VOICE OF HOPE OF MY SECOND COMING.
Those who adored Me were those who were well-disposed; even though all were sinners… and some, overmuch. I transformed them because of their good disposition, other had the awareness of My Royalty, some arrived out of curiosity, but were captivated before My Divinity. These did not separate themselves anymore from Me, others in their journey adhered to Me along the way and were those souls of Faith who did not separate themselves anymore. Those souls are very necessary in My walking and in the walking of My Prophets, they are those who do not leave the boat in the storms and are the support and the sail of the boat to lighten the brunt of the storms.
THESE ARE NOT INSTANTS FOR THE LUKEWARM OF HEART, NOR FOR THOSE WHO ARE LUKEWARM
IN THEIR DECISIONS, NOR FOR THE LUKEWARM IN PREACHING THE TRUTH, NOR THOSE WHO ARE
LUKEWARM IN THE HELP OF MY PROPHETS. JUST AS I WAS BORN IN A MANGER, I GAVE MYSELF UP ON THE MOST EXALTED THRONE: THE CROSS…
AND ALL OF IT FOR LOVE.
The suffering of My chosen ones is not in vain, nor chosen by chance those who accompany them; the rocks on the path are many and must be removed before those who are Mine take a step, not left so that they hurt you.
From My Crib I saw all and blessed those who scorn the "ego" for the service of My House.
I do not want you to adore Me for appearances, but in spirit and truth, strong, firm and decided…
I do not want empty words and a lying heart…
I do not want minds ignorant of the infinitude of My Love and the greatness of My Justice…
The one who thinks himself necessary in My Affairs will see My Heart filled with souls who cry out and ask to come to My Service. So some will be a crib, others will be straw that covers Me, others the wall of the stable, others the roof, others…., it is this: IN MY MISSION, ALL ARE NECESSARY BUT NOT INDISPENSABLE.
I WELCOME MEN OF GOOD WILL, THESE ARE THE ONES WHO ANNUL THEMSELVES TO KNOCK
DOWN THEIR HUMAN EGO AND FUSE THEMSELVES TO ME TO LIVE FROM ME, TO BREATHE FROM ME, MOVE IN ME, SPEAK IN ME, FEEL IN ME AND EXIST IN ME ABSOLUTELY.
Man's stubbornness is his will. As an empire that has risen over My Will, and this is the greatest stumbling block for man to reach the benefits of My House. Man grows when his will decreases. THIS IS IT: MAN GROWS WHEN HE LOVES ME, BUT WHEN HE TRULY LOVES ME.
My blessing will descend from Heaven for the good of all men; some will receive it, others will avoid it, some will not accept it, and others will love it infinitely, but it will descend for all without distinctions.
I NEED SOULS WHO ARE THIRSTY FOR MY WILL.
I love you. My blessing be upon all men and women. Treasure it.
Your Jesus.
HAIL MARY MOST PURE, CONCEIVED WITHOUT SIN.
HAIL MARY MOST PURE, CONCEIVED WITHOUT SIN.
HAIL MARY MOST PURE, CONCEIVED WITHOUT SIN.