Friday, December 27, 2013
Message from Our Lord Jesus Christ
To His Beloved Daughter Luz De María.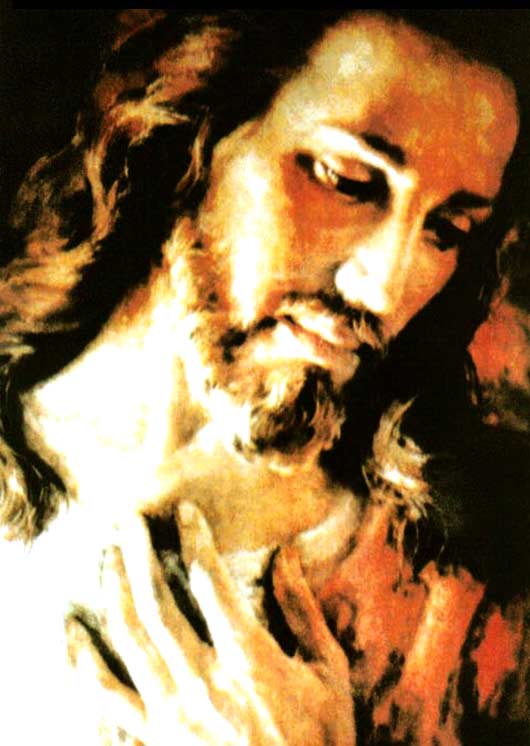 My beloved People:
I love you so much, Children of My Heart! Beloved, I love you in My Cross, blessed ones of Mine.
YOU ENTER A NEW INSTANT, THE INSTANT OF INSTANTS, IN WHICH I WILL REMAIN BEFORE EACH ONE OF YOU, AND I WILL SEND ALL MY HEAVENLY HOSTS TO GO IN AID OF MY PEOPLE.
My People will be tested like gold in the crucible; the wheat must be of the best quality, as there has never been before in the history of humanity.
I come with strength, with power and majesty, surrounded by all, by all My Heavenly Choirs who will announce My Coming, shaking all of Creation, just like in this instant the heart of My children must tremble, not out of fear but rather tremble out of love before My Divinity.
My beloved, you will hear the voice of silence, in this instant you will know of silence… I have called and continue to call at the door; those who do not open it will hear and know silence. They will feel downhearted before what is coming; they will feel desolate and abandoned for lack of Faith in My help.
Just as water runs through its channel and makes whatever is at its banks grow, so in the same way, the Water of My Will is an inexhaustible Fountain of Wisdom and of the Gifts of My Holy Spirit.
MAN HAS FORGOTTEN THAT LIFE IS THE GREAT GIFT FROM MY FATHER AND ACTS AGAINST IT, ACTS AGAINST OUR HOLY SPIRIT,
AND THE ONE WHO SINS AGAINST OUR HOLY SPIRIT WILL KNOW THE VOICE OF SILENCE.
My beloved People, this generation makes My Heart bleed seeing it totally deformed, totally debased, totally misguided; I see the man fresh from My Father's Hands and at the present-day man, totally different from the one My Father created.
My beloved People:
YOU MUST WALK TOWARDS THE UNION WITH MY WILL, ONLY THUS AND ONLY THUS WILL YOU
RECEIVE FULLY THE GIFTS AND VIRTUES NECESSARY TO FACE THOSE INSTANTS IN WHICH FAITH WILL BE TESTED IN DEPTH.
My children! My People must remain faithful and immovable, and this will not be achieved by the one who does not know Me in depth, who does not abandon himself totally in My Will, who does not trust in My Protection and scorns the loving Call of My Mother.
My People! What has become of you?…
My People! Into whose hands have you given yourselves?…
My People! How I yearn for you, how I miss you!…
OH BLIND, DEAF AND MUTE PEOPLE! TO WHOM I HAVE BROUGHT MY WORD SO AS TO RESCUE
YOU FROM PERDITION! AND YOU HAVE SCORNED IT…
Even so, the inexhaustible springs of My Mercy spill out instant to instant over you, but My Mercy falls to the ground because My children do not receive it, on the contrary, every instant they sink in new and vile sins.
THIS YOUR CHRIST SUFFERS FOR HIS CHILDREN BEFORE THE DENIAL, BEFORE THE OBLIVION AND THE STUBBORNNESS OF CONTINUING TO CLING TO THE FALSE WORLDLY GODS.
Of what value will the god of metal be for the human being, when the global economy staggers and falls to the ground?
What is the power of the great superpowers worth,
when they, among themselves, will execute each other until they overthrow one another?
What is the attachment to human pride worth, when it will be scourged by its own hands?
My beloved children:
MY PEOPLE MUST KNOW ME IN DEPTH AND ENTER ABSOLUTELY INTO MY WILL,
THEY MUST WELCOME IT IN HASTE, AS IF I WERE COMING IN THIS VERY INSTANT, AS IF YOU WERE IN THE FINAL INSTANT AND WERE CONSCIOUS OF IT.
Time has harshly marked this generation as a consequence of the harshness with which this generation has journeyed devastating My Father's Will, and in this instant it must return to My Father what is belongs to Him…
I desire a holy Church…
I desire a Church obedient to My Word, that follows My Commandments that follows the
Sacraments…
I desire a Church that thirsts to receive Me, a Church that thirsts for My Word, a Church that is pure, holy and that loves My Will, carries out My Will, is faithful to My Will…
I desire a Church that despises what is worldly and earthly goods, a Church that is totally spiritual, a Church that enters into My Will every instant and that without My Will does not find any path…
I DESIRE THAT CHURCH I INSTITUTED WITH MY DISCIPLES, THE SAME ONE I INSTITUTED, I WANT TO RECOVER IT.
I DO NOT NEED LUXURIES, I DO NOT NEED GREAT TEMPLES, I COME FOR THE TEMPLE THAT IS EACH ONE OF YOU, FOR THE INNER TEMPLE WHERE I MUST REIGN WITH MY WILL.
My beloved, in the instant that approaches you will see unleashed before you the forces that have been preparing the entire social, political, economic and apparently spiritual structure of the "false prophet," of the one who will usurp My Throne -- I speak of the antichrist. Hence I have come constantly to you to explain My Word so that with urgency, you return to Me.
I FIND MYSELF IN THIS INSTANT BEFORE EACH ONE OF YOU WITH MY ARMS OUTSTRETCHED TO
RECEIVE YOU WITHOUT SEEING OR NOTICING ANY SIN OF YOURS, RATHER MY MERCY, SEEING YOU BEFORE ME, TRULY REPENTANT AND WITH A FIRM RESOLUTION OF AMENDMENT, LOVES AND WELCOMES, WELCOMES AND LOVES.
Woe to My People who do not listen to My Call! And by not knowing Me, they will believe they recognize Me in the antichrist and will walk towards him, blinded by his debased lie, thus handing themselves over to the unimaginable pain he will cause, with a single government usurping from this King His Land and His Throne, with a single government that will pretend to overturned My Scepter. The disobedient man will suffer, and I will hasten with My Justice to save souls.
My Love goes beyond man's analyses; My Love is infinite and no theologian will be able to describe it to perfection. My Mercy has fathomless limits and My Justice implicitly carries My infinite Love for each soul.
My beloved:
PREPARE YOURSELVES INTERNALLY. WHAT IS MATERIAL, IS MATERIAL AND LIKE EVERYTHING THAT
IS MATERIAL, IT WILL PERISH. MY PEOPLE WILL HAVE MY HELP, BUT YOU, IN THE INNER DEPTH OF YOUR SOULS, FUSED TO MY HOLY SPIRIT, WAIT FOR ALL THAT OCCURED, FOR I AM PRESENT IN YOU.
Unite in a single heart, in the unity of My infinite Love that will be an invincible and immovable wall. Whoever lives in obedience, remains in unity.
This is the instant of Goodness, of Charity, of Faith, of Hope, of Love, and it is the instant of Obedience to My Word, so that united, we sing victoriously My Final Triumph and I recover by man's own hand, all that man has given to the enemy of the soul.
I AM YOUR GOD.
Pray for one another, minster to one another,
for this King of kings and Lord of lords remains and will remain forever and ever.
I bless you in the Name of the Father, in My Name and in the Name of the Holy Spirit.
MY PEACE, MY STRENGTH AND MY FORTITUDE BE IN YOU, MY PEOPLE.
Your Jesus.
HAIL MARY MOST PURE, CONCEIVED WITHOUT SIN.
HAIL MARY MOST PURE, CONCEIVED WITHOUT SIN.
HAIL MARY MOST PURE, CONCEIVED WITHOUT SIN.