Sunday, January 5, 2014
Message from the Blessed Virgin Mary
To Her Beloved Daughter Luz De María.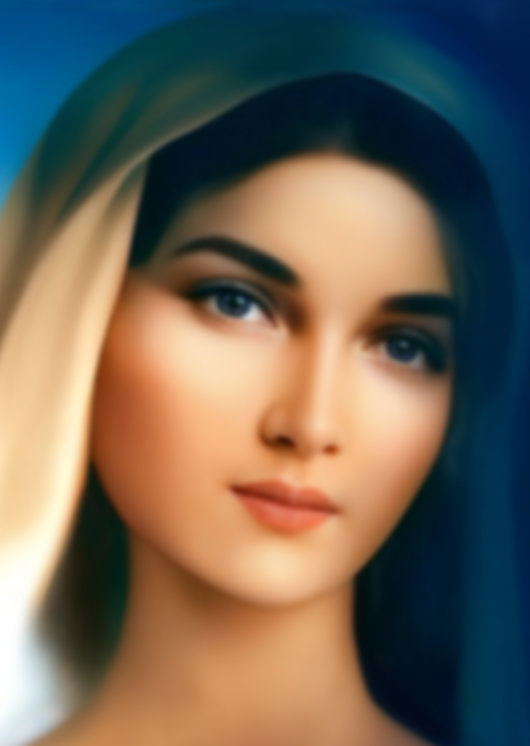 Beloved children of My Immaculate Heart:
I look at you and I love you, I bless your path. My Love remains with you.
ONLY THOSE WHO WALK ON THE PATH OF LOVE WILL EXPERIENCE GOD'S PRESENCE IN THEIR LIFE. LOVE FOR MY SON CENTERS THEM AND GUIDES THEM IN OBEDIENCE SO THAT THEY OVERCOME THE EVENTS OF EVERY INSTANT.
My beloved: My Son, scorned and a pilgrim, knocks on the door of the heart of each one of His children and does not find welcome; on the contrary, human greed knows no limits because even recognizing Him, they close the door to Him time and time again.
My children go to meet the enemy of the soul, they give themselves over to him wrapping themselves up in what is worldly and put their trust in earthly reassurances, since they possess freedom to do so.
DO NOT FORGET THAT NOTHING IS IMPOSSIBLE FOR GOD WHEN A PERSON REPENTS WITH A FIRM INTENT OF AMENDMENT.
Children, I see you from on high, and there I see each one in particular: your path, your endeavor, the truth and how much you place trust in yourselves, and how kindly and obedient you are to the Divine Word.
My beloved, wisdom is a difficult pearl to acquire. The one who is wise recognizes His Creator and does not leave Him out, rather he knows that He is like the sun whose interior is not seen directly, rather only its external circle is seen, it is known that it always shines fully even if it is not seen, since its brilliance is too much and he loves that light that provides what he needs… So man must love My Son's Will and not enter into a battle with It.
Everyone has a personal mission and some chosen ones have a mission that carries the wellbeing for all of humanity.
THE STEP OF HUMAN BEINGS HALTS BEFORE FREE WILL AND THE HUMAN RESPECTS THAT ARE ILLINTENTIONED, LEADING TO THE DIVINE WILL BEING FORGOTTEN AND SUPPLANTED BY PERSONAL DESIRES.
Humanity forgets that ill-used free will obligates Divine Justice to act, upon exerting human will against Divinity. THIS HAS BEEN MAN'S DISPOSITION: WALKING EXERTING FREE WILL, FORGETTING THE MISSION THAT HAS BEEN ENTRUSTED TO EACH ONE OF YOU.
Thus walks My Son's Church, from bitter cup to bitter cup, from warning to warning until it faces itself and lives the pain of being conscious of the evil committed. THE WARNING IS NOT SYMBOLISM, IT IS A REALITY THAT ALL WILL FACE.
HUMAN LAMENT WILL NOT WAIT BEFORE THE SHADOW OF DEATH UPON THE EARTH, BY NOT SHAKING OR CORRESPONDING BEFORE MY CALLS.
Beloved children:
YOU FORGET WHO YOU ARE WITH SUCH EASE AND FORGET WHAT THE CALL OF THOSE WHO ARE MINE IS!
YOU QUICKLY YIELD BEFORE THE SMALLEST CONTROVERSY, BECAUSE YOU DO NOT RECOGNIZE THE DIVINE LOVE THAT REDEEMED YOU.
You scorn act after act of mercy from the Paternal House and human will knows no limits, it continually offends My Son. He is at the doors of this generation and will arrive before you without warning, and you will be surprised.
HUMANITY SINKS IN AN ENDLESS BATTLE, AGAINST ONE ANOTHER IN YOUR FREE WILL, AND
VIOLENCE, A PRODUCT OF IT, WILL EXERCISE ITS POWER GALLOPING OVER ALL OF HUMANITY.
The great Goliath of this instant: nuclear energy, will rush upon all like the shadow of death.
The enemy of the soul celebrates its victory. My children, in an act of utmost violence, will attack one another like strangers.
Divine Mercy before a fooled humanity, without values and that scorns My Son, will be a witness of scourge after scourge.
Pray, children, volcanoes awaken with severity and those who are Mine will suffer. Pray for Italy, for the United States and pray for Guatemala.
The fish, altered by radioactivity, will come to shore so that man sees how much damage he has caused, but man, indifferent, will continue to advance in his violence.
Pray, the Church will suffer overmuch.
Pray, the waters will move and rush towards the land, and man will suffer.
BELOVED, TRUST AND LOVE MY SON'S WILL,
DO NOT LET FEAR INVADE YOU, BUT RATHER THE DESIRE FOR SALVATION,
EXERTING YOURSELVES TO COMPLY FULLY WITH THE PETITIONS FROM ON HIGH.
Beloved children of My Immaculate Heart:
A MOTHER DOES NOT COME TO THOSE WHO ARE HERS TO IMPART FEAR TO THEM, RATHER TO WARN THEM AND SO THEY RETURN TO THE CORRECT PATH.
Beloved, pray for the innocents that will suffer in an attack without precedent, London will suffer.
Human egoism is not weakened but rather grows stronger.
YOU WHO LOVE MY SON, DO NOT LOSE HEART, RATHER PRAY AND MAKE REPARATION, LIVING IN THE DIVINE WILL WITH THE ACTS AND WORKS OF EVERY INSTANT.
Do not forget that from on High the blessing arrives; just as Mana descended to the People in the desert, so also in the desert of free will, again My Son's People will be blessed with New Mana that will guide them so that not all are lost and arrive at the knowledge of the Truth.
My beloved:
I BLESS YOU BEFORE THE INSTANT OF INSTANTS, I BLESS YOU URGENTLY SO THAT YOU ARE NOT LOST BUT CONTINUE ON THE PATH, WITH THE ASSURANCE OF MY PROTECTION.
Remain attentive to My Calls, do not scorn the path that My Son has laid out for each one of you.
MY HEART IS AN ARK OF SALVATION FOR THE FAITHFUL AND MY LOVE COVERS ALL.
I love you, I bless you.
Mother Mary.
HAIL MARY MOST PURE, CONCEIVED WITHOUT SIN.
HAIL MARY MOST PURE, CONCEIVED WITHOUT SIN. HAIL MARY MOST PURE, CONCEIVED WITHOUT SIN.