Sunday, January 12, 2014
Message from Our Lord Jesus Christ
To His Beloved Daughter Luz De María.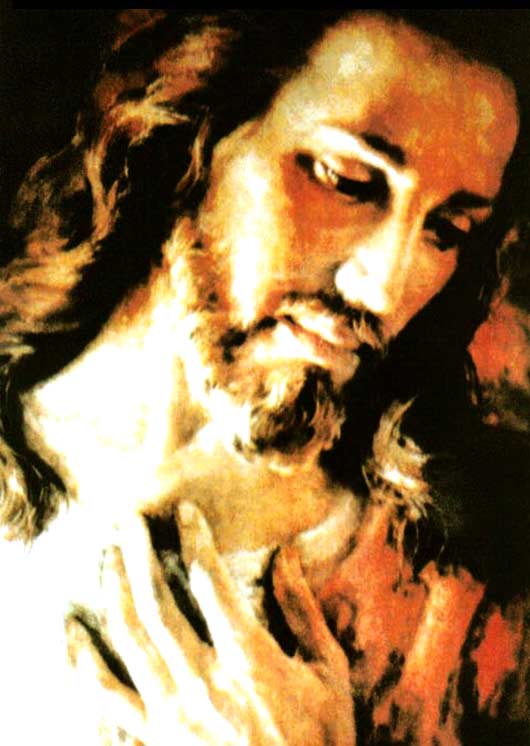 My beloved People:
YOU ARE THE APPLE OF MY EYE, AND I LOVE ALL OF YOU. ALL ARE NECESSARY IN MY KINGDOM. I
BLESS AND PROTECT THE WAY, I CLEAN THE TURBID WATERS SO THAT YOUR TRANSIT IS MORE BEARABLE AND EASIER.
My beloved, like the fingers of a hand, all are necessary in My Missions; except that those who feel they are necessary have to understand that for Me, the one who is necessary is the one who lives, works and acts in My Father's Will; the one who is humble is necessary to Me; the one who is proud will be discarded, not by Me, but by his own pride.
IN MY KINGDOM, MY AFFAIRS HAVE LOVE, CHARITY, HOPE AND FAITH AS A BASE.
The one who accompanies Me will find the solution to all that is presented before him on the way in these four Virtues, but the one who is prideful does not accept My Word or My Advice, or My Help until he faces his own enlarged human ego, and there he meets himself and with harshness judges himself.
My beloved, the one who thinks himself to be first will be the last, and the last shall be the first. You know that I give the same pay to the one who arrives in the first hour as to the one who arrives in the last hour of the afternoon, but for this it is necessary that you have an unwavering Faith in Me and sincere repentance.
My children:
THIS IS THE GENERATION THAT HAS IN ITS REACH THE SPLENDORS OF MY HOLY SPIRIT AND BECAUSE OF THAT, THE ENEMY OF THE SOUL HAS PERSISTED IN A CONSTANT BATTLE AGAINST MY PEOPLE. A spiritual battle that he wishes to win at whatever cost: bringing snares to every human being, destroying hearts and destroying families, killing innocence, perverting the youth, contaminating childhood and debasing man's mind so that he is not able to love.
AND DO YOU KNOW WHY?
BECAUSE LOVE IS THE GREATEST VIRTUE THAT A PERSON CAN HAVE,
FOR BY HAVING MY DIVINE LOVE, THAT PERSON RESEMBLES ME MORE.
In love, in My Love the human being finds fullness, and killing love leads to man losing the graces that are proper to him as one who is made in the image and likeness of My Father. The lack of love in a person leads to scorning My mother and…
… SHE IS THE ONE WHO WAGES BATTLE IN THIS INSTANT AGAINST THE INFERNAL ENEMY… SHE IS THE ONE WHO COMMANDS THE HEAVENLY HOSTS. I have entrusted them to Her and that is why satan hardens man so that man scorns My Mother, so that he denies that I have entrusted to Her to remain beside humanity to defend it, and that She takes you by the hand from revelation to revelation until making you conscious that "I Am Who Am" and that She is My Mother: the Sacred Vessel, the Ark of the covenant, the morning Star, the Advocate and intercessor of Christians.
Beloved children, in this generation in which the Holy Spirit distributes His Gifts everywhere, evil distributes its followers throughout the earth, it has left hell empty and has spread demons over the Earth so that all men forget Me and fight fiercely against one another even to the point of killing one another. THIS IS NOT MY WILL, THIS IS NOT MY LOVE, THIS IS NOT MY GENERATION, THESE ARE NOT MY CHILDREN, YOU MUST NOT ACT IN THIS MANNER…
MY BELOVED, MY LOVE IS INFINITE BUT THE WEIGHT OF SIN POURS OUT THE LAST DROP OVER THIS INTRANSIGENT HUMANITY, OVER THIS HUMANITY THAT TRAMPLES AND FORGETS ME…
I love you, I remain beside you until the final instant that you remain in the world, but you are not part of the world, you must be salt of the Earth. You, My beloved, must be the water that refreshes on its way and makes all that it touches green.
The heart and mind of man are so arid that I see them extremely cracked and all this because of the lack of My Love…
OH PERVERSE GENERATION IN WHICH EVERY HUMAN BEING
GIVES HIS OWN MEANING TO MY LOVE!…
AND MY LOVE IS ONE AND IS NOT SUBJECT TO PERSON CHANGES.
THE LACK OF TRUTH AMONG YOU LEADS YOU TO FALL VERY LOW.
The Earth has been contaminated so much and the Sun, the Sun cracks it to its depths. The rays of the Sun, instant to instant, reach the Earth each time with more strength and with more contamination for the Earth.
It is soon, children, the instant in which the Sun will let all its fury fall upon the Planet. There will be an explosion so strong that you, on your knees, will be convinced that without Me, you are nothing. Science will see all of its scientific advances reduced to nothing and the man, the man who is not spiritual and does not have Faith, will wander the streets desperate, even losing his memory upon feeling himself reduced to nothing.
You, My People, who follow Me, who continue at My Side, you are preparing yourselves for the upcoming events. You who have abided My Orders, My Calls and those of My Mother, given previously for this instant, in which My House alerted you about the contamination by radioactivity, are witnesses of how many would ridicule Me and My Calls. And you saw how in an instant, with a seismic movement, radioactivity is invading with more and more force and is contaminating everything: the waters, the air, the earth itself, man and this, this contamination is one of the Horsemen of the Apocalypse that will continue advancing and will not remain where it is. Man will understand that nuclear energy is one of the great scourges he has created against himself.
My beloved, do not be negligent, the volcanoes will erupt in sequence and the geography will vary.
I LOVE YOU INFINITELY, MORE THAN YOU YOURSELVES BELIEVE THAT I LOVE YOU, more than you feel that I love you. I love you in spirit and truth, but you constantly refuse to follow Me, and I, Beggar of Love, continue from heart to heart without you paying attention to the signs of this instant. You have been alerted, because I do not act without warning My People.
The Middle East will enter into effervescence, and the world will look on so much death with indifference. My poor children, those who believe that what is far away does not reach them! Because the indomitable embrace of communism will fall upon America, and will especially bring pain to the United States.
My beloved, pray, pray for the American People.
My beloved, your President must fall upon his knees before Me, his power is earthly and My Power, Heavenly and Divine; his pride will be subdued by My House in an instant.
My beloved, pray for My beloved Argentina.
Pray, this land will weep, then, like a bejeweled bride, receive the blessing from My House.
MY BELOVED, DO NOT FORGET YOUR BROTHERS AND SISTERS WHO SUFFER IN THIS INSTANT FOR PROFESSING THEIR FAITH, especially those in the Middle East where pain will increase and not depart, because man's violence in the Middle East goes beyond man himself. It is dominated by those who govern countries.
My People:
HOW I SUFFER FOR YOU!
HOW YOU SHOULD GIVE ME SO MUCH! AND HOW YOU REFUSE ME SO MUCH! RETURN QUICKLY TO ME, BECAUSE TIME IS NOT TIME AND IT IS THE INSTANT OF MY SECOND COMING.
Do not deny My instruments, whom I use to preach the Truth to the whole world, to speak for the one who is silent, to announce what is hidden by those who should speak the Truth.
These are not instants of superficialities, they are instants of calling My People to unity, of convoking to prayer with power, they are instants of hardship, because My children must work and act according to My Will, not in their free will.
I DO NOT DESIRE GOLDEN CALVES, THESE I WILL DESTROY IN INSTANTS, I DESIRE HEARTS AND CONSCIENCES ALERT TO MY CALLS AND READY TO FULFILL MY ORDERS AND MY WORD.
You find yourselves in critical instants, in which the great spiritual battle looms without man perceiving it, in the absence of a clear conscience and of a Faith firm and strong in Me.
I RETURN SOON, BUT BEFORE MY RETURN I WILL CONFRONT EACH ONE OF YOU WITH YOUR CONSCIENCE SO THAT YOU SEE YOURSELVES SUCH AS YOU ARE. THIS ACT OF MERCY FROM MY HOUSE IS PREVIOUS TO MY SECOND COMING.
Remain attentive, for I, with My Heart open and My Hands extended towards you, send the new Manna for this generation.
Remain attentive to My Word through My instruments and discern which are My true instruments, because not all who tell you to return to Me are My true instruments.
I love you, I come for you and My Mother, with Her Womb full of Love to receive all and shelter you, remains attentive to the word of each one of you. Walk looking to the heavens. That which will make the Earth shake approaches it, but before all this Truth I must communicate to you out of love, remains My Mercy that is infinite for those contrite and humble hearts that turn to Me.
I wait for you, I bless you. My People will triumph. I do not abandon you nor does My Mother abandon you.
I love you, I bless you in the Name of the Father, of the Son and of the Holy Spirit. Amen.
Your Jesus.
HAIL MARY MOST PURE, CONCEIVED WITHOUT SIN.
HAIL MARY MOST PURE, CONCEIVED WITHOUT SIN. HAIL MARY MOST PURE, CONCEIVED WITHOUT SIN.