Wednesday, January 15, 2014
Confidences of the Holy Archangels
Saint Michael, Saint Gabriel and Saint Rafael. Given to Their Beloved Luz De María.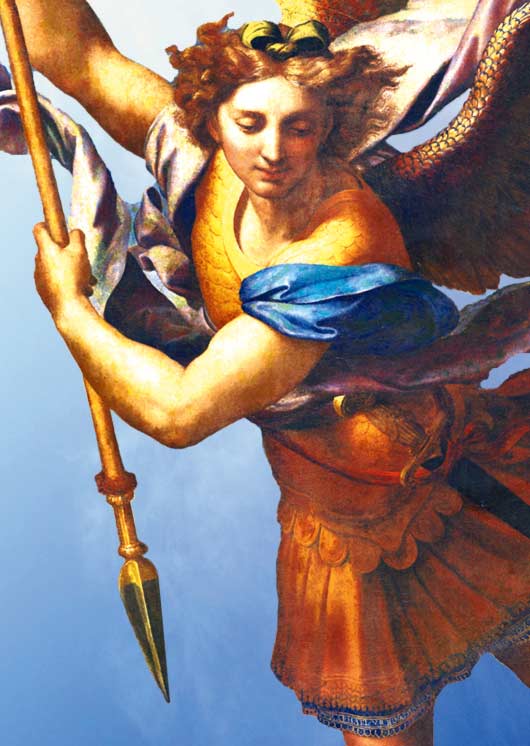 Beloved People of Our King and Lord:
WE, YOUR JOURNEY COMPANIONS,
CALL YOU TO CONTINUE IN FAITH, UNITED IN A SINGLE HEART.
DO NOT SCORN THE WORDS THAT HAVE COME FROM HEAVEN TO POINT OUT TO YOU THE PATH THAT YOU MUST CONTINUE.
In this instant, satan and his demonic legions have rushed upon all of the Globe, and upon all men, without leaving anyone out, in search of a booty that they will hand over, by order of satan, into the hands of the antichrist. He will use bodies that have died in total sin to carry out false miracles before the astonishment of a humanity that is thirsty for all that it does not know.
Beloved of ours, allow us to continue accompanying you on this path in which everything rages for man, for he has used all that our King has given him, to create greater enmity between humanity and the House of the Eternal Father. The heart, thoughts and mind of man have been strongly penetrated by evil, pouring violence in the interior of the human being, who will come to commit terribly abominable acts against the Gift of life.
IN THIS INSTANT, OUR PROTECTION AND HELP TO YOU IS SO THAT YOU CONTINUE LISTENING WITH FIDELITY THE CALL TO A NEW SPIRITUAL BIRTH THAT MUST TAKE PLACE IN LEAPS AND BOUNDS, for every human being will be shaken before events of every nature and the Institution of the Church of our King will be greatly shaken by those infiltrated masons who want the Church to fall so as to hand the Church over into the hands of the impostor.
Remain alert, and for this you must keep Faith constantly growing, you cannot stop and think that the Faith you possess in this instant is enough, no!
YOU MUST REMAIN WITH A CONSTANT SPIRITUAL NOURISHMENT AND WITH A DISPOSITION TO GROW WITHOUT STOPPING.
We have been entrusted with guarding in the people of our King the armour of Faith; only thus will you resist what is coming, but you must be willing and walk under the sun without it burning you, under the rain, without it wetting you, under the storms without drowning, under the snow without freezing because the one who lives fused in the Holy Spirit, that one possesses every Gift and every Virtue so that no inclemency detains him.
Beloved of ours, as your journey Companions we will remain without distancing ourselves. What distances us from man is continuous sin and the lack of commitment in the amendment of your sins, but have the certainty that our help goes beyond being at your side. We have the great mission of taking you and presenting you before our King so that you share Eternal Joy with Him.
And you who continue to walk in Faith, at the end of this spiritual battle that remains active, you who do not see it or perceive it, at the end you will see, with joy in your soul, that every effort bore its fruit and you will gather the greatest harvest that is yearned for by any human being who loves our King.
OUR KING WILL TRIUMPH, AND YOU, FAITHFUL PEOPLE, WILL TRIUMPH WITH HIM.
Do not discard the calls of our Queen, She is the one who commands our Heavenly Hosts and the one who lives sheltered and protected under Her Mantle, this one walks hand-in-Hand with Her to safe harbor. All of you, remain in the Love and Peace of our King and Lord.
Your brothers,
Saint Michael the Archangel, Saint Gabriel the Archangel and Saint Rafael the Archangel.
HAIL MARY MOST PURE, CONCEIVED WITHOUT SIN.
HAIL MARY MOST PURE, CONCEIVED WITHOUT SIN.
HAIL MARY MOST PURE, CONCEIVED WITHOUT SIN.