Sunday, January 19, 2014
Message from Our Lord Jesus Christ
To His Beloved Daughter Luz De María.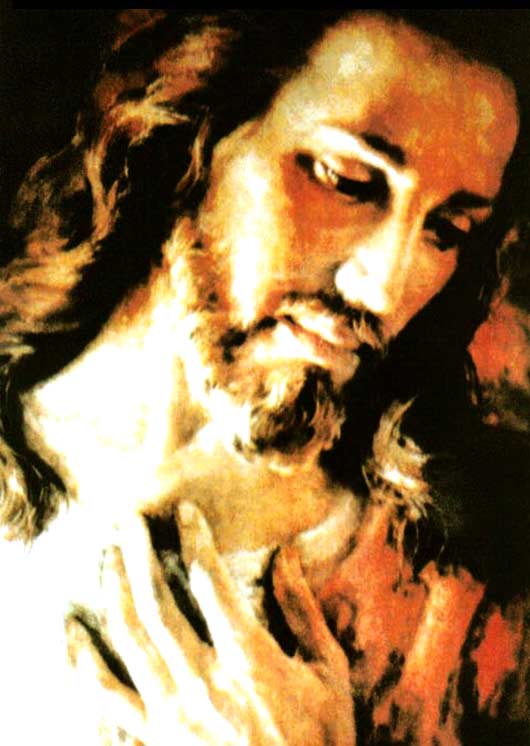 My beloved People:
IN THIS INSTANT IN WHICH MY LOVE HAS BEEN VANISHED AND SCORNED BY MAN, I COME TIME AND AGAIN, WITHOUT REST, WITHOUT HALTING BEFORE THE CONSTANT HUMAN DENIALS.
Everyone who relapses into sin and gives himself or herself over to temptations without thinking, not vaguely, but in total complacency, is a thorn, a nail, a whip, a scourge, spit, a spear… AND HE OR SHE CRUCIFIES ME AGAIN.
My children have been formed to see Me as resurrected, glorious and distant. On the contrary, I remain present before each one of those whom I love, suffering continually for their sins and denials of My Kingdom. MY HOLY SPIRIT DWELLS WITHIN ALL; SOME GRIEVE HIM, OTHERS LOVE AND MAKE REPARATION; I DO NOT REMAIN FAR FROM MY PEOPLE.
I am Mercy and Love, I do not deny forgiveness to the one who turns to Me truly sorry for his or her actions, with a firm and decided intent of amendment himself or herself.
MY CHILDREN DENY MY JUSTICE, THAT IS WHAT HAS BEEN COMMUNICATED TO MY PEOPLE. MY MERCY PRECEDES MY JUSTICE.
I do not desire a People abundant in number, gathered in My Name and not knowing My Commandments and My Truths. They present themselves before Me for appearances. I want My People to be conscious of the displeasure the human heart gives Me and how much it hurts Me and My Mother.
MY JUSTICE HAS IMPLICIT MY MERCY; IF IT WERE NOT SO, I MYSELF WOULD BE CONTRARY TO MY LOVE.
MY PEOPLE DO NOT KNOW ME, MORE THAN THEY BELIEVE, AND IT IS WITH A BASE IN THAT IGNORANCE TRANSMITTED FROM GENERATION TO GENERATION THAT THEY WANT TO PLACE CONDITIONS UPON ME.
If man does not repent for the ill-use of his free will, he is not worthy of entering into My House, even if I continue to call him son.
ALL ARE MY CHILDREN, BUT NOT ALL CARRY OUT THE DIVINE WILL IN THEIR LIFE…
LIFE IS A BLESSING, BUT THE DEVELOPMENT
AND GROWTH OF LIFE IS A RESPONSIBILITY OF EVERY HUMAN BEING.
My beloved, how much suffering approaches for you! And how My Heart grieves because of it, without you perceiving it, since you do not allow Me to vibrate and beat in you!
You deny My Mercy, it being My Attribute… My Justice is absolute, it vibrates in My Rectitude and Perfection.
Man refuses to accept My Justice, and I delight in justice. I refuse what is impure and noxious.
THE MANIFESTATION OF MY DIVINITY IS MY WRATH AGAINST SIN AND AGAINST THE CONSTANT PERMANENCE OF MAN IN SIN. MAN HAS PLACED A MASK BEFORE SIN SO AS TO ALLOW INTERNAL AND EXTERNAL DESTRUCTION OF MANKIND AND WHAT SURROUNDS HIM.
I desire children who have integrity, who are conscious that just as the Promised Land is necessary for My People, so is hell necessary for those who work and act contrary to My Will.
My beloved, in these instants I look at the Earth, and not all the lamps are lit; the oil has been contaminated and My Spirit ignored, is not preached in depth so that sinners amend themselves and do not go against their nature.
MY PEOPLE, MY WRATH REMAINS AGAINST ALL THOSE WHO INSIST ON DENYING MY JUSTICE.
AS SENTINELS, KEEP WATCH AND DO NOT STRAY FROM THE PATH. I AM TRUTH AND LIFE.
My People have not offended Me so much previously, as in this instant in which they have transformed Me according to the whim and convenience of those who speak for Me.
You wish to silence the voice of My Messengers so that My lethargic People succumb to the clutches of evil; this instant is not just another, it is the instant of instants in which the sinners of the world battle against My true instruments who cry out to My People to return to My Truth.
Beloved children, you are the prey of global interests under the same authority, interests that have infiltrated My Church with the disguise of My Mercy to maintain My People's ignorance. Remain willing to be conscious that you are more than flesh, you are more than a body which you look at with indifference.
Beloved, within the order of My Creation, man emanates his ego, contaminated with sins and frustrations discharged in the capital vices and the scorn for life.
Creation is one with Me and speaks to man…, the volcanoes awaken, pray for Indonesia and Italy.
The Earth shakes, pray for Central America, pray for Russia.
The rumors of war have been overshadowed and man will be prey to war unprepared, pray for the Middle East.
My children will not find nourishment but in My Will.
The plague has been unleashed, denied and hidden by those who are responsible for it, pray for Japan.
YOU MUST NOT FEAR, MY LEGIONS REMAIN BESIDE MY PEOPLE, BESIDE THOSE WHO FIGHT TO TURN FROM SIN.
EVERYONE TRAVELS LIFE WIHT A GUARDIAN ANGEL,
AND THIS GUARDIAN ANGEL WILL HELP HIM OR HER.
The blessing will descend from My House.
Smoothing the way, My People will live in My Joy; you will be one in My Love, I will be your King and you My People.
My Love will be in all and all will be in Me. I bless you with My Love.
Your Jesus.
HAIL MARY MOST PURE, CONCEIVED WITHOUT SIN.
HAIL MARY MOST PURE, CONCEIVED WITHOUT SIN.
HAIL MARY MOST PURE, CONCEIVED WITHOUT SIN.