Monday, January 20, 2014
Message from the Blessed Virgin Mary
To Her Beloved Daughter Luz De María.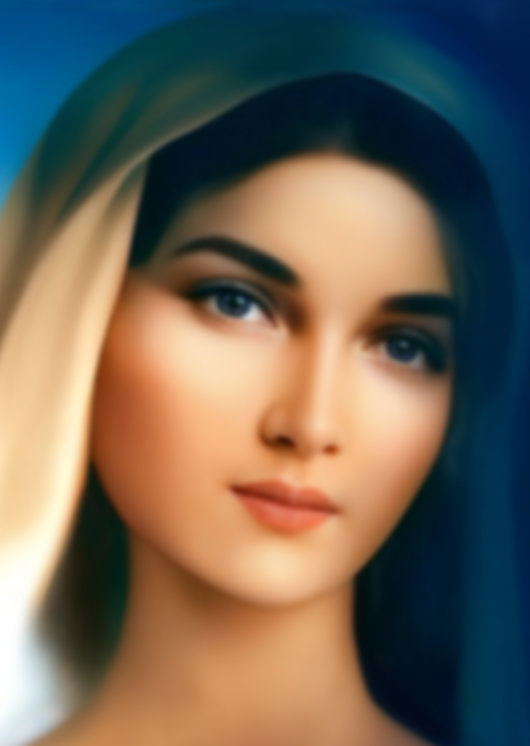 Beloved children of My Immaculate Heart:
I BLESS YOU. REMAIN ASSURED THAT I INTERCEDE FOR YOU, ESPECIALLY IN THIS INSTANT IN WHICH I, WITH ALL MY HEAR, APPEAL BEFORE MY DIVINE SON, FOR ALL OF HUMANITY.
Men do not know My Maternal Love and My Maternal Love has interceded so that My Son's Hand would not previously descend.
HOW YOU OFFEND ME! HOW YOU DISHONOR ME! BUT I, LIKE MY SON, CONTINUE LOVING YOU WITHOUT REST WITH INFINITE LOVE.
The Earth creaks from its bowels, the great slides creak. The Earth will shake until man comes to ask for clemency and calls His Father by His Name.
My beloved:
HOW GREAT IS MAN'S FOOLISHNESS THAT HE DOES NOT WANT TO SEE HIMSELF AS HE IS!
IN YOUR CONTINUOUS OFFENSES TO DIVINITY, MAN HIMSELF CLOSES THE PATH OF ETERNAL SALVATION FOR HIMSELF.
In this instant you only proclaim My Son's Love, but if Divine Love prevails, Divine Justice is at the same time, part of that Divine Love.
My Beloved, how man turns against man, against his fellowmen snatching the lives of millions and millions of innocent creatures! This is the very serious sin of this generation, for by scorning life, they have opened the doors to the evil of libertinage and covetousness and have used what has been given for the good of humanity against humanity itself.
The scourges that mankind has suffered mostly, have been a consequence of man himself. In this instant, what man suffers is unknown to man himself, for the consequences of this suffering are not visible in this instant, but will be after in that they will begin reactions in the human body as you are seeing in this instant in fish and other species of the Animal Kingdom; innocents that suffer the effects of human greed.
Another nuclear plant will be shaken, spreading even more contamination …
Woe to My People! …
Woe to My children! …
Woe to those who will suffer at the hand of the powerful who do not see beyond their own egoism!
My beloved, do not turn away from My Son, do not turn away from My Protection, I continue beside My children as My Divine Son has entrusted Me. BE PERSEVERANT, DO NOT FEAR WHAT IS COMING, CONTINUE WITH THE CONFIDENCE THAT MY SON KEEPS HIS PROMISES, AND THAT I DO NOT ABANDON MY SON'S PEOPLE. These People are all those who carry out the Father's Will, for not only the one who says, "Lord, Lord!" will enter the Kingdom of Heaven.
My beloved, as Mother of all of humanity, I convoke you to continue praying, to continue in that practical prayer that is the constant witness of each one of those who are Mine. WITH YOUR WITNESS YOU PREACH AND DEMONSTRATE WHO DWELLS IN YOU.
You already know that whatever is necessary for all those who cry out for blessing will descend from Heaven.
MY SON RESPECTS FREE WILL, BUT THE ONE WHO IS CONSCIOUS OF WHAT IS A LIMITED HUMAN BEINGN, THAT ONE FALLS ON HIS KNEES AND CRIES OUT FOR DIVINE PROTECTION.
Beloved children of My Immaculate Heart, alert one another, love one another, take each step conscious that soon you will face that instant in which, before My Son, you will see that travel of your personal works and actions.
My beloved, so many events approach! And you must not await them with fear but with the joy that the one who perseveres, that one, will enjoy Eternal Life. You must await what is coming with the joy that the one who is polished and purified like steel in the fire, that one is chosen to be a testimony of
My Son's Love. You must wait for what is coming with Holy Patience and with total disposition so that the Divine Will is accomplished in each one of you, conscious that the instant urges and therefore, giving yourself in total disposition to My Son's Calls will bring you an increase in Faith and an increase in the blessings of the Holy Spirit so that you discern with clarity and are assisted in perseverance.
DO NOT BE CARELESS, KEEP IN MIND THAT MAN'S ENEMY HAS STOPPED PROWLING. IN THIS INSTANT, HE HAS UNFOLDED HIS EVIL LEGIONS OVER ALL THE EARTH, IN SEARCH OF THOSE WHO WALK, WANDERING AROUND WITHOUT CARRYING MY SON IN THEIR HEART. Do not deny the fulfillment of the Divine announcements, be people who are open and see with disposition the signs of this instant.
I, as Mother and Queen, convoke you to pray without ceasing, do not diminish love towards My Son, but above all, I CONVOKE YOU TO HUMBLY SOLICIT THE HELP OF THE HOLY SPIRIT SO THAT HE LEADS YOU TO DISCERN WITH CLARITY AND SO THAT THOSE WHO DESIRE TO CONFUSE MY SON'S PEOPLE ARE NOT ABLE TO CONFUSE YOU.
Unite in My Son's Love and wait with Holy Patience, for what My Son has announced will be fulfilled and the blessing for His People will arrive "ipso facto."
DO NOT FEAR, CHILDREN, DO NOT FEAR.
YOU ARE THE CHILDREN OF THE KING OF HEAVEN AND EARTH, YOU ARE THE FAITHFUL: THE HOLY REMNANT.
DO NOT DECLINE, MY HAND GUIDES YOU WITH LOVE TO MEET THE ENCOUNTER WITH DIVINE LOVE.
I bless you.
Mother Mary.
HAIL MARY MOST PURE, CONCEIVED WITHOUT SIN.
HAIL MARY MOST PURE, CONCEIVED WITHOUT SIN.
HAIL MARY MOST PURE, CONCEIVED WITHOUT SIN.