Saturday, January 25, 2014
Confidences of the Archangels
St. Michael, St. Gabriel and St. Raphael. Given to Their Beloved Luz De María.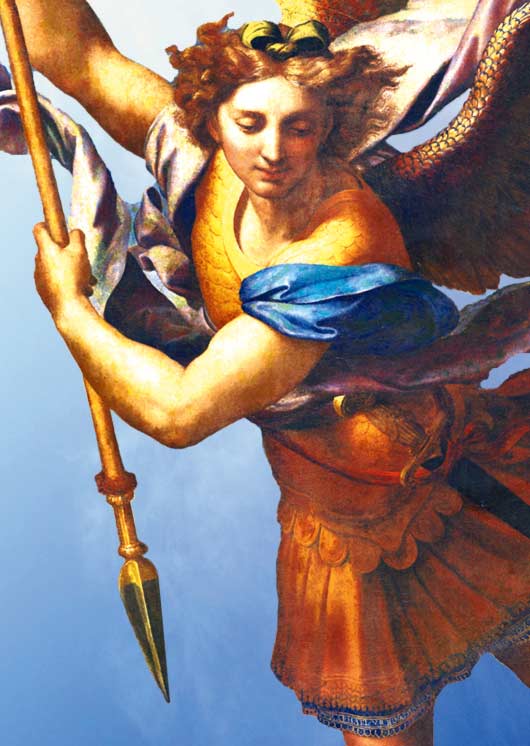 Beloved of ours:
THE CLOUD OF CONFUSION COVERS THE EARTH WITHOUT HUMANITY SEEING THE FACT THAT ALL SPECIES ALERT IT ABOUT WHAT IS COMING.
Man's detachment from the Eternal Father's Creation is part of the largest rebellion that the human being, in this generation, has experienced, since he has known the sacrifice of the God-Man for the salvation of humanity.
Man has been sublimated through the Holy Spirit, Divine Gift from on high, at once Supreme and Kind and who does not abandon His own: Highest help…
Man received a Mother that was granted to him at the foot of the Cross as the Ark of the New Covenant, and intercessor for Her children before Her Divine Son…
Divine Love has over flown the spring of Its Mercy towards this generation, without man being stopped in his actions or works by our King, rather he has walked in total freedom so that he choose for himself the path of the blessing. Men have chosen rebellion, this being the most risky: the path of rebellion with no return.
YOU ARE A DIVINE CREATION BUT YOU DO NOT WORK NOR WILL ACT IN ACCORDANCE WITH THE DIVINE BUT RATHER WITHIN GREAT HUMAN EGOISM.
Man, by transgressing against the Gift of life, with his human science shows himself as a superior creature so as to dispense with God as the only Creative Power and man has dispensed with God, leaving God out…
WHAT HAS MAN OCCASIONED BUT A DECLARATION OF WAR AGAINST THE HOLY SPIRIT!…, impeding the mention of Him in public, without reasoning that the Name of God upon being invoked frees, heals, protects and governs in help of His own.
Purity is purity and the one who obeys his Lord and his God lives in it.
Beloved:
THE CURRENT GENERATION TRANSGRESSES AGAINST THE LAW AND WITH GOLDEN CALFS CORRUPTS INNOCENTS, FOR WHICH THIS GENERATION WILL BE MELTED IN THE FIRE BEFORE THE GREAT NIGHT FALLS AND THE GREAT WAR. This generation will not pass before the dark night falls upon it.
LIKE THE WIND THAT PASSES, SO WILL THE HUMAN PERSON CHANGE: FROM BEING A CHILD OF GOD TO BEING A STRANGER, OUT OF HUMAN WILL.
Humanity will live instants of continuous trials. In suffering it will perish.
Pray beloved, for Argentina, it will suffer purification. Pray so that man is a reflection of God.
The great cloud advances, and from on high a light unexpectedly approaches the Earth with speed.
Beloved:
WE, YOUR JOURNEY COMPANIONS,
DO NOT ABANDON YOU NO MATTER HOW STRONG THE BATTLES ARE.
Blessing be in all of Creation.
Pray so that Heaven sends its blessing soon.
Your Journey Companions,
St. Michael the Archangel, St. Gabriel the Archangel and St. Raphael the Archangel.
HAIL MARY MOST PURE, CONCEIVED WITHOUT SIN.
HAIL MARY MOST PURE, CONCEIVED WITHOUT SIN.
HAIL MARY MOST PURE, CONCEIVED WITHOUT SIN.