Thursday, February 13, 2014
Revelations of the Blessed Virgin Mary
To Her Beloved Daughter Luz De María.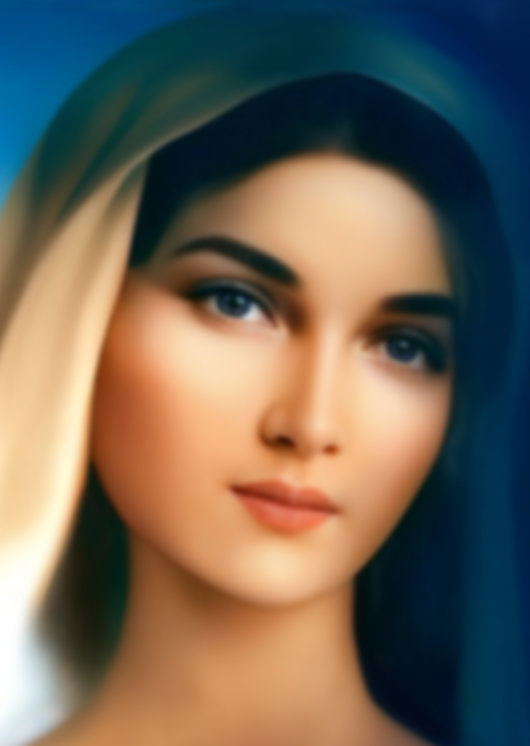 Fused in prayer, the Blessed Mother says to me:
"Hail Mary Most Pure," and I respond: conceived without sin.
Then she says to me:
"Beloved daughter of My Immaculate Heart, My Heart burns with love for all souls, I do not rest helping and interceding for all My children. For some I am comfort in illnesses and for others, I am help in difficult instants. I am company, advice, relief, health of the spirit and the body, of thoughts and the heart. I am obedience, hope, charity, faith, peace, love and joy. I do not abandon anyone, rather I wait yearningly for you to open your heart to Me."
The Mother continues to say to me:
"Beloved daughter, in these urgent and decisive instants, it is almost impossible for man to enter into silence; he does not know it and does not desire it. Instead, silence causes him fear since it can reveal his true identity to him. Worldly noise confuses people; it has penetrated into their unconscious as part of daily life, leading them to join without being conscious of it, to the bitter step of this generation. Man, denying all that which comes from My Son, makes the darkness of the soul bloom in him, finding his center in what is fallacious, setting aside the Signs of the Times, announced from before and present in this instant more than any other.
Man is indifferent to the suffering of others, due to his egoism that does not allow him to see My Son present in everyone, as Temples of the Holy Spirit.
My Son wishes to be recognized and known by everyone. Man's conscience does not limit but gently leads him to receive the Revelation, not as a myth, but as Truth already written in the Gospels. This Revelation is a novelty for man because he does not know My Son and does not accept Me as Mother… If humanity meditated on each one of its actions, it would be as if it remained before the Warning. Even though this act of facing oneself is held to be unnecessary by the human person, for the spiritual has been replaced by what is worldly -- this being more attractive, man discards his conscience and continues with the challenge of surpassing sin and offending My Son."
Then the Mother asked me:
"My daughter, share with your brothers and sisters that the true loves of My Son are those who fight to be totally Christ-like, those who fulfill the Divine Will and who desire to submerge themselves in the Divine Presence and Omnipotence, working and acting continually in total communion with the Infinite Wisdom.
Tell them that the signs of this instant do not wait…, for those who are conscious of the present and decisive instant for this generation, will be the ones who will raise their voice, even if they are not heard.
Before man's indifferent gaze, the Earth cracks from place to place, it shakes and will shake, and drawing near and agitating its waters, the Oceans will be a scourge for man. Ask My children to pray for South America: the great mountain ranges will shake, Chile will weep, Argentina will suffer and Ecuador will lament."
The Mother continued to share with me:
"My daughter, look how My Heart suffers for those who are Mine! Unceasingly I seek mirrors of My Son and do not find them… so many claim to love My Son! And they are only carbon copies with great limitations, guided by an illusory ignorance of the Truth and of the distinction between the Divine Mercy, Forgiveness and Divine Justice.
My Son is Divine Light giving Himself for all; some accept Him, others do not, but He does not hide or darken before anyone. So great is His Love that He constantly alerts all His children time and again so that they prepare, but men love the darkness more than the Divine Light. With his works contaminated by arrogance, man has fallen so much that he does not even recognize himself. In the decisive instants, man will be fearful of his fellow man, deceit will be constant and man will be tempted time and again by satan. Man's anger will be constant, and violence will again lead to an open persecution. Ask them, My daughter, to pray for My Son's Church: it will suffer bewildered and it will sink into division.
What do I expect from My children? I only expect them to be conscious in every act and work, of the Presence of My Son in each one of them. No act is empty, if that act is born from the conscience; in that resides the difference between those who do much and accomplish nothing and those who seem to do nothing but do it all.
The awareness of this instant must lead My children to remain alert, without fear of being better, without fear of facing their reality, without fear of revealing the fire they carry within and does not let them be conformists. My children enter into the Mystery, not so that it is unveiled to them, but to be docile to the Divine Plan. In this instant, awareness is to the soul like food that gives it survival, before the unawareness of those who deny Heaven the clarification of Its Love to announce My Son's Second Coming.
Look daughter -- the Mother shows me the Sun -- it emanates its heat to the Earth, the vibration of this blaze will be what causes the sea to rise, as has never before been seen. Ask My children to pray for the United States, it will be scourged time and again. Tell them of My suffering for those human beings who are materialistic, who deny the Calls of My Son's House, because of the fear of facing a reality that for them is only a utopia.
Humanity fears knowing need, Faith has been evicted from man, while I call you to become aware of the signs that time and again occur in a single voice of warning to the unbelieving man. Share with them daughter."
The Blessed Mother says to me:
"Blessed the one who trusts in My Son's Word and is conscious that for Christ nothing is impossible. The one who tries to enter into the Divine Will must share with his or her brother and sister the spiritual food of Wisdom through the Word. Here I am, I am Mother of humanity; I come with blessing for the one who like a child, believes, and does not place limits upon My Son, who is the Master and King forever and ever.
And raising Her Hand, Our Blessed Mother, blesses and Her blessing goes throughout all of Creation, it reaches every man of every People and Nation."
HAIL MARY MOST PURE, CONCEIVED WITHOUT SIN.
Brothers and sisters:
The unawareness of the greatness of the acts united in and for Christ, has led man to lose the dimension of being in the image and likeness of God.
No two days we live are the same, let us keep in mind that the instants are before us, that is why we must not lose them stopping before those who deny what is coming. It will be history that tells of the bloodiness of the purification of this generation.
Let us announce the Word we receive before it is too late. We have the dowry and more to continue to fight for the good of humanity, against intolerance and the lack of conscience. Let us not falter, each one of us is an Apostle, if not, you would not be reading and been conscience of this call from the
Mother in this instant.
Amen.
LUZ DE MARÍA