Wednesday, February 19, 2014
Message from Our Lord Jesus Christ
To His Beloved Daughter Luz De María.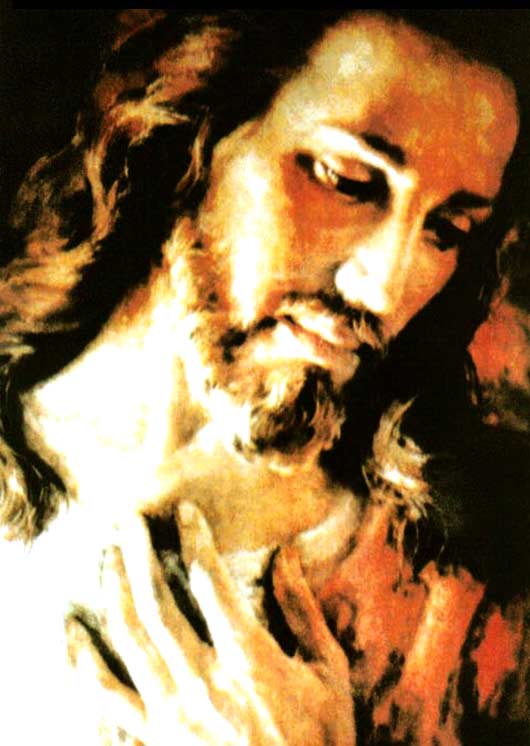 My beloved People, I love you, I bless you.
WHO ARE MY TRUE AND FAITHFUL PEOPLE?
My People are those People who walk lifting up the flag of My love, who are faithful to Me in everything and obey all that I ask of them.
My true and faithful People are the ones who know My Commandments are immutable, that I am the same yesterday, today and always.
My People are those People who love Me so much they are conscious that My Commandments do not walk according to the novelties of the times, rather that they have been given for always. Therefore, My Commandments are not there to be transformed or made fitting to the instant of this generation.
My People know and love My Beatitudes and follow them, knowing that the one who follows them and has them as Law in his or her life, is the one who is conscious of what he or she needs in order to continue at My Side and fuse himself or herself into one with My Holy Spirit.
WHOM DO I ADDRESS?
All human beings, those who welcome My Word and those who do not welcome it…
Those who look at Me with love and also those who despise Me. I am the God of Love and in that My Love does not exclude any one of My children, rather I wait for you anxiously until the last instant.
THIS GENERATION THAT HAS SURPASSED ALL MEASURE OF SIN CALLS TO MY HOLY JUSTICE, KNOCKS
ON THE DOOR OF MY WRATH AND I HAVE TURNED OVER THE PLACE OF MY JUSTICE TO ALL OF CREATION, which will turn against this generation that offends Me, and Creation is totally indifferent to man for it does not recognize him because man does not live in My Will.
WHOM DO I NEED AT MY SIDE IN THESE INSTANTS?
Everyone, absolutely everyone, but I well know that not all hear Me or love Me, and they not only scorn Me, but in advance they judge My Words and My Calls to My People, I being a God who does not act without announcing to those He loves what will happen.[1]
As they mocked My Instruments in the past, so also in this instant and it will be so until this humanity finds itself doubled over by pain, until some return to Me, even though the majority will adhere to the forces of the antichrist. Since by not loving Me and being conscious that they do not know Me, they will be easily deceived by the preaching of the one who comes for his spoils.
My beloved, beloved People:
"I THIRST," I THIRST NOT ONLY FOR SOULS BUT FOR HUMANITY'S CONSCIENCE. You do not know Me, since you have not received due instruction about My Commandments, you have not been truly formed to follow My Will; due to this, humanity's conscience is asleep and attached to everything worldly.
You, My beloved, hear Me and hear My Mother:
ENTER AND KNOW ME IN THE DEPTHS OF MY LOVE AND OF MY WORD SO THAT YOU ARE NOT DECEIVED BECAUSE I AM THE SAME YESTERDAY, TODAY AND ALWAYS, AND MY WORD AND MY COMMANDMENTS HAVE BEEN GIVEN FOR ALL TIMES, TO EVOLVE WITH MAN AND NOT TO BE TRANSFORMED. MY LAW DOES NOT MAKE ITSELF FIT FOR THE PRESENT INSTANT, RATHER IT IS MAN WHO MUST MAKE HIMSELF TO FIT MY COMMANDMENTS.
The fire of volcanoes rushes to the surface with such anger!
My beloved People, pray for Ecuador, pray for Italy.
The water of the oceans moves with such speed and noise and readiness to rush upon the land!
My People, pray for San Francisco; My People, pray for Spain, pray for Brazil.
My beloved, the Sun will get closer to the Earth and will emanate so much heat towards the Earth that My children will have to distance themselves from it whichever way possible.
My beloved, with how much ease man debates and pounces one upon the other with the same anger with which several countries are in total state of violence in the clutches of satan, the one who diverts men's minds filling the soul with hate and rancor. This will spread to the masses.
Pray for Iraq, pray for the Middle East and pray for South America.
My beloved, My People, grow in My Love, grow in holiness, be different from the rest of the world, for what is worldly leads man to fully perish.
Pray for My Church, division with quick steps, and My Church will be shaken from its foundation; division will arrive like a thief that comes in the night without being heard.
Division in My Church will lead people to total confusion, but you who know Me, My beloved, you know that My Word does not change, you know that My Love is for every instant and you recognize Me in My Body and My Blood and you nourish yourselves from My Body and My Blood. You take refuge beneath My Mother's Mantle and help one another, you minster to one another and alert one another.
Beloved, you who recognize Me, must grow in love and in truth for the coming instants will be instants of trial, of a trial through which you have not passed before, and those who are not sure, will fall into great errors that I will speedily judge.
My People will not suffer forever, but they will be severely tried and you must prepare yourselves for this. You who call yourselves My children, live in fear of disputes, of human errors, of human jealousies, of human envies and lead My Sacrosanct Heart to grieve.
YOU WHO TELL ME YOU LOVE ME,
MAKE REPARATION CONTINUALLY FOR HOW MUCH YOU LEAD ME TO SUFFER.
In this instant, HOW CAN MY PEOPLE PREPARE?
WITH MEDITATION ON MY WORD AND WITH MEDITATION OF MY LOVE TO BE LIVED.
You must be crystalline water that refreshes the thirsty without the thirsty having to ask for it. Be transparent, do not fight against one another, for through division satan weakens those who are Mine.
Set aside ALREADY human foolishness, love one another, for the one who continues to be a reason for division, this one will fall and lament having been an instrument of evil.
MY MERCY IS INFINITE AS IS MY JUSTICE.
HOW FALSE IS THE ONE WHO DENIES MY ANGER AND MY JUSTICE, BECAUSE MY JUSTICE BENDS THE FOOLISH, THE HARD OF HEART, AND IT IS NECESSARY IN THIS INSTANT.
Look to the Heavens, for from on high I send My Blessing and help for My People. In the firmament you will see a great scourge for humanity leading several countries to suffer and man, upon seeing fire in the Heavens, will shake to his bowels.
MY BELOVED, YOU BELIEVE YOU WILL NOT RECEIVE TRIALS… AND YOU ARE MISTAKEN, BECAUSE YOU, MY CHILDREN, HAVE DISOBEYED ME AND INJURE ME TO THE EXTREME. You have given yourselves over into the clutches of evil and in those clutches you offend Me constantly with new sins and new offenses; you have reached the extreme of sin. But even so, in the most difficult instants of purification, man will be unrecognized by man, for he will surpass the most base instincts that the human mind does not even imagine. The great Powers will unite and then betray one another, leading all of humanity to suffer.
My People:
REMAIN FIRM AND STRENGTHENED IN MY LOVE AND IN MY WORD; CLING TO MY COMMANDMENTS AND TO THE CARE OF MY MOTHER WHO DOES NOT ABANDON YOU NOR WILL SHE ABANDON YOU.
My faithful will be protected by My Angels and taken to the Place of Peace. The innocents: let them not fear and My true People must trust in Me.
Evil will not prevail forever, it will be banished from this Earth so that My Church emerge anew and be one with Me.
I bless you and love you.
Your Jesus
HAIL MARY MOST PURE, CONCEIVED WITHOUT SIN.
HAIL MARY MOST PURE, CONCEIVED WITHOUT SIN.
HAIL MARY MOST PURE, CONCEIVED WITHOUT SIN.