Sunday, February 23, 2014
Message from the Blessed Virgin Mary
To Her Beloved Daughter Luz De María.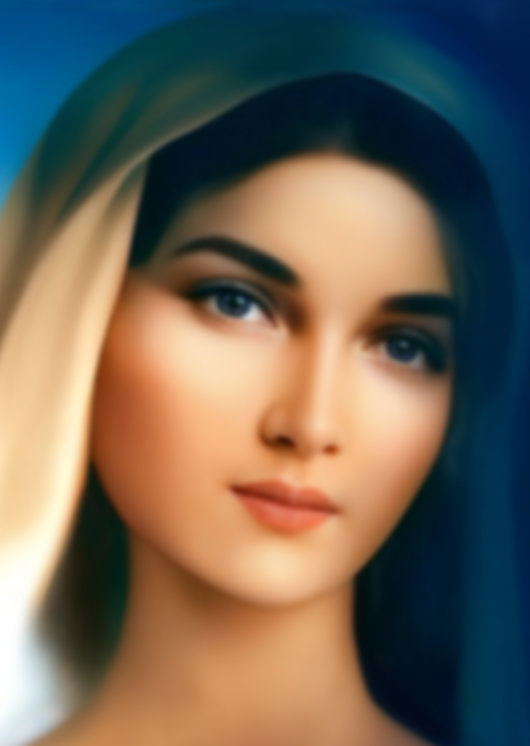 My beloved, My blessing be with each one of you.
MY LOVE CONSTANTLY CALLS YOU TO REMAIN ON MY SON'S PATH.
REMAIN ALERT, DO NOT DISCARD MY CALLS,
FOR I INTERCEDE FOR EACH ONE OF THOSE WHO ARE MINE BEFORE THE AUGUST TRINITY.
Beloved children, this period has opened the doors of the Great Tribulation; the Great Tribulation, with all its signs shows itself openly to all, and still you continue to be deaf, blind and mute like creatures ignorant of the Divine Designs and above all, ignorant that the Paternal House does not act without first warning its beloved human beings.
Children:
REMAIN ALERT, DO NOT YIELD TO HUMAN WILL, FOR IT WANTS YOU TO SUCCUMB.
REMAIN ATTENTIVE. HUMAN EGOISM CLOUDS THE BODY'S SIGHT AND CLOUDS SPIRITUAL SIGHT.
In this instant the malignant one stalks all My children with his diabolic legions, he absolutely tempts all to lead them to fall. IT IS AN INSTANT OF DECISION AND THE BATTLE BETWEEN GOOD AND EVIL IS STRONG, except that man, in his worldly path does not notice any sign, seeing it as something normal and My Son asks you to see the signs of this instant, preceding what is coming, which will be the most bloody thing this generation will experience, this generation that denies itself the salvation of its soul.
VIOLENCE INCREASES INSTANT TO INSTANT, you see it and you know that this is a reality and you know that this is a reality and even those defenseless peoples upon whom the hand of violence has never fallen, these peoples will suffer because of violence.
COMMUNISM HAS RESURFACED STRONGLY AND HAS SEIZED THE NATIONS without My children being conscious of it, they have ceded the government to communism, and the government in its desire for power, will lead you to suffer still more. The pain of My beloved People of Venezuela will rage and mothers will weep for their children.
Pray, pray for Venezuela, My children.
THE WATER STIRS, IT STIRS GREATLY AND WILL CAUSE THE COSTAL ZONES TO SUFFER. You know that the water, in its desire to purify the Earth, will enter it.
Pray, My children, pray for the United States, pray for the Philippines, they will suffer greatly.
My beloved, the Sun will penetrate the Earth strongly with its rays; thirst, not only of the spirit but of the body, will double.
Pray for My children of Africa.
My beloved:
THIS IS THE INSTANT OF AWARENESS, EACH ONE OF YOU MUST BE CONSCIOUS OF THIS VERY INSTANT AND MAKE THE DECISION TO ACT IN GOODNESS; evil does not wait and with its clutches it rushes strongly, prepared to make those who remain between doubt and the decision to leave what is worldly to absolutely be property of My Son, doubt.
THE CONSCIENCE OF EACH ONE OF YOU MUST REMAIN WILLING
AND ACCEPT AND LOVE MY SON'S WORD -- IMMOVABLE,
GIVEN FOR ALL AGES AND EVEN MORE TO BE PRAXIS FOR THOSE TRULY FAITHFUL TO MY SON.
REMEMBER THAT THE COMMANDMENTS ARE GOD'S LAW
AND SHOW THE TRUE PATH TO REMAIN IN THE TRINITARIAN WILL. YOU, CONSCIOUS OF IT, DO NOT ALLOW THESE TO BE MODERNIZED.
MY SON IS THE SAME YESTERDAY, TODAY AND ALWAYS.
My Son's Church will suffer, it will be tried, it will be invaded by new ideologies that do not commune with the true being of the Christian. Remain in grace so they do not lead you astray. My Son's Church will again be scourged by those who with a pompous finery commune with Her. Masonry has seized great power within My Son's Church and you, knowing the Divine Word, must take steps within the Trinitarian Will so that you are not seduced by blunders.
Beloved children:
UNITY IS ESSENTIAL IN THIS INSTANT, MINISTER TO ONE ANOTHER,
DO NOT BE ASHAMED TO CALL YOURSELVES CHRISTIANS,
RATHER FEEL WITHIN YOURSELVES THAT TO CALL YOURSELVES CHRISTIANS IS TO BE TRUE.
My beloved, continue to consecrate yourselves day to day to My Immaculate Heart and pray fervently for My Son's Church, in spirit accompany your brothers and sisters who are bereaved and suffering because of political unrest, which will spread to the masses, and My children will know pain through this way.
Nature does not suspend hostilities; it continues its path, advancing strongly and each instant that force will be greater throughout all the Earth and I, as Mother of each one of you, remain alert and My Holy Mantle covers you so that the instants of fear are minimized. Even so the willingness of each one of those who are Mine is essential, that pronunciation of: "YES, JESUS CHRIST, HERE I AM TO DO YOUR WILL AND LIVE IN IT." Whoever does not know My Son will be lost, and I, as Mother, suffer because of it. Do not scorn My Calls, every instant is an opportunity of My Divine Mercy, receive it quickly. My Son is coming soon and each one of you will give an account of the harvest he or she possesses in his or her hands.
Do not fear, I battle before each one of you. My Heavenly Hosts remain attentive and deliver you from great dangers, but it is necessary that you pronounce the Yes to My Son so that I, as Mother of Humanity, act to rescue you from the clutches of evil. Be true, do not waver so much that it is hard for you to come out of the mud.
TIME IS NO LONGER TIME AND IT NO LONGER EXISTS SO AS TO WALK SLOWLY.
I LEAD YOU BY THE HAND, JUST ALLOW ME TO GUIDE YOU AND INTERCEDE FOR YOU.
I bless you and love you.
In the Name of the Father, of the Son and of the Holy Spirit.
Amen.
Mother Mary.
HAIL MARY MOST PURE, CONCEIVED WITHOUT SIN.
HAIL MARY MOST PURE, CONCEIVED WITHOUT SIN.
HAIL MARY MOST PURE, CONCEIVED WITHOUT SIN.