Monday, March 3, 2014
Dialogue Between Our Lord Jesus Christ
And His Beloved Daughter Luz De María. for the Whole World.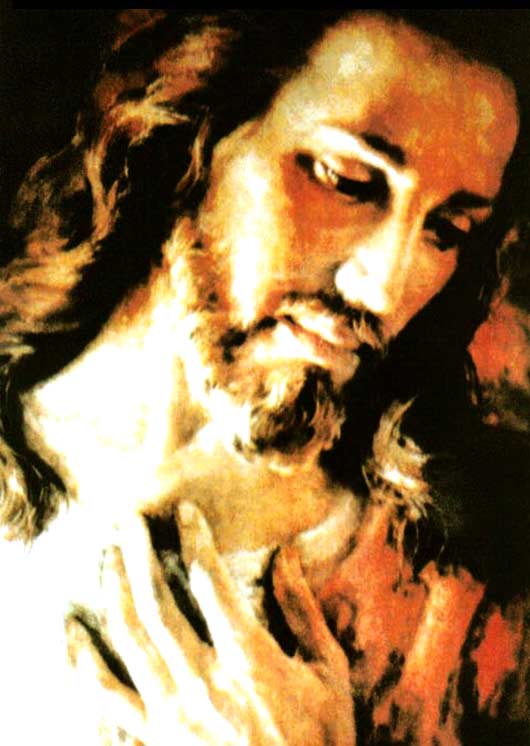 Christ:
My beloved, My People will remain at My Side, and, in fulfillment of My Will, shall return to Me the land that was given to them as an inheritance. Then I will reign over every human being and peace will dwell in each one of My children.
DO YOU KNOW, MY BELOVED, HOW I SEE THOSE WHO ARE MINE IN THIS INSTANT?
I see them enjoying free will, like the one who believes he is not seen by the one who sees it all… I see them disengaging themselves from Me, handing themselves over to perdition and to all that which is so worldly that leads them to be wandering corpses, without awareness of what they lose…
I desire the wellbeing of My children and receive the rejection of humanity that in the midst of shadows, freely chooses, momentary joy.
DO YOU KNOW, MY BELOVED, WHAT THE SIN OF HUMANITY IS?
Luz de María:
My God, they are so many…!
Christ:
Beloved, UNCONSCIOUSNESS IS THE SIN OF THIS GENERATION; it does not stop to meditate on its actions, on its works, on how to return to the path to reconnect with Me. Man walks slowly as if time continued and had not stopped… This generation does not believe in My Calls or in those of My Mother. Those who call themselves Christians are deformed copies of My Laws and of My
Will.
The one who claims to love Me, and having entered Me, remains with his heart invaded by the lack of love for his brother or sister, is not true.
The one who claims to love Me, and whose hands are empty, is not true; his hands are empty of acts, of good works in favor of all that surrounds him by Divine Will.
"Faith without works is dead." People are still not conscious that only I Am Truth, Liberty and Life. Submerged in what is banal, they are not conscious, they continue on a wrong path that leads them to lose themselves in the clutches of satan, going on to form part of his spoils.
Tell your brothers and sisters that I Am Mercy for those who quickly seek Me, fighting against their own human egoism, to free themselves from their own will contaminated by vanity, pride, anger, hypocrisy and by lies. The one who calls Me Father and forgets that I call you to be one in Me, lies to himself.
IN THIS INSTANT, FRATERNITY IS THE WEAPON THAT KEEPS SATAN FROM ENTERING into those who in My Name and in that of My Mother, gather in My Will preparing themselves in spirit and being action to give testimony to My Word, alerting their brothers and sisters about the present instant and about the imminent proximity of the fulfillment of the events that will purify humanity and that My Mother, for love of Her Son, has transmitted.
WOE TO THOSE WHO, LIKE IMPENETRABLE ROCKS, ARE A REASON FOR DIVISION!
Christ:
Beloved, DO YOU KNOW HOW I SUFFER FOR THOSE WHO ARE MINE?
Luz de María:
I see you My Lord on the Cross, atoning for the sins of humanity, bleeding and aching…
Christ:
This My Blood is for those consecrated ones who are lost, loving society more than Me, enslaving themselves to money and forgiving the sins of those who provide them with a greater status and ignoring the needs of My People. These My wounds, are for them, who close My Temples and do not alert those who, ignorant, continue in sin offending Me time and time again. Daughter, My consecrated ones must be in My image; poverty raises up the spirit, opulence battles against time that is not time, social engagements do not leave room for prayer, and without prayer, how will they guide My sheep?
This My Blood is for those brothers and sisters of yours who despise My Calls and fight against these very Calls, for those who persecute My instruments. This My Blood is for those instruments who have kept silent out of fear and cowardice.
Do you know, My daughter, how I will come to seek those who are Mine in My Second Coming?
With My Legions, with My Power… shaking all that exists, but the man of science and many of My own children pretend not to know it and even deny it. The Heavens will open and all that has been created will exult with joy upon seeing Me; the elements will stir and the man who has lived far from My Will shall be terrified and will repent for not having listened in due time to My Pleas to return to Me. Before My Second Coming, I will come to the depths of the conscience of human beings, so that they scrutinize themselves and see themselves such as they are.
My beloved, I continue to be the Love that begs Love, and in this supplication I see with pain, the suffering of My children…
Pray for Brazil, water will purify it.
I am a King evicted from His Kingdom. Beloved:
Pray for Chile, the land will shake causing pain.
The Earth will shake with greater force from one place to another throughout the world.
I see My People… and it is so few who maintain a true awareness of what it is to be a Christian!
Pray My children, pray;
war approaches causing damages, mutilating innocents, with weapons outside of human control;
the man of science will be the executioner of his own race. Nuclear energy is the great Herod of this instant.
Tell My children not to not lose heart, not to fear being singled out for alerting those who do not know Me and ignore the future of this generation.
Tell them that My People will be triumphant and beside Me, I will lift them up so they do not suffer, but their conscience must be willing to give itself for Me. Not all men ignore what will happen, but they set it aside so as not to upset themselves by having to fight to be better.
Technology is the whip that continually strikes the mind of My children, until it leaves them in total immobility and without will to prepare them for violence, with which they will fight against their brothers and sisters.
Luz de María:
Continuing on the Cross, My Lord exclaimed:
Christ:
My People, remain alert, for false idols have usurped what is Mine; disguised as sheep, the wolves coexist within your homes contaminating the minds of the innocents.
My People, return to Me, for the instant runs out.
I PROTECT YOU, MAKE A DECISION, AND WITH COURAGE GIVE YOURSELVES TO ME,
RENOUNCING THAT WHICH SEPARATES YOU FROM ME. I BLESS YOU.
Luz de María:
Upon Our Lord retreating with a blessing for all of humanity, I meditate and share with you:
"Man does not live on bread alone…"
We see how violence increases upon the Earth, invading territories and causing suffering to our brothers and sisters.
Nature does not offer a truce. And even so, we continue without meditating on the Divine Word.
Where is the intelligence, awareness and disposition of the man who ignores reality, out of a mistaken convenience?
Christ is the same yesterday, today and always; His Laws are for all, without distinctions and for all ages.
Love calls us to be unity, respecting one another as brothers and sisters of the Same Father.
Let us not be passive in Faith, on the contrary, let us be active, putting into practice the teachings of Christ to all our brothers and sisters. May Heaven judge us for an excess of works, not for remaining silent, knowing that the present instant is the prelude of satan's total invasion and of his seed, the antichrist.
Let us pray, yes, let us meditate, yes, and at the same time let us be action in favor of souls to awaken those who are asleep.
Amen.