Friday, March 21, 2014
Message from Our Lord Jesus Christ
To His Beloved Daughter Luz De María.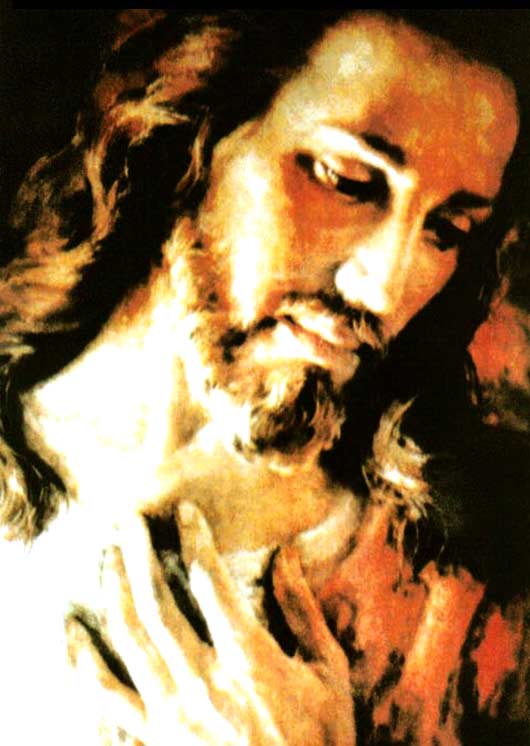 My beloved People, I bless you.
I CONTINUE TO BE THE GREAT BEGGAR OF THE LOVE OF MY CHILDREN…
I CONTINUE IN THE SOLITUDE IN WHICH MY CHILDREN KEEP ME; BUT I, WITH INFINITE MERCY, KNOCK NOT ONLY ON THE HEART,
BUT ON THE MIND, ON THE THOUGHTS AND ON THE CONSCIENCE OF EACH ONE OF MY CHILDREN.
Few are the ones who truly love Me, few are the ones who live with thirst for My Love and for My Presence; but those few, loving Me in spirit and truth, will possess the strength of millions of people to alert until the final instant, those who hear My Word with humility and reasonableness.
Too many are those who, feeling they are learned in My Affairs, write great books trying to guide and make known My Will. Those who write with their own will are wrong, who write without remaining fused to Me, because I reveal My Will to the humble and simple of heart.
My beloved, MY MERCY HAS REMAINED WITH MY CHILDREN FROM GENERATION TO GENERATION, BUT MY PEOPLE ALSO KNOW MY JUSTICE, AND IN THIS INSTANT MY SCALE REMAINS BEFORE HUMANITY, before the imminent - (Christ is allowing me to see a great scale the Archangels hold in their hands) - before the imminent arrival of the fulfillment of all that has been announced to humanity.
MY MOTHER WILL BE SEEN IN SEVERAL PLACES OF THE WORLD.
SHE LOVES YOU SO MUCH THAT SHE DOES NOT HALT HER FIGHT FOR SOULS SINCE SHE POSSESSES MY VERY LOVE AND THIRST FOR SOULS.
THE EVENTS THAT WILL TAKE PLACE THROUGHOUT ALL THE EARTH WILL BE GREAT.
Armament for war will lead to the havoc of cruelty which the human being has reached. Every Nation will suffer before the repeated refusal to listen to the Divine Word, and actually I not only come for people's soul but for the consciousness of each one of you, since your conscience leads you to act for good or evil. And man, by scorning what My Mother has announced to you beforehand to prevent pain for humanity, is not capable of perceiving the thoughtlessness that has seized the majority of My children… and these act conforming to the path of the crowds that find themselves totally sunken in acts contrary to My Will.
My beloved people:
DO NOT SEEK ME EXTERNALLY, I REMAIN ALIVE AND BEATING WITHIN EACH ONE OF YOU.
Pain will not only be physical, famine will not only be physical…, the greatest pain that you do not know is the spiritual pain all of humanity will suffer as a consequence of having constantly denied Me.
MY CHURCH WILL LIVE THE GREAT PERSECUTION, but do not let this make you fear, rather let it make you firm and decided to fight to recover your brothers and sisters and bring them to Me.
EACH ONE OF YOU MUST RADIATE LIGHT TO ALL YOUR BROTHERS AND SISTERS,
AND THAT RADIATING OF MY LIGHT MUST BE AN INSTRUMENT THAT TRULY GIVES WITNESS TO MY PRESENCE IN YOU.
Do not rest to be transmitters of My Love. Do not grow weak before the passivity to which evil wishes to subject you. Be children who do not remain asleep but who share, instant to instant, My Word explained in these My Calls of infinite Love so that more souls are not lost.
Through its tentacles evil wishes to subdue you and to keep you so busy during the day in its tasks that you are not Christians in practice, action and testimony. I need for My children to be spiritually energetic, energetic with love, energetic so as to share with all those before them My Word and all that humanity lives ALREADY. Be brave.
THESE ARE NOT INSTANTS OF WAITING BUT OF DECISION. MY SCALE WISHES TO PLACE EACH ONE OF YOU ON HER AND THAT THE HARVEST BE SO ABUNDANT THAT IT IS ABLE TO OVERCOME THE SNARES
OF EVIL.
My beloved: How quickly you have sunken into error! How quickly you embrace all that which is not My Will but is rather man's convenience! I do not stop, will you stop?
I WANT MY CHILDREN TO BE INSISTENT, ABOVE ALL, WITH THEMSELVES, THAT THEY FIGHT AGAINST THEIR HUMAN "EGO" SO THAT IT DOES NOT WEAKEN THEM IN SPIRIT AND THEIR FAITH BE FIRM AND SOLID.
How many of My Mother's Calls have not been made known!… and you ignore them, being that they foretell events that you do not know, but what is happening is only a mild stroke of the harshness and of the barbarity that humanity will face.
ALL THOSE WHO ARE CONSTANT, WHO REMAIN WILLING TO BE TRANSFORMED BY MY WILL, WILL LIVE
HEAVEN IN ADVANCE, BECAUSE MY LEGIONS WILL NOT ABANDON THEM, BUT BESIDE EACH ONE OF MY CHILDREN, THEY WILL GIVE THEM THE STRENGTH NECESSARY TO RESIST WHAT IS COMING.
How many suffer and materially prepare themselves out of fear for the scarcity of food, forgetting that I Am the Bread of Life, and that if My People are faithful, they will not go hungry or thirsty or ever be abandoned by My Hand!
My beloved, the errors will expand throughout all of humanity and even the smallest of countries, through their leaders who are turned away from My Will, will suffer the cruelty of a man who despises Me and who has abandoned me, but even in the midst of pain, they will experience the comfort of My Love and of the joy of walking in obedience to My Will.
My beloved People:
Pray for New Zealand, it will suffer; its ground will shake greatly. Pray, My children, pray for Nicaragua, it will be purified.
My beloved People:
WAKE UP!
DO NOT LET THE TENTACLE OF EVIL'S DECEIT IMPRISON YOUR SOUL IN THAT PRISON FROM WHICH EVIL WILL NEVER LET IT OUT AGAIN.
MAKE AN EFFORT CONSTANTLY TO BE THOSE WHO CARRY OUT MY WILL, AND REMAIN ATTENTIVE. I do not want you to only be submerged in vocal prayer, you must live constantly in prayer through your works and you actions, and in this instant My People's prayer must be a prayer of battle for souls, to rescue those who remain lukewarm, for the lukewarm will not be placed upon My Scale but rather vomited from My Mouth.
Beloved children, those who see as distant the suffering and the torment of humanity, are wrong. No one knows the day or the hour, but man's violence in this instant is the greatest sign of the nearness of the fulfillment of what My House has announced to you.
BE VIGILANT MY CHILDREN! BE VIGILANT AGAINST THOSE WHO CALL YOU TO ACT AND WORK CONTRARY TO MY COMMANDMENTS. Receive Me, receive My Body and My Blood, strengthen yourselves, do not abandon Me in the Tabernacle, but do not forget that every brother and sister is a Temple of My Holy Spirit, and in this instant I call you to rescue those souls.
Beloved children:
I REMAIN HERE BEFORE EACH ONE OF YOU, THIRSTING WITH LOVE FOR SOULS AND MY PEOPLE MUST MAKE THEMSELVES WILLING TO BE MESSENGERS OF MY LOVE AND OF MY TRUTH.
My beloved People:
Pray, pray fervently for Russia, pray fervently for the United States, both will suffer.
My beloved People:
REMAIN IN FAITH, COME TO MEET ME, FOR I, BEFORE EACH ONE OF YOU, MERELY WAIT FOR YOU TO CALL ME TO ENTER INTO YOUR HEARTS OUT OF YOUR HUMAN WILL.
BE MESSENGERS OF MY WORD AND BE AN ECHO OF MY CALLS.
I bless you, remain in My Love and do not decline; I come for you, I bless you.
Your Jesus
HAIL MARY MOST PURE, CONCEIVED WITHOUT SIN.
HAIL MARY MOST PURE, CONCEIVED WITHOUT SIN.
HAIL MARY MOST PURE, CONCEIVED WITHOUT SIN.