Thursday, April 3, 2014
Message from Our Lord Jesus Christ
To His Beloved Daughter Luz De María.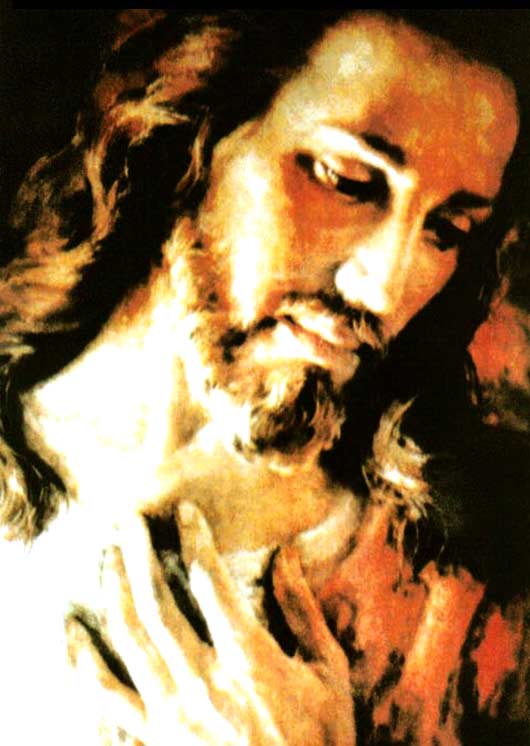 My beloved People, My blessing remains upon each one of you.
IN THESE PENITENCIAL INSTANTS, YOU MUST FUSE YOURSELVES TO THE ESSENCE OF MY CROSS
AND IN IT YOU WILL FIND WHAT STILL HOLDS YOU BACK,
FOR IN MY CROSS I REVEAL TO YOU THE ENTIRE TRUTH OF MY SURRENDER AND THERE, IN THIS TRUTH, YOU WILL SEE WHAT HOLDS YOU BACK YOU FROM BEING MY TRUE CHILDREN.
My beloved:
Restrain your mind, for it governs men, it leads your thoughts to remain in the affairs of the world and in daily affairs, distancing your thoughts, your feelings, your heart and the responsibility that you have as My children. Humanity's uncontrolled race envelops you.
IT IS NOT THE ONE WHO LIVES IN THE EXCITEMENT OF THE WORLD THAT IS ABLE TO ASCEND IN THE SPIRIT, NOR IS THE ONE WHO IS NOT CONSCIOUS OF HIS SPIRITUAL DUTIES ABLE TO FUSE HIMSELF WITH ME.
IT IS NOT THE ONE WHO IS UNABLE TO QUIET HIMSELF WHO WILL ENTER TO HEAR ME IN THE SECRET OF HIS/HER INTIMATE RELATION WITH ME.
Beloved children, the barbarity of this generation is due to that detachment of people from their God, to that oblivion in which souls keep Me, and this is a product of the plan that satan and his henchmen have poured out over humanity in general. YOU WILL NOT OVERCOME AND RESIST THE SNARES OF EVIL IF YOU ARE NOT CONSCIOUS THAT THE PRIORITY FOR MY CHILDREN IS ME.
The commitments of the world, on occasions are used by the enemy of the soul to distance My people from Me, and as everything has advanced in this instant, so I require of those who are Mine to enter into My Path so they are spiritually strengthened and drink from My spring of Living Water so that thirst does not dominate them and lead them by paths of evil.
Restrain your senses so that they do not lead you to desire what is not My Will, but above all, do not forget to restrain your mind, for the mind governs man and leads him to forget that I AM HIS PRIORITY.
MEN FIGHT TO MAINTAIN SUPREMACY IN EVERYTHING, A MATERIAL SUPREMACY, FOR THE SUPREME ONE, THE KING AND THE ONE WHO GOVERNS SOULS, AM I AND WILL BE I.
Woe to those who martyrize My innocents! Woe to those who taint their hands with the blood of the innocents! They will be judged severely.
My beloved People, this generation still does not believe in My Calls or in those of My Mother, they scoff at us without being aware that the enemy of the soul remains on Earth with his greatest weapon: division.
MAINTAIN UNITY WITH MY WILL, INVITE ME EVERY INSTANT TO REMAIN IN YOU AND WITH YOU, SO
THAT THE AWARENESS OF ME REMAINS IN YOU AND DOES NOT LEAD YOU TO BETRAY ME AND TO BE AN OBJECT OF DIVISION AMONG MY PEOPLE. Unity is essential among My children, for the one who is division will wander alone and will maintain himself at the expenses of the whims of the enemy of the soul.
I come for My People, I thirst for souls and man thirsts for dominion over the conscience, of dominion over reason and over human intelligence; DUE TO THIS HAVE I INVITED YOU TO SCRUTINIZE ME SO THAT YOU KNOW ME PROFOUNDLY AND SEE THE ESSENCE OF MY LOVE.
The human heart must beat with My Heart; man was created in Our Image, but his life ends when man is called to return to My House. That is why present-day man must be totally willing to be My Likeness and to live, to work and act also in My Likeness:
IF I SHINE INFINITELY, each one of you must shine in the same way…
IF I AM MERCY, you must be mercy…
IF I AM SUPREME INTELLIGENCE, you must be copies of My Intelligence…
IF I AM THE WAY, THE TRUTH AND THE LIFE, you must walk on My Path, be My Truth as witness and live continually fused in My Will.
Man looks with scorn at what takes place in the world until the events don´t touch him in his own flesh; that is a product of the indifference that satan has embedded in man, but all of humanity will suffer and endure, because every man needs to be purified.
EMBRACE MY CROSS WITH LOVE AND IT WILL NOT BE HEAVY BUT LIGHT, BECAUSE LOVE exalts everything.
Woe to those people who have banished My Love and have exiled the love for their brothers and sisters!
Woe to those who are hard of heart and who have thrown away the feelings with which I infused them, because this leads them to have hearts of stone, unfeeling in the face of human needs and human pain!
My beloved People, the fields will cease to be green, the waters will cease to be crystalline, the air will cease to be pure and fire will raze large tracts upon the Earth; the elements rebel before man's cruelty.
My beloved, what do you expect from a man who argues what cannot be argued, so as to meet his selfish and power-hungry whims?
Great Nations hide behind false appearances, take their own initiatives, avoid to say the truth will all kinds of lies so that humanity does not judge them and accepts those lies they argue to give rise to chaos and desolation through war.
Man has not been deterred, not even seeing the suffering of so many, many innocents who were unjustly subjected under the tyranny of an antichrist in the Second World War.
And in this instant in which the Superpowers are true headlights of destruction by possessing weapons that will end humanity in instants, the mind of leaders is clouded only by the desire to conquer and to possess, not territories, but natural riches, without thinking that natural riches will be of no use with a humanity sunken in poverty, in chaos, in sickness and in destruction.
In these penitential instants, man cries out, he cries out for Mercy forgetting that I am constantly Merciful with all. The one who is not merciful with himself is man…
Beloved children:
MY TRUE CHILDREN ARE THOSE WHO MAINTAIN PEACE, WHO DO NOT ALLOW ANGER TO OVERTAKE THEM EVEN FOR INSTANTS. The enemy needs people saturated with anger so that they fight with one another, to cause division and thus fulfill satan's purpose.
MY TRUE CHILDREN ARE SOULS OF PEACE, EACH ONE CONSCIOUS THAT HE OR SHE IS NOT ONLY A MISSIONARY OF MY PEACE, BUT MY SOLDIER. You are My People, and My People love Me, adore me, and My People venerate My Mother for the fact of being My Mother, of being Pure, Immaculate, of being the Ark of Salvation for these instants. COVER YOURSELVES WITH HER PROTECTIVE MANTLE!
From on high you will hear a thunder and man will enter into panic for lack of confidence in Me. The moon will be tainted red, maintain your Faith as unshakable before what you hear, before what your eyes see, because I do not abandon My People.
I PROTECT YOU AND WILL PROTECT YOU IN EVERY STEP YOU TAKE, IF YOU REMAIN STRICTLY FAITHFUL TO ME.
Do not forget that I have sent help from My House to every generation, and this generation is not the exception.
I WILL SEND THE ONE WHO SPEAKS MY TRUTH AND BRINGS IT THROUGHOUT THE WHOLE WORLD, PREPARING THE WAY FOR MY APOSTLES OF THE END TIMES.
MY People, do not fear, for your God keeps His gaze upon you.
Pray, My People, pray for Indonesia, the land will shake.
Pray, My People, for Japan, it will again spill lethal venom over humanity. Pray, My People, pray for Central America, it will shake.
Be aware of this instant and do not cling to what is material. Woe to the one whose confidence, peace and security are cemented in materialism! For from one second to the next, everything will collapse, and man will find himself with empty hands; BUT THOSE WHO ARE MY PEOPLE, KNOW THAT I DO NOT ABANDON THEM AND THAT MY PROVIDENCE WILL BE UPON MY FAITHFUL.
THE TRIALS FOR MAN'S PURIFICATION ARE NOT AND WILL NOT BE EASY,
BUT THEN I MYSELF WILL SEAT YOU AT MY TABLE AND MY PEOPLE, MY HOLY REMNANT WILL LIVE MY PEACE, THEY WILL EXPERIENCE HEAVEN IN ADVANCE AS A REWARD FOR THEIR FIDELITY, BUT DO NOT FORGET THAT FOR THIS, YOU MUST KEEP THE FAITH AND REMAIN FAITHFUL.
The Earth as man's cradle, is burned out and aged by humanity's sin which has escalated to the unthinkable.
My Legions executers of My Will remain over the Earth and the elements respond to unify man with My Will.
The climate will greatly astonish man with its unexpected change, the Earth will not cease to move. The expected events are upon the Earth.
Pray without ceasing and pray putting My Word into praxis.
I BLESS YOU, I LOVE YOU; DO NOT FORGET THAT I REMAIN WITH YOU. AND IF THE COMPLETE
FULFILLMENT OF WHAT HAS BEEN ANNOUNCED BY MY MOTHER HAS NOT ALREADY SPILLED UPON
HUMANITY, IT IS BECAUSE IF IT WERE TO ARRIVE NOW,
EVEN THOSE WHO BELIVE THEY ARE PREPARED WOULD NOT BE ABLE TO COME WITH ME.
I bless you, I love you.
Your Jesus
HAIL MARY MOST PURE, CONCEIVED WITHOUT SIN.
HAIL MARY MOST PURE, CONCEIVED WITHOUT SIN. HAIL MARY MOST PURE, CONCEIVED WITHOUT SIN.