Sunday, April 6, 2014
Message from the Blessed Virgin Mary
To Her Beloved Daughter Luz De María.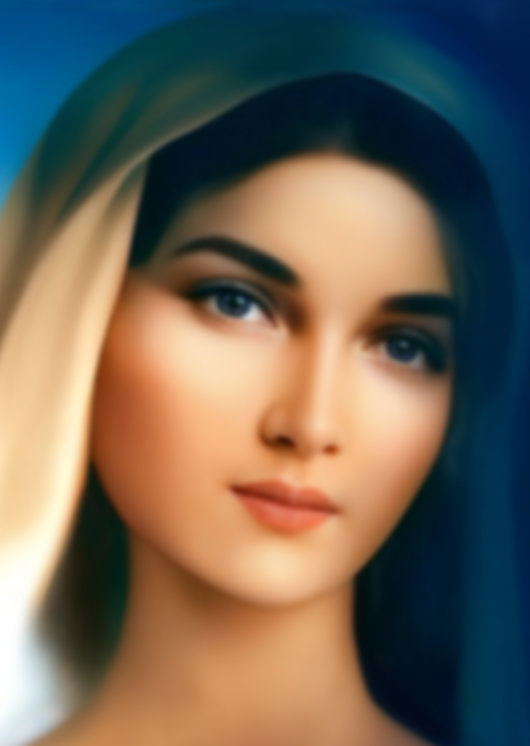 Beloved children of My Immaculate Heart, I bless you.
I COVER ALL OF HUMANITY WITH MY MANTLE OF LOVE. THE STARS ILLUMINATE THOSE WHO LIVE IN GLOOM.
I see the Nations persist in self-destruction and how these adore evil, handing themselves over without measure to the whims that what is worldly sets before them.
Man's thoughts in their nature are light, but man, by contaminating himself, has totally impoverished himself before the constant falls by handing over his thoughts into the clutches of evil.
My children wander thoughtlessly; they only repeat a series of acts of evil that keep them on the edge of a fateful end.
FREE WILL HAS BEEN TOTALLY YIELDED TO SATAN, AND HE,
WHO DOES NOT LET THE OCCASION TO CAUSE HARM TO SOULS PASS BY, LEADS THEM TO PERISH.
You, My beloved, maintain hope without remaining in ignorance; do not sleep like the dead but remain attentive to the events.
My beloved:
THE FUTURE OF MY CHILDREN IS PAINFUL, BUT IN THE END,
MY SON'S PEACE AND BLESSING WILL REMAIN TRIUMPHANT FOR HIS FAITHFUL, FOR HIS PEOPLE.
How you deny that My Son announces what is coming to His People, precisely if He is Infinite Love, He cannot allow His children to continue in the midst of the darkness of slavery and in the servitude of the economy!
THE ALLIES OF EVIL ACT AGAINST MY CHILDREN.
Beloved, the United States will shake, the head of the eagle will suffer an attack and will turn and rise in flight against innocents, pointing out culprits, but then the eagle will raise its cries asking for help, finding itself defeated.
My beloved, My faithful, water continues to appear agitated in search of land, the wind spreads itself with force causing damage in its wake.
Pray My children, pray for Japan, it will shake again.
Pray My children, pray for Canada, it will suffer.
Pray My children, pray, for the innocents will suffer even more because of conflicts in different countries due to the manifestation of the violence that reigns in man.
Pray My children, pray for Venezuela, it will suffer before finding peace for its People.
My beloved, do not lose hope, keep the Faith in every instant; you know My Son and know that He does not abandon His People.
The Tribulation takes its strides throughout all the Earth; but this Tribulation will rage and My Son's People will weep and suffer. But after the Purification, they will find infinite light, and those who have remained trusting in My Son's Word without declining in Faith, will sing the glory and the triumph of their Lord and their God.
WHEN EVIL PROWLS ABOUT, CRY OUT TO ME, FOR IN A HURRY, I WILL COME TO YOU AND PROTECT YOU AND DEFEND YOU FROM THE SNARES OF THE EVIL ONE.
ENTER INTO MY SON'S HEART AND REMAIN IN COMMUNION WITH HIM. DO NOT IGNORE THIS MOTHER.
I bless you.
Mother Mary.
HAIL MARY MOST PURE, CONCEIVED WITHOUT SIN.
HAIL MARY MOST PURE, CONCEIVED WITHOUT SIN. HAIL MARY MOST PURE, CONCEIVED WITHOUT SIN.