Monday, April 14, 2014
Message from the Blessed Virgin Mary
To Her Beloved Daughter Luz De María.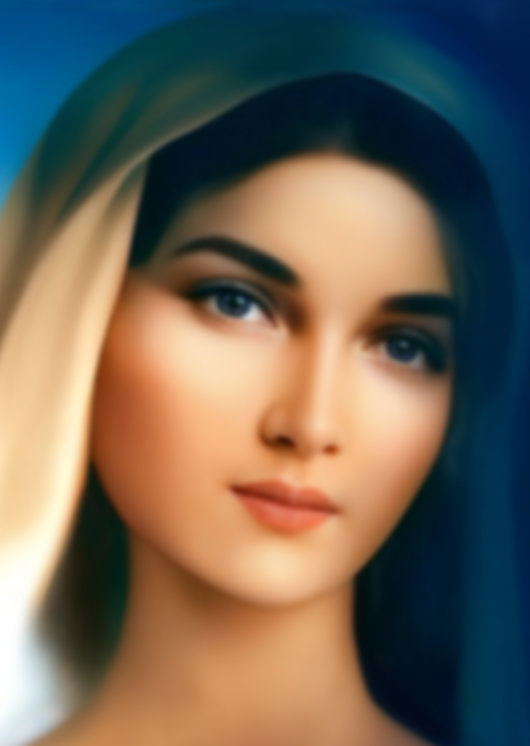 Beloved children of My Immaculate Heart, I bless you.
WITHOUT EXCEPTION, ALL ARE MY CHILDREN,
EVEN THOUGH NOT ALL LOVE ME AS A MOTHER…
ALL ARE CHILDREN OF MY SON,
EXCEPT THAT NOT ALL RECOGNIZE HIM AS THEIR KING AND LORD… ALL MEN HAVE A CONSCIENCE, NOT ALL HAVE DISCOVERED IT….
My beloved, I have called you without delay to willingly change and your conscience be alerted and elevated above what is commonly normal within the world but contrary to the Divine Will. In this instant, the conscience is essential, the internal search for the inexhaustible Divine Spring is essential.
YOU, BELOVED, MUST CONVERGE UNIFYING YOURSELVES WITH A CHRISTIC CONSCIOUSNESS IN ALL ITS PRECEPTS AND IN ITS VALUES.
The history of mankind is the history of disobedience. Humanity, governed by the ill-use of free will, causes My Son to live in the present, the pain of the Scourging, the pain of the Crown of Thorns, the pain of the Cross, the pain of insults, the pain of the Crucifixion, the pain of the spear in His Side…
MY SON'S PASSION REMAINS EVER-PRESENT.
EACH AND EVERY ONE OF YOU CAUSES HIM TO SUFFER AGAIN WITH YOUR ACTIONS GOVERNED BY HEARTS OF STONE; YOU SCOURGE HIM, CROWN HIM WITH THORNS, SPIT UPON HIM, CONDEMN HIM AND CRUCIFY HIM INSTANT TO INSTANT WITH YOUR BAD BEHAVIOR.
My beloved:
I CALL YOU TO BE MORE SPIRITUAL, THAT IS, TO COMPLY WITH THE LAW OF THE LOVE FOR GOD AND NEIGHBOR.
The christian is not the one who recites prayers without them burning in his heart…
The christian is not the one who walks halfway, without considering the duty he carries, of going beyond mechanical prayers…
The christian is the one who transcends and enters into the essence of prayer, into the essence of each word, and does not allow his thoughts to be deviated in meditation by human concerns.
My children focus their heart, their feelings, their devotion, their thoughts and all their strength, loving My Son and entering into His Divine Heart so that the Mysteries are revealed.
My children do not jump into the void of ill-employed theology, but rather they are free to love My Son with all their strength, and their strength is that which they carry inside.
BELOVED, AS MOTHER OF HUMANITY, I MUST REMIND YOU THAT MY SON REMAINS AMONG YOU, HE WALKS THE STREETS AND TRAVELS ON YOUR PATHS, MY SON IS THE ETERNAL PRESENT, to whom you owe the honor and the glory of a King who is King over all that exists.
Vainglory in man will be eclipsed by humility, power will be stripped by simplicity, pride by charity, but… not until each one of you is conscious that the enemy of the soul has dominated you. You live in the narrowness of human egoism, you oppress the conscience so that it does not torture you, you prefer materialistic narrowness.
My beloved:
WHOEVER DOES NOT SEEK UNITY THROUGH THEIR OWN MEANS, IS, BEFORE MY SON, A CAUSE OF DIVISION OF SOULS within the missions that My Son has entrusted to some souls in particular.
WHOEVER DOES NOT SEEK UNITY NOW, MUST INTERNALIZE AND SEE HIMSELF SUCH AS HE HIS, for as of this instant he is allowing himself to be an instrument of the enemy to destroy what My Son built from the Cross, for My Son handed Himself over for Love of you, but that love implicitly carries with it fraternity.
WHOEVER IS NOT FRATERNAL, MUST DISTANCE HIMSELF OR HERSELF FROM HIS OR HER BROTHERS
AND SISTERS UNTIL, THROUGH MEDITATION, THE HOLY SPIRIT ENTERS IN HIM OR HER AND MAKES HIM OR HER DOCILE.
My beloved:
The prideful will perish in their own pride; do not forget that blessed is he who occupies the last place, because he will receive the pay of the one who occupies the first place, for My Son does not see places or honors, but rather the heart of His children.
You continue life hastily without remembering in each act or work, in each thought or feeling, My Son Crucified for you… with how much ease you criticize one another destroying the building that My Son constructed with His Blood!
The true christian is the one who has overcome all the obstacles, primarily his human "ego"; the true christian is the one who walks freely with his heart pure and clean, first of his human "ego" and then of the constraints and narrowness of the minds of the rest.
Beloved:
You to whom most is given, must be a reason and cause of unity…
I call you to be fraternal…
I call you to be one in My Son's love…
I invite you to take My Son's Word to your brothers and sisters, to alert those hearts and minds that are sleeping, for the instant has ceased to be an instant.
Beloved:
THIS IS THE INSTANT TO ASCEND AND JUMP OUT OF THE ORDINARY, FOR THE TEMPLES OF STONE
WILL FALL, THEY WILL BE DEMOLISHED; BUT THE INNER TEMPLE WHERE MY DIVINE SON RESIDES, THAT TEMPLE WILL BE THE ONE TO REMAIN IF YOU LIVE IN YOUR SOUL THAT PERMANENT UNION WITH THE DIVINE WILL.
Children, already the Earth is exhausted, constantly receiving humanity's sin and grave offenses, and it is sick because of man; it vomits man's sin through volcanoes, it shakes before the pain of so many innocents that suffer and, when it shakes, the waters of the seas rise again.
Pray for Japan, it will suffer. Pray for Chile, it will suffer.
Man's mind is governed by evil, satan and his followers make their nest in the heart of those who, like stones, are impenetrable to My Son's Love, and constantly undermine and damage the souls of millions and millions of innocents.
Satan prowls around each one of you to lead you to fall, therefore, I insistently call you to humility, for the prideful one is fertile ground for evil.
My beloved:
BE A MODEL OF UNITY AND FRATERNITY FIGHT FOR A SINGLE CAUSE: THE REESTABLISHMENT OF MY SON'S KINGDOM ON EARTH.
You know that before this occurs, like gold in the crucible, you will be purified and of this have no doubts. Those who in this instant mock My Son's Calls and Mine, will be the ones who will fall upon their knees and will strike their breasts for having mocked and having ignored our Calls.
I see how human beings rejoice in pleasures, on the beaches, taking these days to bring worldly amenities to their hearts, but My Son's Hand, bleeding out of mercy, has fallen upon humanity and humanity will suffer its own evil.
People of My Son, silence the voices of egoism, of farce, of hypocrisy and of unconsciousness thus maybe you will be able to hear My Calls, I do not want more souls to be lost. Sadly I hear some of you reproach that My Son's Justice has not come to His People. I ask you: are you prepared? Are your hearts and feelings pure? Are your wishes for your brothers and sisters for good? Do you fight for unity and love My Son above all things?
How I lament that those who demand My Son's prompt Justice are still not prepared to receive it! This Justice will arrive, it will arrive inexorably, with more swiftness than you yourselves believe; man's life is based on the god of money… in instants this god will fall and will dissipate.
Pray, beloved children, pray for England in leaps and bounds, it turns away from My Son's Love.
My children, glorify My Son, love Him, thank Him, adore Him. I know that you are not of those who have the crucifix hung around their neck without pretending to know it. Allow My crucified Son to enter into your inner chamber and hear His Voice.
I, as Mother of humanity, guide you so that you are conscious of the imminent instant in which you live; this generation will not pass without the Great Purification coming down.
DO NOT WAIT ANY LONGER. TAKE THE PATH OF MY SON'S LOVE, AND THE REST WILL BE GIVEN UNTO YOU; look to the heavens, for the signs will tell you: the instant is near in which God's People will know with how much sin they have offended Him.
REMAIN AT THE FOOT OF MY SON'S CROSS, FOR THERE AM I FOUND.
I bless you.
Mother Mary.
HAIL MARY MOST PURE, CONCEIVED WITHOUT SIN.
HAIL MARY MOST PURE, CONCEIVED WITHOUT SIN.
HAIL MARY MOST PURE, CONCEIVED WITHOUT SIN.