Sunday, April 27, 2014
Dialogue Between Our Lord Jesus Christ
And His Beloved Daughter Luz De María. Divine Mercy Sunday.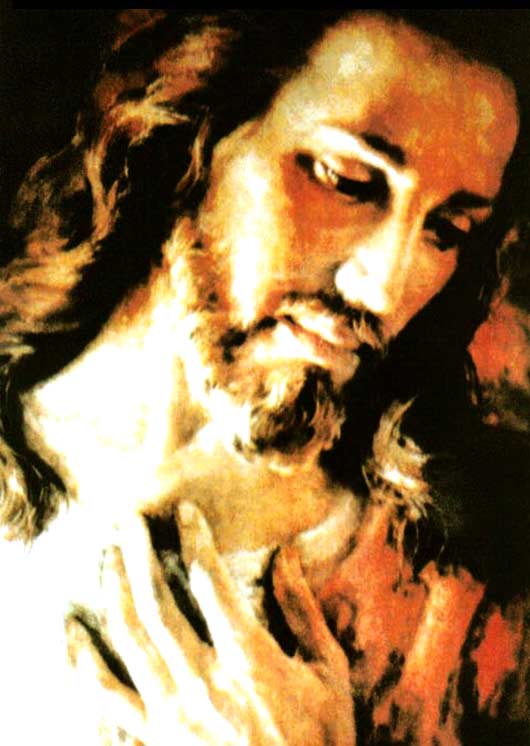 Christ:
My beloved People:
THIS DAY ON WHICH MY CHURCH COMMEMORATES THE FEAST OF DIVINE MERCY, THE DOORS OF MY MERCIFUL HEART REMAIN OPEN WAITING FOR THOSE WHO WISH TO APPROACH TO RECEIVE THE SPECIAL GRACES THAT ARE RELEASED FROM MY WILL.
My Mercy never closes when one of My children comes before Me with a contrite and humbled heart and with a firm intention of amendment.
For more than two thousand years, I have remained turning to humanity, insistently calling without rest…
You seek My Presence in the world and its delights; you will not find it there.
You seek My Presence in the simple things that give happiness and encouragement for a few minutes; you will not find it there.
My beloved, do you know how human beings look for Me?
Luz de María:
I believe that what their eyes see, that is what gives them security; they do not see You.
Christ:
I call the small and simple, the strong, the powerful of the world; I call everyone to forgive them, even those who are most guilty. I do not need men; My Glory and My Kingdom cannot be reduced by any creature. But if it is not through the Cross, you will not reach Me, and men fear My Cross and despise It. Everyone carries a personal cross, if someone abandons it on the way and continues without it, that is a sign that that person does not wish to walk beside Me.
Beloved, do you know if all human beings love Me?
Luz de María:
I would like to respond in the affirmative, Lord, but not all love You.
Christ:
I, AS KING, ASK MY CHILDREN: WHAT HAVE I DONE TO YOU THAT YOU DO NOT LOVE ME?
I know the answer: parents do not speak of Me in the home; in My Temples, one only hears of My Mercy and man grows up thinking that I am a God who is deaf and mute, and so they give themselves over to pleasure without reparations, offending Me without measure, despising My Mercy because they do not wish to amend themselves, and in the other life, they will suffer the power of My Divine Justice, but first they will suffer having scorned Me.
YOU EXPECTED A CALL OF TOTAL COMPLACENCY …, BUT MY MERCY IS SO INFINITE THAT IN IT IS INCLUDED LEADING YOU ON THE PATH OF TRUTH. WHOEVER DOES NOT CARRY HIS CROSS AND FOLLOW ME IS NOT ON THE SAME PATH AS ME.
It is a day of joy, and then, what will it be?… Everyone will reach their Mount Calvary, and some will pick up the Cross, others will have abandoned it on the way, including those who serve Me on the Altar.
Beloved, will humanity be conscious of Redemption?
Luz de María:
My Lord and My God… how can we possibly hurt you more with a response!
Christ:
I see the Earth and She herself agonizes. I see how man agonizes, I see My Church and I see it is agonizing. So many of My children have abandoned My Cross on the way to give themselves over to what is easy, to those who do not love Me and want to darken My Laws and Precepts.
What My Church suffers is not more than what I suffered, and it is not more than My Suffering…
So many of My children close to My Church for appearance's sake… They make Me suffer more.
So many wrong interpretations of what is not meant to be interpreted but obeyed… makes Me suffer more.
How many denigrate My Church!… And make Me suffer more.
How many will flog Her until She is divided…! That makes Me suffer.
MY CHURCH WILL TRIUMPH, IN THE END IT WILL TRIUMPH; BEFORE THAT THERE WILL BE DIVISION AND THEY WILL MAKE ME SUFFER, FOR MY GREATEST ENEMIES WILL BE WITHIN HER. A separation will be necessary so that you see the evil in your conscience and at the same time, the good you must follow and do.
I call My People to be firm and to not separate, the trials come from men and from the evil that has seized souls, giving them a God that is not I, who will please them with the lowest bestialities .
Nature itself is exhausted and goes against man. I seek repose in those who are Mine, in My faithful, in those who remain carrying My Cross and do not separate themselves from It.
My Mercy seeks man, it calls to him, appeals to him but man comes to meet Me with evil, he prepares wars that will emerge in instants, the Peoples debate in fierce battles that spread throughout the whole world.
The old sufferings of past generations will not be anything other than the prelude to what will come…
MY JUSTICE DOES NOT WAIT ANY LONGER, I NEED TO FIND MAN WHO HIDES FROM ME. MAN DOES NOT DESIRE MY MERCY, WHICH SEEKS HIM UNCEASINGLY AND I DO NOT WANT TO LOSE MY CHILDREN; THEREFORE I COME WITH MY JUSTICE TO RESCUE SOULS.
Man is obstinate, and when I come before him and see his weakness and resistance to Me, I see it is necessary to touch him, yes, to touch him in that which he needs to subsist, until under a punishment, he returns to My Arms. Not so the ones who have protected themselves under the total dominion of evil; these deny against Me and sink more into the mud, turning away from Me. But I come to rescue those who are Mine.
Beloved, do you know how I suffer?
Luz de María:
Yes, my beloved, I know…
Christ:
I grieve for a suffering humanity that does not allow Me to intervene, they have placed a barrier between them and I. I see My Cross set aside by some who do not accept it, My Legions pick it up and kiss it, they walk beside man waiting for the instant in which he will reconsider, return and take it up. But the world offers distractions and silences laments with intoxicating drinks and songs that cloud the mind and bend the spirit towards evil, acting against Me.
I WILL FIND THE MEANS TO ESTABLISH MY KINGDOM ANEW IN THE MIDST OF PEOPLE. MY MERCY WILL NOT FIND WALLS, BUT WILL BE SHED OVER ALL MY CHILDREN WITH JOY,
AND THEY WILL BE MY PEOPLE AND I WILL BE THEIR GOD.
Pray, My beloved, My Mercy solicits prayer for Japan -- the earth will shake.
Pray in My Mercy for Chile.
Pray in My Mercy for the United States -- it will suffer through Nature.
I bless you.
THE ONE WHO TURNS TO MY MERCY FINDS JOY IN ADVANCE. I BLESS YOU.
Your Jesus.
HAIL MARY MOST PURE, CONCEIVED WITHOUT SIN.
HAIL MARY MOST PURE, CONCEIVED WITHOUT SIN.
HAIL MARY MOST PURE, CONCEIVED WITHOUT SIN.