Thursday, May 1, 2014
Message from the Blessed Virgin Mary
To Her Beloved Daughter Luz De María. Given in Rosario, Santa Fe, Argentina.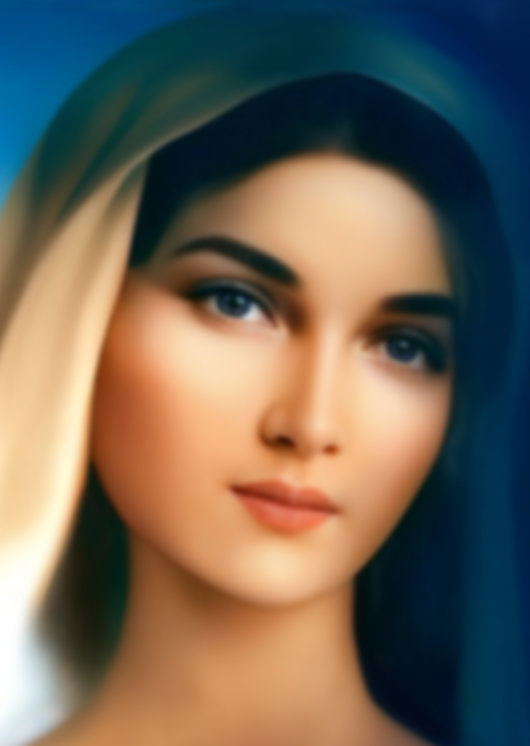 Beloved children of My Immaculate Heart:
I, AS MOTHER OF HUMANITY, AS MOTHER OF EACH ONE OF YOU, WALK ACCOMPANYING YOU IN
LIFE, AND IN THE FALLS I PICK YOU UP AS MOTHER OF LOVE, IN EACH ONE OF YOU I SEE MY SON,
I LOVE EACH ONE OF YOU WITH ALL MY MATERNAL HEART.
When I received you at the foot of the Cross, I did not receive just some, rather I received the entire human generation so as to be at once Mother and Teacher. And just as I went from being Mother to being My Son's First Disciple, I want to intercede so that each one of you is a true and faithful disciple of My Son in this instant in which man's thoughts and conscience, by his own will and free will, have ceased to fulfill his mission and he keeps his thoughts and conscience tied to the whims of the enemy of the soul.
IN THIS INSTANT, I ACCOMPANY YOU MORE THAN IN ANY OTHER INSTANT
SO THAT YOU RETURN TO THE PATH OF TRUTH,
THE ONLY PATH THAT WILL LEAD YOU TO REACH TRUE FULLNESS AND ETERNAL LIFE.
My beloved, you live in the world, but do not allow what is worldly to invade you and lead you on mistaken paths on which you will only find perdition.
Man's violence in this instant keeps Me, as Mother, with My Heart hurt, and as your Intercessor before My Son, it keeps Me imploring for each one of you.
THE CONSCIENCE HAS BEEN INVADED BY THE LACK OF CONSCIENCE BECAUSE EVIL HAS SEIZED YOU SO THAT YOU YOURSELVES FREELY HAND YOURSELVES OVER INTO THE CLUTCHES OF PERDITION AND PERVERSION.
The ire in man is injected by evil, but man only look on evil through the devil as such and does not come to reason that the devil as such tempts him and leads him to sin; but in this instant not only does he act, but he maintains all his tentacles in continuous action to attack man not only in his egoism, not only in his "ego", not only through his free will, but through all the means he has in his reach.
My beloved People:
You must know that man's food in this instant is not the same as that of the past and that what you use, are weapons that in this instant remain actively poisoning your body, My children, so that if you do not decline by handing over your free will to evil, you decline through the illnesses provoked in your body through what you ingest.
IT IS MY DUTY AS MOTHER TO NOT ONLY CALL YOU TO PRAYER, TO PENANCE, TO LOVE, TO UNITY, TO
FRATERNITY, TO RECEIVE MY SON IN HIS BODY AND BLOOD, TO VISIT HIM CONTINUALLY IN THE
TABERNACLE, TO OBEY HIS COMMANDMENTS. But My duty as Mother takes Me beyond that, it leads
Me to knock on the door of your conscience, that conscience which has been poisoned and that with My Love I desire to bring the antidote so that it takes up once again the function for which it was created in man and opens the door anew so that My Son enters into the human person.
Economic interests maintain primacy in this instant over man and over the life of man and in the blink of an eye, the collapsed economy will lead man to lose his sanity, for he will feel he is deprived of everything, he will feel his hands empty, but it will be the instant in which My true children take the opportunity to show their works and actions and show My Son their hands full of an abundant harvest of works and actions in favor of life, of love, of neighbor and of fraternity.
My Call today, of this instant, is in favor of all those children of Mine who with great love give themselves to guide and help their brothers and sisters so that they do not forget that where fraternity does not reign, My Son does not reign because True Love does not prevail.
I call you to be humble, not only in word or in appearance, but rather to be truly humble through works and actions, to not fake humility, because the one who does not possess humility cannot bring his brothers and sisters words of humility.
Beloved children of My Immaculate Heart:
EVERY INSTANT GREATLY MINIMIZES THE INSTANT THAT APPROACHES,
AND THIS MUST BE A REASON FOR YOU TO QUICKEN YOUR PACE AND TO PROPOSE TO YOURSELVES A RADICAL CHANGE OF LIFE.
You must be light in the midst of this dense darkness that covers the minds and the hardened heart of the majority of your brothers and sisters; do not desire to accept the destiny o f a humanity that fails anew by feeling superior to My Son and by not recognizing Him. This has been one of the reasons for the fall of previous generations and this one repeats anew the same error going against and disobeying My Son.
YOU DO NOT RECOGNIZE ME AS MOTHER, AND I FORGIVE THAT, BUT RECOGNIZE MY SON: KING OF
KINGS AND LORD OF LORDS; RECOGNIZE HIM IN ALL OF CREATION, RECOGNIZE HIM IN YOUR
BROTHERS AND SISTERS AND EXCEEDINGLY BE PEOPLE WHO REASON AND WHO OBSERVE AND
WHO USE THE GIFT OF INTELLIGENCE TO KNOW HOW TO DISCERN THE SIGNS OF THIS INSTANT, WHICH ARE NONE OTHER THAN THOSE THAT APPEAR BEFORE THE END OF THIS GENERATION.
All of Nature trembles and is moved before the indifference and the denial of My children and more before that of those who, calling themselves those who know My Son, who know Theology, who know the "Teos," deny that My Son draws near again and that My Son, as a Just King, gives to each of those who belong to Him what he or she deserves.
Until the last moment, until the last breath of life, man must fight for his salvation. No one is saved until My Son declares him saved, until that person gives the maximum of his commitment and of his battle through his works to make himself worthy of salvation, because man can fall in instants; but you as My children, must rise up in this very instant in which time has run out and My Son separates the wheat from the chaff.
Do not tremble upon seeing the spread of the anger that overtakes man; instead be the positive pole that attracts My Son's love and blessing towards humanity, counteract the negativity of man with love towards My Son and towards your neighbor.
In this instant, I invite you to fervently pray for the Middle East.
I invite you to pray for Russia, which has not been consecrated to My Immaculate Heart and will be a cause for pain to humanity.
I invite you to pray, faithful children of My Immaculate Heart, for all your brothers and sisters who have allowed the enemy to seize their mental faculties, and act against their brothers and sisters, but even more I call you to pray for all My sons who work in the vineyard of My Son and are not true.
Beloved children of My Immaculate Heart:
THIS IS THE INSTANT OF TRUTH, THIS IS THE INSTANT OF THE TRUE CHILDREN, OF THE TRUE WORSHIPERS, OF THE TRUE RECOGNIZERS OF MY SON'S DIVINITY and I, as His First Disciple, invite you to say with Me:
"My Lord and my God I believe in you but increase my faith, for temptation circles humanity, but Your Love overcomes what is insurmountable for man. In you I trust, My Lord."
Beloved children, be fighters, do not belittle yourselves; you are heirs of the Kingdom. I love you, I bless you.
Mother Mary.
I bless this land, this land especially, this ground upon which My Feet stand in this moment to unite those who are Mine in My Son's Sacred Heart. Receive My Blessing and My Son's Peace.
HAIL MARY MOST PURE, CONCEIVED WITHOUT SIN.
HAIL MARY MOST PURE, CONCEIVED WITHOUT SIN.
HAIL MARY MOST PURE, CONCEIVED WITHOUT SIN.