Tuesday, May 6, 2014
Dialogue Between Our Blessed Mother
And Her Beloved Daughter Luz De María. Given in Buenos Aires.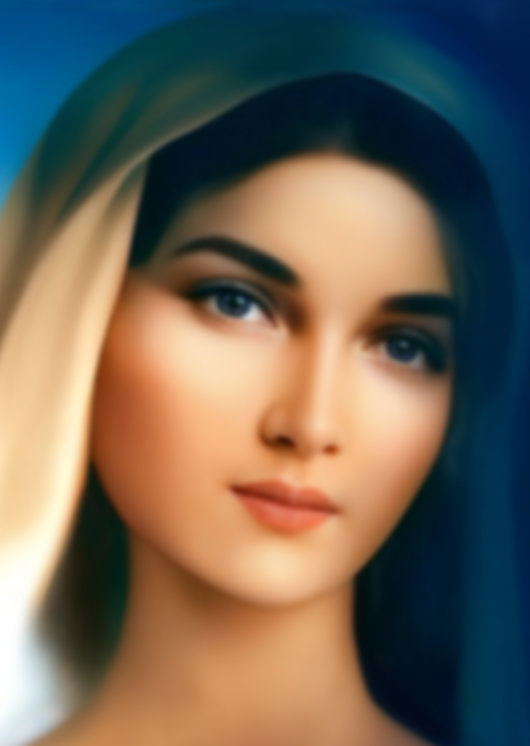 Mary Most Holy:
Beloved of My Immaculate Heart:
MY SON WARNS HIS PEOPLE OUT OF LOVE FOR THOSE WHO ARE HIS.
Beloved daughter, I am not a Messenger of the evils that afflict humanity; I call all of you and you do not heed Me, I call you to remain in a state of Grace, working without rest so that you do not present empty hands to My Son.
Luz de María:
Yes, Mother, I know that You are Love, that You do not want Your children to be lost… and You warn them.
Mary Most Holy:
I warn you so that you are not lost with false speculations or alleged guidelines from My Son or from Me.
Children, you have established a diabolical power in the world maintaining what is necessary for the antichrist to continue to sow evil everywhere. He undermines with tricks; being the most perverse, he goes unnoticed before humanity until he is discovered. In this moment, he executes his plan against human beings; like the wind that blows upon the good or the evil, upon good or evil, so the antichrist will surpass those who consciously act and indulge in sin.
Beloved:
THE INSTANT HAS ARRIVED IN WHICH MAN'S "EGO" IS SO PROFOUND THAT HE DOES NOT THINK
ABOUT HIS BROTHERS AND SISTERS BUT RATHER IN HIMSELF,
ONLY ABOUT HIS PLEASURE. THESE WILL BE VOMITTED BY THE FATHER IF THEY DO NOT REPENT BEFORE BEING CALLED.
Evil not only prevails in the vile attitudes about the innocents, but in men themselves, who as in the past, dedicate their life to pleasing themselves. That which humanity has lost and man has pleased, that is called egoism.
Great egoism leads man to massacre himself, then he will do it to his brothers and sisters and his relatives, even to the point that this egoism and the insanity it has produced will lead man to be a scourge for others. It is the instant in which human beings do not recognize themselves, in which personal interests prevail and the conscience has been asphyxiated by a heart of stone.
Beloved, man does not only kill with a weapon, but rather with his hardened conscience and his egoism: an architect of great evils.
Beloved children, man has been transformed into a body of personal interests.
TO YOU, MY FAITHFUL, WHO AWAIT MY SON, DO NOT DECLINE IN SPIRIT, TAKE STRENGTH FROM THE SPRING OF TRUE LOVE, WHICH WILL NEVER DRY OUT.
CONTINUE WITHOUT FEAR, YOU KNOW THAT MY SON DOES NOT LEAVE YOUR SIDE, AND WITH HIM, YOU HAVE EVERYTHING.
I extend My Hand to you so that you do not fear, I offer it to all those who accept it.
I call those who love My Son, who love His Peace, His Love and His Truth to join forces against the forces of evil that overcome those who are weak.
Beloved children, now is the instant to wake up, remain alert, you well-know that there is an impostor, a person who will come to ally himself with the defenseless, extending himself to all of humanity. This person is a public figure and uses technological media to remain in contact with man's mind.
DO NOT REMAIN INDIFFERENT BEFORE THE EVENTS AND THE SIGNS OF THIS GENERATION.
This antichrist will come to betray My Son's People with a great world power that has been acquired without humanity perceiving it; compromises between countries that are apparently enemies will be a great deception.
Pray, beloved children, pray for the United States and for Syria.
It must be clear to My Son's People that His Divine Kingdom is not of this world and that He will descend from heaven with glory and majesty.
The antichrist has emerged and acts from Earth, from among men, from the earthly powers, political and powerful; he will have power over what is religious and political.
THE INSTANTS ARE NEAR, DO NOT DOUBT IT CHILDREN.
Pray, children, for Israel; war will soon come.
Beloved daughter, preach unity and fraternity, spiritual growth and awareness of what takes place.
MY SON WANTS PEOPLE WHO ARE AWAKE AND EXPERTS IN HIS LOVE, ACCORDING TO HIS WILL AND LIVING IN IT.
ONLY THUS WILL MY SON'S PEOPLE BE RESCUED.
I love you all, I bless you all.
Mother Mary.
HAIL MARY MOST PURE, CONCEIVED WITHOUT SIN.
HAIL MARY MOST PURE, CONCEIVED WITHOUT SIN.
HAIL MARY MOST PURE, CONCEIVED WITHOUT SIN.