Friday, May 16, 2014
Message from the Blessed Virgin Mary
To Her Beloved Daughter Luz De María.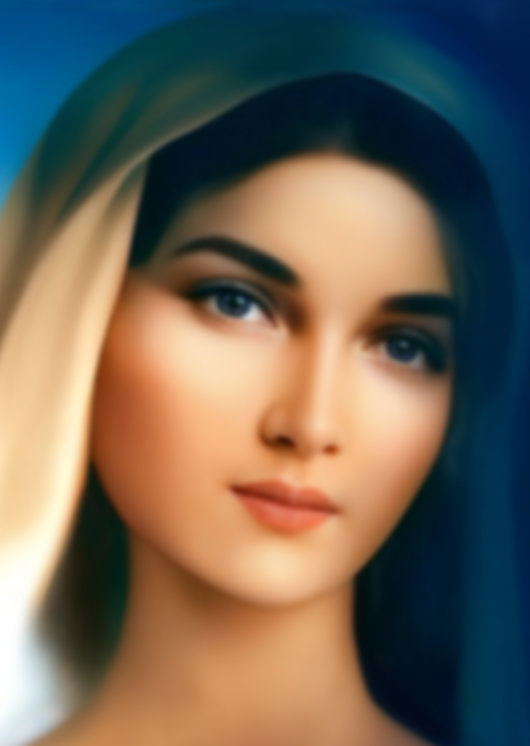 Beloved children of My Immaculate Heart:
I BLESS YOU WITH MY LOVE, I BLESS YOU WITH MY MATERNITY, I BLESS EVERY STEP YOU TAKE, I BLESS EACH ONE OF YOUR THOUGHTS.
My beloved children:
Everything that exists, existed and will exist was created by the Father's Hand: Nature in its entirety, to be man's pride and subsistence; the Animal Kingdom to both accompany man and help him not only to subsist, but to adorn the Father's Creation; the Mineral Kingdom, so that within it, man would be astonished at the magnificence and the beauty with which the Father adorned him.
IN THIS INSTANT, I CALL YOU TO REMAIN TOTALLY AWARE THAT ALL THAT EXISTS HAS COME
FORTH FROM THE HAND OF THE FATHER FOR THE GOOD OF MAN, AND THAT MAN HAS BEEN THE ONE WHO HAS DEFORMED THAT DIVINE CREATION.
Remain alert, for ideologic tendencies and false ideologies, especially religious ones, wish to confuse My children, and they are achieving it.
Nature was created by the Father to be loved, admired and respected by man, likewise all the Kingdoms. So do not be confused by those irreverent and false excuses and accusations of some people who have taken the Heavenly Father's Creation to attribute it to ideologies contrary to the Divine Spirit. I am specifically referring to all those who belong to that so called New Age and who have appropriated the Heavenly Father's Creation and with that accuse and signal out those who, doing and obeying My Son's Will, seek the wellbeing of Creation so as to give back to the Father that love with which He gifted man with everything necessary for his survival on the Planet.
HAVE IT FOR CERTAIN THAT WHAT EXISTS DOES NOT BELONG TO ANY FALSE IDEOLOGY; IT BELONGS TO GOD THE FATHER FOR THE GOOD OF MAN, AND IT IS MAN'S DUTY AND OBLIGATION TO PROTECT ALL, ALL OF CREATION.
PROCLAIM FREELY THE DEFENSE OF CREATION
BECAUSE THAT IS THE FATHER'S WILL, FOR WHOEVER DOES NOT DEFEND CREATION, DOES NOT DEFEND WHAT IS MOST SACRED, WHICH IS THE HUMAN BEING.
My beloved People, it is not enough that you refer to yourselves as being conscious of the events that take place among humanity in this instant and are leading you to the precipice without any hindrance and rather quickly. You who call yourselves My children must not only be conscious of the instant humanity lives, but conscious that each one of you must be the reflection of My Son's actions and works, and thus be people of peace, of love, of concord, of humility and also of truth. The truth entails proclaiming, like My Son and His disciples, precisely that: true Love. True Love does not hide the defects that lead your brothers and sisters to fall into the precipice where satan awaits his spoils. TRUE LOVE IS THE ONE THAT CARRIES OUT, WORKS AND FULFILLS MY SON'S WILL, AND IT IS THIS: SAVING TO GREATEST POSSIBLE NUMBER OF SOULS.
(In this instant the Mother is presenting to me a great battle, a great war that will break out soon. She shows me the calendar and its pages flip quickly marking the months, and I see a quantity of innocent people suffering because of it. And She is showing me a quantity of demonic beings totally deformed, taking possession of soldiers, because I see them with weapons and killing all those who cross their path: nursing infants and their mothers, pregnant mothers, children, adults and young people who do not wish to participate in that war.)
My beloved People, you continue as if what I have announced will not happen for a long time, and you have forgotten that time is not time and it does not exist, rather it is an instant in My Son's Hands and everything can take place in a single instant without you even noticing it.
I call you not to cling to what is earthly but to cling to My Son who is "the Way, the Truth and the Life." CONTINUALLY PLACE YOUR HOMES AND YOUR FAMILIES BEFORE OUR SACRED HEARTS,
THE ONLY REFUGE FOR YOU TO ATTAIN STRENGTH, NOT ONLY SPIRITUAL,
BUT STRENGTH IN YOUR CONSCIENCE, IN YOUR THOUGHTS, IN YOUR MIND AND IN YOUR HEART SO AS NOT TO DECLINE.
Great events are gestating at the level of conflicts between the Superpowers.
I invite you, in this instant, to pray for Russia.
I invite you to pray for China.
Do not set aside the United States in your prayers.
You well know that the Earth that has cradled you as a Mother has aged with humanity's continuous sinning and She wants to be renewed.
Remain attentive, for communism already advanced, already covered and already took the unwary from where it will be able to attack those it takes as its target.
BE MESSENGERS OF MY LOVE AND BE CONSCIOUS THAT THE ONE WHO DOES NOT OBEY HIS
FATHER, EVEN THOUGH HIS FATHER IS MERCIFUL,
IS PULLED OUT LIKE CHAFF SO THAT HE DOES NOT DAMAGE THE WHEAT.
The one who calls himself My Son, the one who calls himself a Christian, must not think that because of that he has attained salvation; on the contrary, he has a greater obligation than in another instant because this is the definitive instant where the development of all the Prophecies initiated and in this instant is being brought to fulfillment; just await , but the light of My Son shining in your hearts will make you understand that the battle against the very same human ego and the battle for obedience is what will give you the blessing of living in the Promised Land.
Remain united; all those who are My children, all those who are children of My Divine Son, remain united, for in the instant in which you separate, in that instant you will no longer be prey nor bait but the spoil of satan and his followers.
I DO NOT WANT LUKEWARM CHILDREN WHO HEAR MY WORD AND FORGET IT IMMEDIATELY
BECAUSE THEY WILL CEASE LISTENING TO ME; THE ONLY ONES WHO WILL HEAR ME WILL BE THOSE WHO SAY WITH ME: "YOUR WILL BE DONE ON EARTH AS IT IS IN HEAVEN."
Do not forget that the wheat can be confused; because not by being wheat is it exempt from being invaded by chaff, but the executors angels will come in moments and in one cut they will pull out the chaff that wishes to contaminate the wheat.
UNITE LIKE MY SON AND I UNITE OUR HEARTS,
SO THAT YOU RECEIVE COMFORT AND ARE NOT DEFEATED.
AND YOU WHO HEAR THIS WORD, BY DIVINE ORDER I REMIND YOU THAT ONLY THOSE WITH A HEART OF FLESH WILL BE ABLE TO UNDERSTAND THE GREATNESS OF THESE CALLS.
Remain in My Love and may My Son's Peace totally invade the being of each one of you.
Mother Mary.
HAIL MARY MOST PURE, CONCEIVED WITHOUT SIN.
HAIL MARY MOST PURE, CONCEIVED WITHOUT SIN. HAIL MARY MOST PURE, CONCEIVED WITHOUT SIN.