Monday, May 19, 2014
Message from Our Lord Jesus Christ
To His Beloved Daughter Luz De María.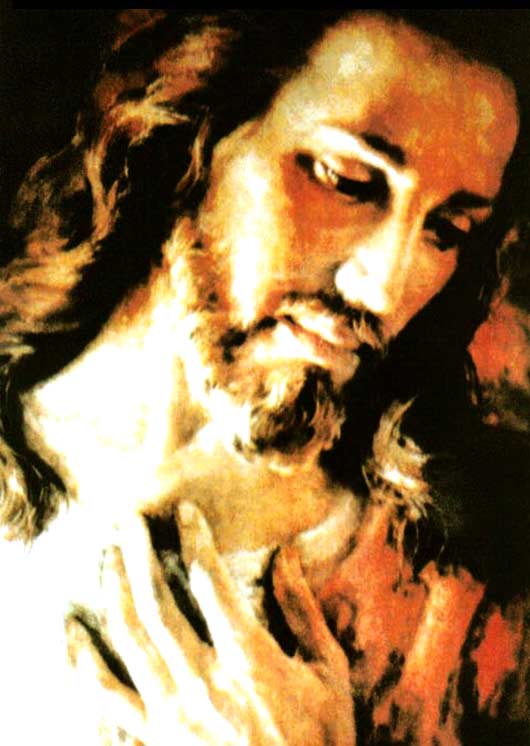 My beloved People:
MY CHILDREN RECEIVE THE BLESSING FROM MY HOUSE IN EVERY ACTION OR WORK IMPREGNATED
BY LOVE TOWARDS ME. MAN HAS FORGOTTEN THAT THE PRINCIPAL INGREDIENT OF THE ONE WHO IS MY CHILD, IS MY LOVE.
Continuing with a heart of stone, the person drives away instant to instant, the gentleness and kindness that those who are Mine must possess to bear fruits in abundance. Human miseries contaminate the dryness and weakness of thoughts and reasoning, seeing in the darkness of sin, false hope, motivated by the inability of choice and by the habit of following the masses.
THE ILL-USE OF REASON HAS COME TO BE A HABIT,
SETTING ASIDE ITS TRUE AND STRAIGHT FUNCTION;
AS A CONSEQUENCE, MAN SEES WHAT IS NOT REALITY AS REALITY AND FALSEHOOD AS HOPE.
Woe to the proud man who does not look at himself and who remains walking in his own arrogance! He does not walk, but drags himself. Due to this fragility transformed into ignorance, men do not see that this instant is not like others, but is rather the decisive instant.
HUMAN SECURITY IS SUPPORTED IN MONEY, AND MONEY WILL IMMINENTLY FALL, WITH NOTHING TO STOP IT. I will make the money god fall, the money god in whom men have placed their faith, reaching even the Hierarchy of My Church. I am not a God of luxuries, nor of gold; I am the Poor One of Nazareth who carried the Cross of all men, containing in It the miseries of the giving up of the poverty of those who serve Me on the Altar, of those who in these instants, must defend My People.
THE EARTH WILL SHAKE IN THE FACE OF SO MANY ACTS CONTRARY TO ME, AND EVEN SO, YOU WILL NOT REMEMBER ME.
Unbridled madness has driven man to take over demonic acts and realize them, while demons happily enjoy human acts contaminated by evil.
The air will run with dust that will leave man without skin, and the great powerful people in their caves will believe themselves to not be contaminated, ignoring the power of what they themselves have created. Poor humanity, how much you will suffer!
CHILDREN, KEEP MY LOVE PRESENT, ALIVE AND BEATING IN THE WAITING THAT DOES NOT DESPAIR, WITH THE ASSURANCE OF MY HELP. I will send My Word in the mouth of My Son Child so that you understand that My Word does not change and whoever changes it, is acting against My Will.
Pray beloved, for Mexico; it will be greatly scourged by land.
Pray, My beloved; pray for Panama, it will be shaken.
Pray for Costa Rica, it will suffer greatly.
These are the instants, you must not wait for others.
I DO NOT ABANDON MY PEOPLE, NOR THE ONE WHO SUFFERS BECAUSE OF ME, NOR THE ONE WHO PREACHES MY WORD WITH COURAGE.
I CHOOSE MY INSTRUMENTS AND REVEAL MY WORD TO THEM,
NOT SO THEY KEEP IT IN SILENCE, BUT SO THEY WARN THEIR BROTHERS AND SISTERS.
The new dawn will arrive, and My children will be My People in Spirit and Truth.
I bless you.
Your Jesus.
HAIL MARY MOST PURE, CONCEIVED WITHOUT SIN.
HAIL MARY MOST PURE, CONCEIVED WITHOUT SIN. HAIL MARY MOST PURE, CONCEIVED WITHOUT SIN.