Tuesday, May 27, 2014
Message from Our Lord Jesus Christ
To His Beloved Daughter Luz De María.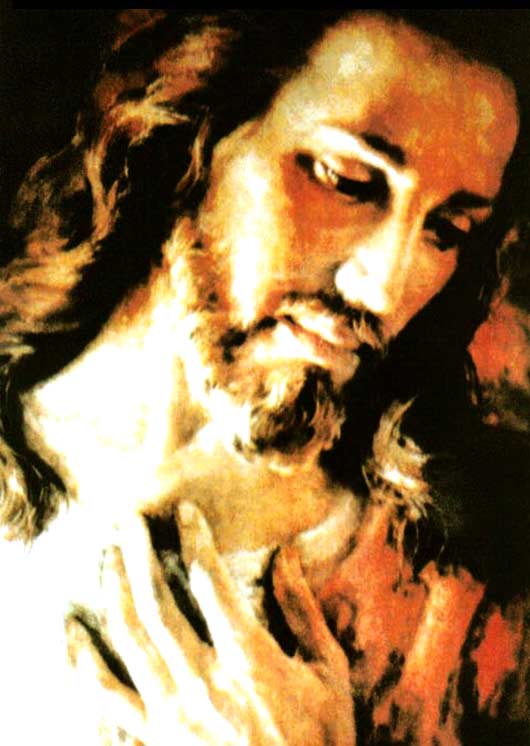 My Beloved children:
MY PEOPLE: WHAT HAVE YOU BEEN UP TO? WHERE ARE YOU?
Immediately Christ gives me this Vision:
He shows me His blood stained Cross and tells me:
"I offered it to My Children, and they have not desire it, they returned it to me…"
Christ asks me to help Him bear the Cross. I was able to hold it only a little while, since Christ did not let go of it. I saw drops of blood come out of the wood of the Cross, and the Cross was cracking deeply. Through the cracks, I heard human voices that implored asking for solace; I was amazed. In silence I continued to walk beside Christ, with my hands on the Cross.
He said to me:
"Don't look down, look to your right."
There was a big structure, very high and Christ told me:
"Let's go towards that Temple."
At that moment I realized that it was a Church, and I follow the Lord; but a few yards before reaching the building, this was collapsing totally.
Then Christ told me:
"My Beloved, see how fractured My Church is … This My Cross I continue to carry for all My children that disobey Me and they crucify Me instant by instant."
I saw some human creatures that shouted to Christ for Him to stay away. Christ stopped and said to me:
"Look how they crucify Me, My own children, they do not desire me in My own House, I make them feel uncomfortable with the licentiousness in which humanity lives."
Afterwards, motionless before such a scene, Jesus continued to say to me:
My Beloved:
Look how My Church collapses; My Word is no longer Law, My People do not prepare to live in Me, My Presence is neglected in the Eucharist, they do not adore Me appropriately, My children do not pray and because of it they get lost; souls are not guided who do not pray, neither those who do not practice My Law, My Love and My Charity. My Love is prayer and action in favor of everyone, an awakening to those who sleep. A man without Law is a man at the edge of the cliff, in the darkness, in a false freedom that does not welcome but leads to liberalism of the mundane sin.
Do you know how they love me now?
Luz de María:
I wouldn't know, Lord.
Christ:
They visit me on Sunday, and the rest of the week… they trample Me: when they deny help to their neighbor, when they forget the sick and those in need, when they keep silent of the abuses of power. They trample me, terminating the life of a human being, attacking the innocents like savage beasts, attacking each other without any consideration, altering Nature to cause damage to populations from one instant to the next, making My children sick through the food, transporting nuclear energy to the poor countries to create allies based on the evil spirit.
My Beloved, humanity makes My Heart bleed, and bleeds...
Luz de María:
Yes, my Supreme Being, I know.
Christ:
My own Church will cut the help that it receives from My Mother, they don't need anything, they provide for themselves. They live without living, they exist day by day. Sin is the custom and the custom leads to habit.
My true Instruments transmit My Word while others struggle like ferocious wolves and launch themselves against My faithful, seeking to discredit My Calls to humanity. THIS IS NOT ME …, I AM PEACE, TRUTH AND LOVE. None have the first place, only those who work and act in My Will, not the one who attacks, that one does not give testimony of My Word.
Soon the instant in which the Earth will not stop; as man becomes more and more aggressive, its own conscience will lead him to keep his thoughts and his evil desires towards greater needs, when the Earth will shake with force.
My Beloved ones:
I invite you to pray for Russia, the earth shakes. Pray for Chile, it will suffer again.
My Beloved, man feeds anger, not love in his heart.
Luz de María:
Yes, my Lord, anger poisons the senses and deadens feelings.
Christ:
Humanity has been poisoned by technology, by the bad instructions in all the aspects; My Institution is lenient, wins supporters, not faithful people.
When man runs without someone to guide him; he allows the sea of senses to be confused, destroying everything in its path. The soul is imprisoned and the spirit grieves before the abuses of those who act, they forget that I will measure the acts with the same measurement with which each one has measured his own actions.
Those who say they love Me devour among themselves; they get together and say they pray in My Name, forgetting the First Commandment. Like hungry wolves, they launched themselves against their brothers, invaded by hatred and envy, seeking the first places. He who wants to be first, will be last.
Pray for My Church, it will suffer division. My Church will shake.
I CONTINUE TO CARRY MY CROSS, GETTING CLOSER EACH TIME TO ALL HUMANITY.
MY JUSTICE IS LOVE, AND WITH MY LOVE I WILL TAKE CARE OF THOSE WHO HAVE ABUSED MY PATIENCE AND MY MERCY.
I bless the faithful, those who preach My Word with the Truth, who evangelize without rest, those who act in goodness and illuminate as the Sun of My Will. I bless you.
Your Jesus.
HAIL MARY MOST PURE, CONCEIVED WITHOUT SIN.
HAIL MARY MOST PURE, CONCEIVED WITHOUT SIN. HAIL MARY MOST PURE, CONCEIVED WITHOUT SIN.